Haiti's Leadership Against Imperialism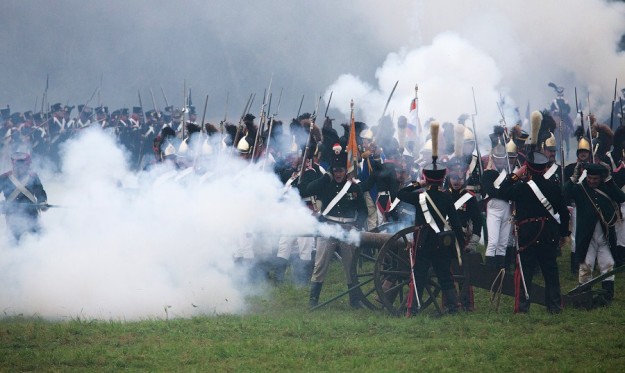 By Michel-Ange Cadet
Negro: that's what they called us. Not to designate our person but mainly to assert a supposed supremacy which they believed themselves to hold and in the name of which we had to serve them, work however they wished, and satisfy all their whims, wealth, glory, pleasures… They wanted to make us believe that our lives boiled down to a simple skin pigmention that deprived us of everything: all that a human being needs to live as a man or a woman endowed with reason and a conscience. Everything becomes nothing if one's skin is dark. Those individuals, those nations that have extinguished an entire civilization of the New World, we remember them. For centuries the world witnessed this design, the atrocities against Native Americans and Africans.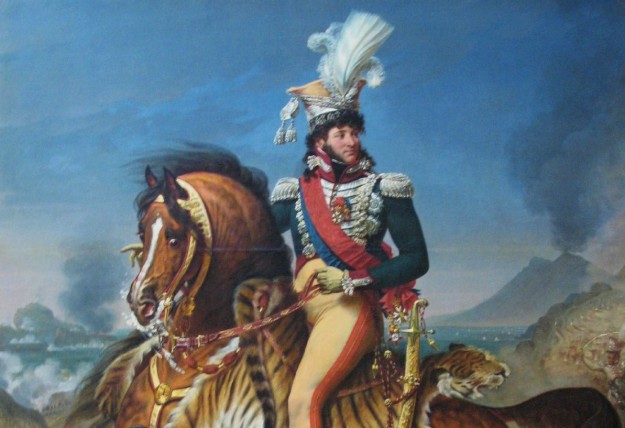 To see things only thus, however, would miss the essence of imperial thought. If their motivations had been only epidermal in nature, there would have been no Spartacus. Rome could not have dominated most of Europe and Asia for centuries. The underlying reasons are indeed deeper than skin color, a mere racial prejudice. Their interests in man, the human races and nations, reduce to what these men can bring. The appetite for gold, wealth, fame, domination and conquest are the essence of the imperial ideal.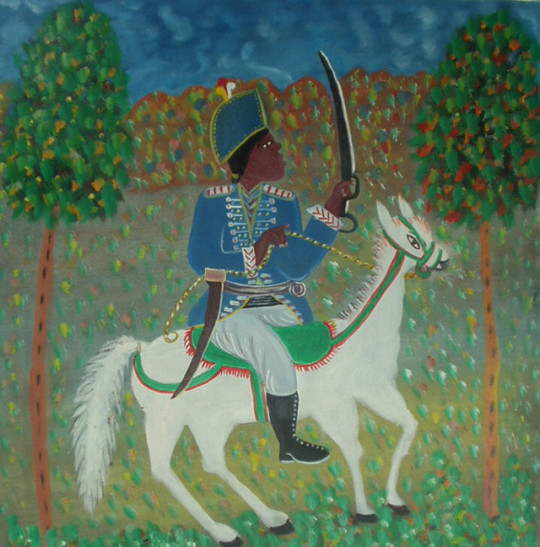 The proclamation of Haitian independence with gunpowder and blood in the 19th century marked the beginning of the physical decolonization of America. A new world order drew the worried gazes of traditionalists. The Americas' status quo had collapsed and, along with it, all the riches that they represented for the imperial giants. It became necessary to patch things up, find alternatives to the revolutions taking place in the Caribbean, Latin America and parts of Africa, where there were considerable interests. Colonialism had to change its posture, become more discreet in its gestures. We could say that this meant masquerading the violence of their desires so as to avoid another terrible revolution coming back to uproot everything. Beyond the physical decolonization of the Americas, the Caribbean and Africa, the colonies, especially the colonial soul, had to stay firmly in place. It is with this as their starting point that a number of theories, economic policies and international organizations work to preserve the imperial ideal for as long as possible.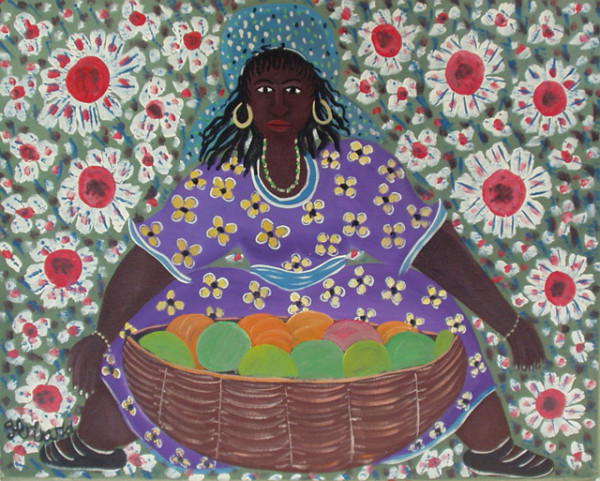 The history of the revolution in Saint-Domingue, now the Republic of Haiti, reveals the sort of class identity that General Laplume held when he fought against the insurgents who were his brothers in color and blood. Interpret this as we wish, treason or servile gratitude; human actions and motivations are not always comprehensible from simple inspection. But the story is there to try to make us understand the events, as we all hope, and not to repeat past mistakes. History continually repeats itself, it is often said. Jean Baptiste Conzé replayed this story during the United States' occupation of Haiti (1915-1934) by betraying the then leader of the insurgents: Charlemagne Péralte. Should it surprise us that our contemporaries do the same? Currently the henchmen of neocolonialism are those who have risen to the highest and most prestigious positions in the nation, those we took pains to support with our own shoulders and designate by our own fingers. Nowadays their beautiful nationalist discourse hides the treacherous stench of a new form of colonialism and their new foreign masters.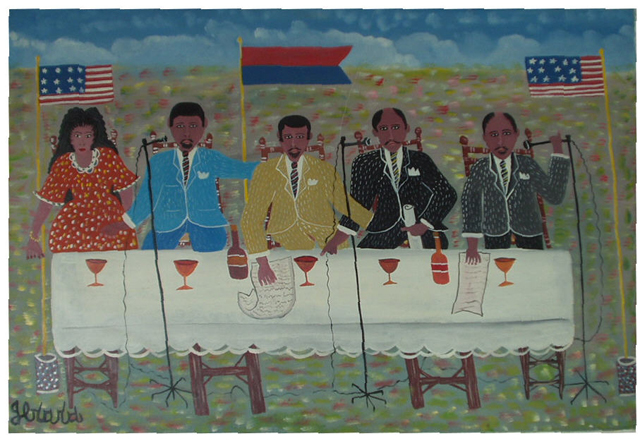 Aimé Césaire declared in 1943: "One of the elements, the main element of the Caribbean problem, is the existence in these islands of a homogeneous block, a PEOPLE who for three centuries have sought to express themselves and create… we know very well what we want; freedom, dignity, justice…. Slavery hangs over us, it's understood. To attribute our current poverty to this alone, however, is to forget that when slavery was in force, the black man was magnificent… Cruelty, he opposed sometimes with a wait, sometimes rebellion, but never resignation." [Panorama. Tropical Revue (1943) educational support document – Commemoration Aimé Césaire – 2013/2014, Ministry of Education (DGESCO) Page 1 of 5.] The wake-up call has already sounded for many nations that are beginning to identify the sources of their problems. It is time to put an end to our indifference to the state of our population. Freedom is a utopia and, incredibly, many still believe that we decide our own fate, that we have engendered our misfortunes.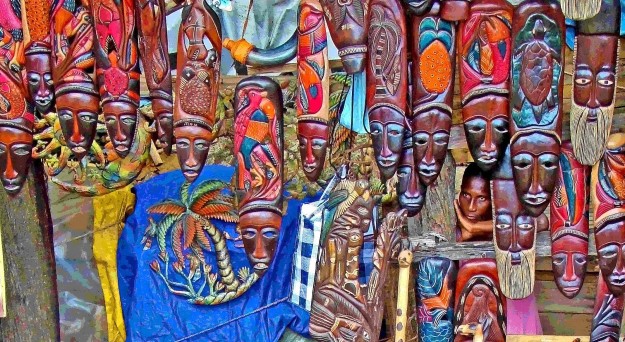 Our self determination is compromised. Independence is a lure that they skillfully get us to trust while, behind the so-called democratic institutions and ideals of power sharing, a strong fishing line waits. We no longer decide our own direction, what we want, what would do us good. They do not care at all about our dignity as a people since all that we represent is simply a lucrative market. As in colonial days, trade with the New World brings large profit. Notions of justice or fairness have no part in this. It is planned poverty on one hand, and assured wealth on the other. The concept of justice in third world countries is a two-pronged dilemma. The political and economic system imposed by the new world economic order not only creates a disparity between rich and poor nations in their dependent relationship, but also feeds the divide between the social classes. Hasn't neoliberalism called for a withdrawal of the state from social activities in the name of a regulatory theory of public expenditure? Simultaneously, we are witnessing a deterioration of the terms of trade, which neoliberalism and all its accompanying policies fuel from year to year into an extreme poverty, and social and economic disparities; this in turn renders more remote any prospect for social justice. They do not want us to support our production sectors even while they buttress their own.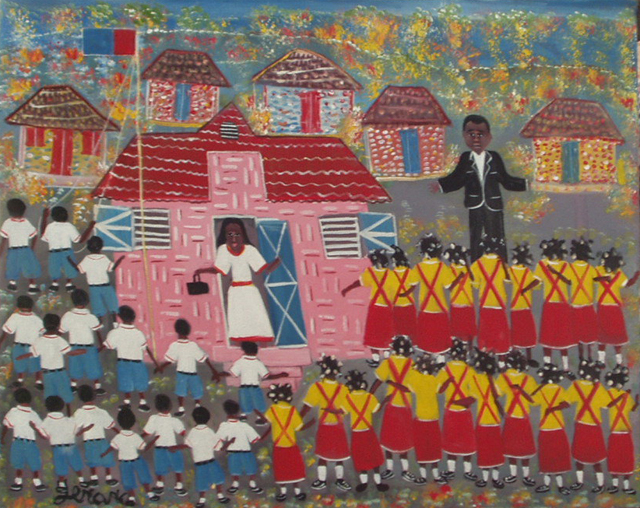 For centuries, the countries of the North have waged a covert war against those of the South. In fact, this is a massacre. All sorts of institutional and economic policies, theories and structural adjustments, and gross political interference are implemented to establish their domination and rampant exploitation. Nothing stands in their way. When these claws dig into our flesh and our blood flows, we cannot help but scream loudly from such suffering, such calamities of the boundless greed of neocolonialism. But when we scream, we do not cry. Rather, we defend ourselves as we have done before, as countries of Latin America and the Caribbean are doing now.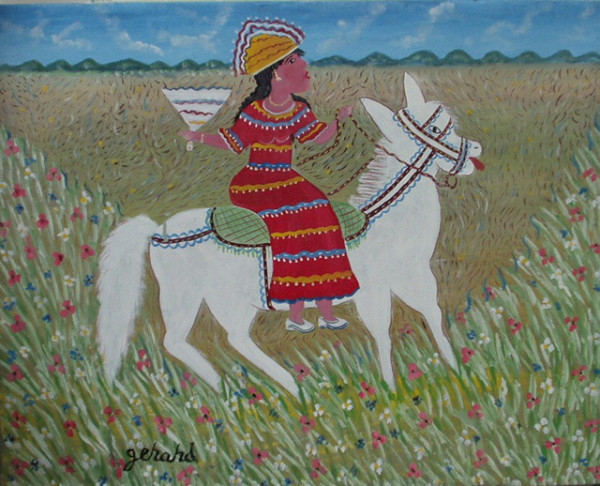 Once again, the masks are falling and the gap below the curtains reveals the real actors, the artisans of the misfortunes of oppressed peoples. Never have Saint Domingue's black people abandoned themselves to their fate. "To resignation, they preferred the wait or revolt", said Aime Cesaire. The time for waiting is over! We have the right to determine our destiny. Do not call us negroes anymore. We are your equals. We are black men and women. We are Caribbean, North American, Latin American, and African. We are, more than anything, Haitian men and women. We are "Haiti!"
Editor's Notes: Michel-Ange Cadet was born in Cap-Haitien, where he completed his primary and secondary education, respectively, at the Frères de l'Ecole Joseph and the Collège Notre Dame du Perpétuel Secours. After his graduate studies in Economics, he quickly took a taste to youth organization, and he is currently a member of the Research Group on Economic and Social Development of Haiti (GREDESH) | This essay was originally published in French in Haiti Chery and translated by News Junkie Post. | Images three, four, five, seven and eight are of paintings by Gerard Fortuné; photograph six by Bill Sutton.

Pensée impériale
Par Michel-Ange Cadet
Haiti Chery
Nègres, negro: voilà comment ils nous appelaient. Pas pour designer notre personne mais surtout pour affirmer une quelconque prétention de suprématie dont ils croyaient être détenteur et au nom de laquelle nous devions les servir, travailler à leur gré et satisfaire touts leurs caprices, richesses, gloires, plaisirs… Ils voulaient nous faire croire que notre vie se résumait à une simple pigmention de la peau qui nous privait de tout: de tout ce qu'un être devrait avoir pour vivre comme un homme ou une femme doué d'une conscience et de raison. Tout est néant depuis que la peau n'est plus pale. Ce groupe d'individus, ces nations qui ont mis en extinction toute une civilisation du nouveau continent, nous nous souvenons. Pendant plusieurs décennies le monde a connu cette conception, ces atrocités à l'égard des autochtones de l'Amérique et de l'homme noir de l'Afrique.
Néanmoins, voir les choses uniquement de la sorte serait éluder un peu l'essence même de la pensé impériale. Il ne saurait y avoir de Spartacus si les motifs de leurs actions étaient seulement une question épidermique. Rome ne saurait dominer presque toute l'Europe et l'Asie pendant plusieurs siècles. Les raisons profondes sont en effet autres qu'une simple couleur de la peau, qu'un préjugé racial. Leurs intérêts pour l'homme, les races humaines, et les nations se réduisent à ce que ces hommes peuvent leur rapporter. L'appétit pour l'or, la richesse, la gloire, et pour dominer et assujettir constituent l'essence même de l'idéal impérial.
La proclamation de l'indépendance d'Haïti avec de la poudre et au prix du sang marqua au 19e siècle le début de la décolonisation physique de l'Amérique. Un nouvel ordre mondial est alors en train de se dessiner aux regards inquiets de certains traditionalistes. Le status quo de l'Amérique s'effondra et avec lui toutes les richesses qu'il représentait pour les géants impériaux. Il faut des correctifs. Des alternatives contre les révolutions qui s'effectuent dans les Caraïbes, l'Amérique Latine et dans certains pays de l'Afrique pour lesquels des intérêts sont considérables. Le colonialisme doit changer de posture, être moins visible et plus discret à travers ses faits et gestes. Nous pouvons dire qu'il sagit d'une violence masquée dans leurs désirs afin d'éviter qu'une autre terrible révolution ne revienne pour tout chambarder. Les colonies, surtout l'âme coloniale, au-delà de la décolonisation physique des Etats de l'Amérique, des Caraïbes et de l'Afrique, doivent subsister. C'est de là que toute une série de théories, de politique économique et d'organisations internationales œuvrent pour maintenir aussi longtemps que possible cet idéal impérialiste.
L'histoire de la révolution de Saint-Domingue, aujourd'hui la République d'Haïti, révèle la position de classe qu'affirmait le général Laplume vis-à-vis des insurgés, en combattant manu-militari ses frères de couleur et de sang. Interprétons-le comme nous le voulons, trahison ou reconnaissance servile; les réactions, les motivations de l'homme ne sont pas toujours compréhensibles au simple regard. Mais l'histoire raconte et essaie de nous faire comprendre les évènements, comme nous l'espérons tous, pour ne point commettre les mêmes erreurs du passé dans l'avenir. L'histoire est un perpétuel recommencement, dit-on souvent. Jean Baptiste Conzé répéta cette histoire durant l'occupation américaine (Haïti, 1915-1934) en trahissant le chef des insurgés d'alors: Charlemagne Péralte. Serions-nous donc surpris que des contemporains en fassent autant? A présent les sbires du néo-colonialisme sont ceux qui ont accédé aux fonctions les plus hautes et prestigieuses de la nation, ceux que nous avons pris peine de supporter et de designer par nos doigts. Leurs beaux discours nationalistes cachent très mal de nos jours l'odeur perfide de la nouvelle forme du colonialisme et de leurs nouveaux maitres étrangers.
Aimé Césaire déclara en 1943: "Un des éléments, l'élément capital du malaise antillais, l'existence dans ces îles d'un bloc homogène, d'un PEUPLE qui depuis trois siècles cherche à s'exprimer et à créer… Nous savons très bien ce que nous voulons; la liberté, la dignité, la justice…. L'esclavage pèse sur nous, c'est entendu. Mais lui attribuer à lui seul notre pauvreté actuelle, c'est oublier que sous le règne de l'esclavage, le nègre fut magnifique… A la cruauté, il opposa tantôt l'attente, tantôt la révolte, jamais la résignation." [Panorama. Revue Tropiques (1943) Document d'accompagnement pédagogique – Commémoration Aimé Césaire – 2013/2014, Ministère de l'éducation nationale (DGESCO), Page 1 sur 5.] Le réveil a déjà eu lieu parmi beaucoup de nations qui commencent à identifier la source de leur problème. Il est temps que nous sortions de notre indifférence à l'état de notre peuple. La liberté est une utopie. Et le plus drôle, beaucoup croient encore que nous décidons de notre propre sort, que nous sommes les seuls responsables de nos malheurs.
Notre autodétermination est compromise. L'indépendance est un leurre qu'ils cherchent à nous faire croire habilement quand, derrière de soi-disant institutions démocratiques et d'idéal de partage de pouvoir, existent de solides ficelles. Nous ne décidons plus de nos orientations, de ce que nous voulons, de ce qui nous ferait du bien. Ils s'en fichent complètement de notre dignité de peuple puisque tout ce que nous représentons n'est autre qu'un marché lucratif. Comme au temps des colonies le commerce avec le nouveau monde rapporte gros. Nulle notion de justice, d'équité n'y figure. C'est la pauvreté planifiée, et de l'autre coté la richesse assurée. La notion de justice dans les pays du tiers monde renvoie à une double problématique. Le système politique et économique imposé par le nouvel ordre économique mondial crée non seulement une disparité entre les nations riches et les nations pauvres dans leur relation de dépendance, mais aussi il alimente le clivage qui existe entre les différentes classes sociales. Le néo-libéralisme n'a-t-il pas prôné un désengagement de l'Etat dans les activités sociales au nom d'une théorie de réglementation des dépenses publiques? De l'autre coté, nous assistons à la détérioration des termes de l'échange dont le néo-libéralisme et toutes les politiques qui l'accompagnent alimentent d'année en année en une extrême pauvreté, les disparités sociales et économiques, et de ce fait, éloignent les perspectives d'une justice sociale. Ils ne veulent pas que nous supportons nos secteurs de la production tandis qu'ils soutiennent les leurs.
Depuis des siècles les pays du Nord mènent une guerre voilée contre ceux du Sud. Mais il s'agit plutôt en fait d'un massacre. Toutes sortes de politiques institutionnelles, économiques, de théories et d'ajustements structurels, des ingérences politiques grossières sont mises en œuvre pour assoir leur domination et leur exploitation à outrance. Rien ne les retient pourvu qu'ils parviennent à leurs fins. Quand ces griffes s'enfoncent dans notre chair et que coule notre sang, nous ne pouvons nous empêcher de crier haut et fort à de telles souffrances, de telles calamités d'une avidité sans limite du néo-colonialisme. Mais quand nous crions, nous ne pleurons pas. Plutôt nous nous défendons comme nous l'avons déjà fait, comme des pays de l'Amérique Latine et des Caraïbes le font actuellement.
Une fois de plus, les masques sont en train de tomber et le dessous des rideaux montre les véritables acteurs, artisans de malheur des peuples opprimés. Jamais les noirs de Saint-Domingue ne s'étaient abandonné à leur sort; "à la résignation ils ont préféré l'attente et la révolte" disait Aimé Césaire. L'heure de l'attente est révolue! Nous avons le droit de définir notre destin. Ne nous appelle plus des nègres. Nous sommes vos égaux. Nous sommes des hommes et des femmes de couleurs noirs. Nous sommes des Caraïbes, de l'Amérique du Nord, de l'Amérique Latine, de l'Afrique. Nous sommes surtout des Haïtiens et Haïtiennes. Nous sommes "Haïti!"
Sources: Michel-Ange Cadet est né à Cap-Haitien, où il a effectué ses études primaires et secondaires respectivement chez les frères de l'Ecole Joseph et au Collège Notre Dame du Perpétuel Secours. Très vite il a pris gout au mouvement d'organisation de jeunes où il est actuellement membre du Groupe de Recherche en Développement Economique et Social d'Haïti (GREDESH) après ses études supérieures en Sciences Economiques. | Toutes les images proviennent des tableaux de Gerard Fortuné.