Senator Webb Is In Burma To Meet Junta Leader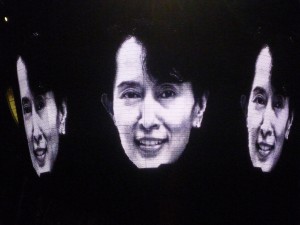 Today, US Senator Jim Webb arrived in Burma for talks with Than Shwe, the leader of the military junta.
The visit comes a few days after the military regime extended the house arrest sentence of opposition leader, Aung Suu Kyi. The sentence drew some strong international condemnations, especially from the EU and the UN.
Senator Webb is a Vietnam veteran and the Chairman of the Senate Foreign Relations Sub-committee on East-Asia. Webb will be the first senior US official to meet the 76 years old junta chief.
The move, by the junta, to sentence Nobel peace laureate Suu Kyi to serve another 18 months of house arrest seems to be motivated by an effort to keep Suu Kyi out of the elections promised by the junta for 2010.
During her trip to Asia last month, Secretary of State Hillary Clinton indicated that Washington could change its policy towards Burma if the junta frees Suu Kyi.
The decision by Than Shwe to commute the original sentence of 3 years hard labor for Suu Kyi to 18 months of house arrest could be an indication that the junta wants to be part of the international community again.
Senator Webb's trip to Burma is already criticized by some Republicans in the US, just like the one that former president Clinton took to North Korea to secure the release of two journalists. The GOP is making the argument that talking directly to regimes such as North Korea & Burma is a form of validation, however treating such countries like pariahs by isolation and sanctions has not produced any result. The pragmatic foreign policy approach of the Obama administration could pay off, in the instance of Burma.
Needless to say, Burma and its brutal military junta  still has a long way to go to fully reintegrate the international community. Suu Kyi has been held in detention for 14 of the last 20 years, after her party won the elections with 82 percent of the votes  in 1990.
Aung Suu Kyi won the Nobel peace prize 1n 1991, while in detention. Her acceptance speech was given, in Oslo, on her behalf by her son Alexander Aris.