Karzai's Campaign & Abdullah's Campaign Claim Victory In Afghan Elections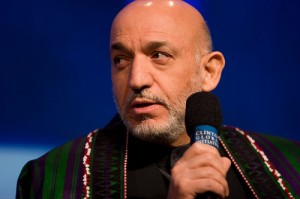 The BBC and RFI (Radio France Internationale) just confirmed Afghan news sources that the campaign of Hamid Karzai is claiming victory in the poll.
According to a statement made by Karzai's campaign manager to Reuters, there is no need for a run off. Karzai seems confident to have at least 50 percent of the votes; the minimum required for an outright win.
"From what we have obtained we can claim that there is no need for a second run-off, and we can claim that we are in the lead", Karzai's campaign manager told the AFP.
The AFP reports that Karzai's main challenger Abdullah Abdullah is claiming victory as well. Abdullah Abdullah served in the Karzai administration, one of the key argument of his campaign was to promise Afghans a government with less corruption than the one run by Hamid Karzai. Abdullah's camp is already accusing Karzai of massive election frauds.
The turnout is projected to be at a very low figure of 40 to 50 percent. The election officials are stating that all votes have been counted in the presidential election. The official results will be announced in about a week.
Most international analysts were forecasting an election win for Karzai, despite a bumpy start of his campaign and numerous allegations of corruption. Karzai was first elected President of Afghanistan in 2004 with 55 percent of the votes.
To read more about Hamid Karzai, and to find out why his reelection was the logical outcome of the Afghan elections click here.