Taliban Threatens To Harm Voters & To Attack Polling Stations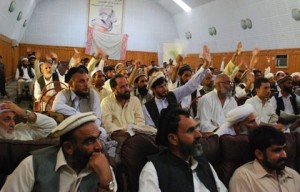 Today, the Taliban made numerous threats to attack polling stations and to arm, in very specific & gruesome ways, Afghans who intend to participate in the elections.
The threats were made in leaflets, posted overnight. Some of them warning that the Taliban would cut off the noses and ears of those who vote on Thursday. The leaflets also said that fingers stained with ink, the sign of having cast a ballot, will be cut off.
Qari Ahmadi, a Taliban spokesman, said that the leaflets were authentic. Ahmadi stated:"We are using new tactics, targeting election centers. We want to inform people that they should not participate in the elections if they don't want to become victims of our operations."
The new threats follows yesterday's suicide bomb attack in Kabul which occurred right outside NATO's headquarters.
Election officials are saying that fear of violence could prevent hundreds of polling stations from opening.
Meanwhile, front runner and current President Hamid Karzai was supposed to debate his two main contenders, Abdullah Abdullah & Ashraf Ghani, in a live television debate today. However, Abdullah Abdullah decided not to attend at the last minute. Karzai has a double digits lead in the latest polls, with Abdullah in 2ND place and Ghani in 3RD place. Ghani has hired James Carville as a political adviser for his campaign.