Afghanistan: Taliban Put Kabul Under Seige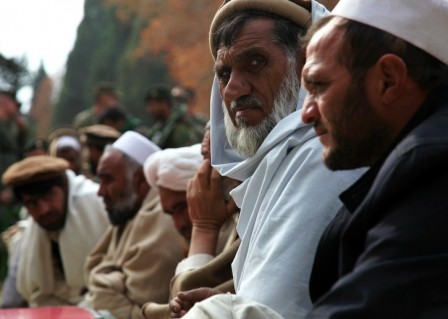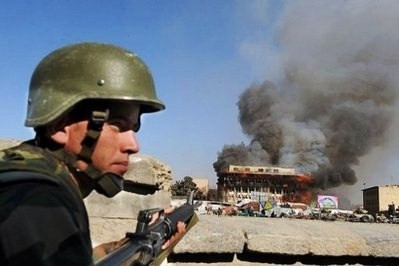 Today the Taliban insurgents have launched a wave of coordinated attacks on the highly fortified area of Kabul according to CNN, CBS, AP and AFP. It is once again a confirmation that the Taliban can strike anywhere they want, and that the regime of President Karzai is more fragile than ever.
Eye witnesses reported a series of large explosions and gunfire near the presidential palace. There is still no full report available on the number of casualties from the attacks.
"It is our work, the targets are the presidential palace, the finance, justice and mines ministries and the central bank. Twenty of our suicide bombers have entered the area and fighting is ongoing. One militant has detonated a suicide vest at the entrance of the presidential palace complex," Taliban spokesman Zabihulla Mujahid told the AFP from an undisclosed location.
A NATO spokesman was quick to spin and minimize the brazen attacks by painting it in an interview with the BBC as "a few bad guys which got in an open window in an otherwise secure building". The Afghan people are not buying this argument at all, and are fully aware that if the Taliban can hit what is supposed to be the most secured area of the country, they can surely hit anywhere else and at anytime they want to do so. The BBC's Mark Dummett reports that Kabul is now in lock-down.
Today's attacks came a day after the government said that President Karzai was to announce a plan to set up "a peace process with the Taliban". Karzai has been calling for a political deal and peace talks with the Taliban for a while, going as far as offering them some cabinet positions.
However, the Taliban militants consider Karzai to be illegitimate and a pawn of the US and NATO. The Taliban militia is refusing any dialogue with the Karzai administration until a complete withdrawal of all international troops. The attacks today illustrate the strength of the Taliban and the extreme fragility of Karzai. A lot of Afghans view Karzai as a corrupt and  illegitimately elected President, and rely on the shadow government provided by the Taliban.
Editor's Note: Please follow Gilbert Mercier on Twitter, and visit this author's archive on News Junkie Post.