Iraq: Political Reshuffle Ahead Of January's Elections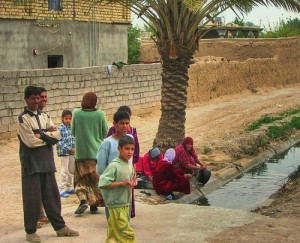 A group of Shiite parties announced the formation of a new coalition. It includes the Iranian supported Supreme Iraqi Islamic Council, the biggest Shiite party in Iraq, and Al-Sadr. Cleric Al-Sadr is known for his fierce opposition to the US occupation, and he leads the Mahdi army militia. Al-Sadr is rumored to be currently in Iran, and was not present for the announcement.
Iraq's Prime Minister, Al-Maliki, is a Shiite as well. Al-Maliki and his party, the Dawa, will not be part of the coalition. Iraq's current Prime Minister is trying to put together a multi-confessional coalition including Sunni leaders. If he manages to pull it off, it could be the only way to prevent Iraq from falling back into a full blown sectarian conflicts between the Shiite, Sunni & Kurd communities.
Meanwhile, what is left of Al Qaeda in Iraq has a very different agenda. Today, Al Qaeda claimed responsibility for last week two massive truck bombs in Baghdad. The bombs killed 95 people, and wounded 600. Al Qaeda posted a statement today on an Islamic web site. The statement was issued in the name of the Islamic State of Iraq, the Iraqi branch of Al Qaeda. The colorful, but hateful statement targets the Shiites & clearly illustrates Al Qaeda's intentions to revive the sectarians violence before the elections.
"By the grace of God, the sons of the Islamic State of Iraq launched a new attack on the wounded heart of Baghdad to to destroy the bastions of faithlessness, and the citadels of the atheism of the apostate Shiite government. We repeat that we will target the pillars of the hypocritical state and those that help it. We will not end the Jihad, despite the danger to our Sunni brothers, it would be better for the citizens of the Islamic State of Iraq to perish to the very last one than to be governed by Shiite renegades."