Smoke From Los Angeles Fires Reaching Las Vegas

Photo: NASA image of Los Angeles from space showing the smoke from the wild fires.
Updated at 10:08 p.m. (Pacific) – 9/1.

The thick smoke from the wild fires in Los Angeles and from the other fires across California is now reaching as far as Las Vegas, Nevada and even Denver, Colorado — that's a distance of over 1,000 miles. NASA has also sent in photos of the smoke, which is quite visible from space.
At the epicenter of the Southern California fires, unhealthy air quality levels have prompted authorities to urge people to stay indoors at all times. Television reporters are urging people to use dust masks to protect them from the particulates in the air and the worse is not even over.
In
Las Vegas
the smoke from the fires in Los Angeles have reduced visibility to about six miles. According to forecasters there, the fire smoke may not clear up until after Tuesday.
Firefighters battling the Station Fire located at the Angeles National Forest, northeast of downtown Los Angeles have been unable to get the fire under control. It has been contained only 5 percent since the fire started on Thursday. Some 105,000 acres have been charred by the fire, 54 homes have been destroyed, and 12,000 homes are under forced evacuation. Human casualties have been low, only two deaths yesterday and two injuries. The injured men suffered serious burns after trying to ride out the fire in a hot tub.
Expensive planes have been brought in from as far as Canada to aid blanket the fires with water and fire retardants. But there are concerns that the costly efforts to bring the fires under control will once again sink the state of California deeper into a financial crisis.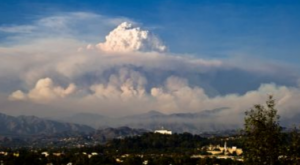 Mount Wilson is still expected to go up in flames as the fires get closer to the top, where transmission antennas for TV, radio, and cellular communication are located.
The heat and dry conditions have been the main culprits driving the six fires burning in Southern California, but some of those fires are under investigation. Authorities suspect that the Yucaipa fire was set by a possible arsonist.
Cooler temperatures may slow down the flames from spreading tomorrow, but it's likely the fires won't be under control for another week.