Climate Change: World Leaders Are Still Talking Not Acting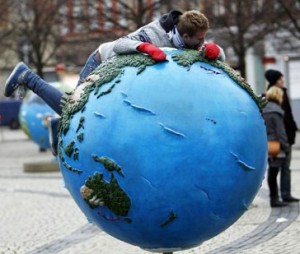 Some signs held by protesters outside Copenhagen's conference center said "Politicians Talk, Leaders Act". This statement is, in a nutshell, a summary of Copenhagen's short comings. Today, President Obama delivered his speech to the climate change conference. The US President said world leaders must compromise on a deal, and told delegates that "the time to talk is over".
"We have made our commitments, we will do what we say. It is better to act than to talk, choose action over inaction," said President Obama.
The United States claims it will cut its emissions in the range of 17 percent by 2020 and by more than 80 percent by 2050. President Obama also confirmed Secretary of State Clinton's announcement of aid for an amount to reach 100 billion dollars by 2020 to be allocated by the US to help developing countries deal with climate change.
However, President Obama reiterated the need for international accountability, a comment directed at the Chinese, who have so far resisted call for independent monitoring of progress towards their commitments to curb emissions. What President Obama failed to mention in his speech is the fact that a comprehensive US climate change bill is likely to face some stiff oppositions and major hurdles in the US Senate, and could become even more disappointing than the US health care bill.
Talks in Copenhagen are still going on as leaders remain deadlocked over a draft deal called the Copenhagen Accord. The Copenhagen accord would introduce greenhouse gas emissions targets for both developed and developing countries. The accord will say that developed countries should reduce their emissions by at least 80 percent by the year 2050. However, it will just be wishful thinking as no binding agreement will be reached before 2010.
Meanwhile, the frustration of climate change activists is quickly growing. Environmental NGOs are rightly arguing that the future of the world's children is at stake while delegates and negotiators at the conference won't be around anymore to deal with the catastrophic consequences of their inability to act. The overall picture is even bleaker than most people think. According to a leaked UN report, the current pledges will still lead to a rise of temperature of 3 degree Celsius, falling short to limit global warming at 2 degree Celsius. Scientists say that a rise of 3 degree Celsius could lead to up to 170 million people suffering severe coastal floods.
Urgent action is needed, indeed, on climate change. But talking eloquently about action, like President Obama did in Copenhagen, is not a substitute for taking action.