Democrat Calls For US Relief Head In Haiti To Step Down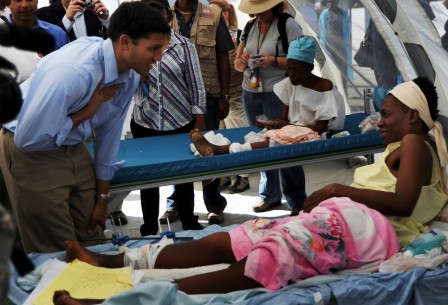 Representative John Conyers (D-Mich.) has called for the demotion of Rajiv Shah, the head of US AID for not bringing any African Americans staff members to a lunch with the Congressional Black Caucus Wednesday.
In a letter to Secretary of State Hillary Clinton, Conyers wrote: "I was alarmed and chagrined to learn that none of the approximately dozen staff he brought with him were African American. This is so serious an error in judgment that it warrants his immediate demotion to a subordinate position at AID."
Conyers told NJP that "the guy in charge of Haiti, the director of US AID, came with a dozen people and not one of them were of color, not one."
Rajiv Shah, an Indian-American, is in charge of relief efforts in Haiti, which has a black majority.  Many have praised the 36 year old's leadership, but relief efforts are still chaotic and uncoordinated. Food and medical aid remained piled at the airport for weeks, and many quake survivors still wait for food and shelter. Only about a 1/3 of the 3 million people affected by the quake have received aid, according to Shah.
Rep. Conyers also voiced frustration over recovery efforts.  He told NJP that the United Nations and the US are saying "it's just miraculous that we're doing as much as we can in such a difficult situation."  But he says the reality paints a different picture. Conyers said, "Things are so chaotic that it's inexcusable, and we're acting like we just found out about this."
Conyers continued, "There's gotta be a plan. All I'm asking for is let me see the plan. And you know why they can't do it? Because there isn't one."
Friday, Rep. Conyers leaves for his first trip to Haiti since the earthquake.  His statements came after a meeting at the White House Wednesday with members of the religious community from his home district of Detroit who had just returned from the grief stricken country.
Gordon Duguid, Deputy Spokesperson at the State Department, says there is a plan.  He says the Haitian government sets the priorities, the UN's World Food Program is in charge of food distribution, and each day the US, the UN and non-governmental organizations meet with the Haitian government in "cluster" meetings to determine how, where and who will distribute services.
A new website just launched to enhance coordination and communication among the clusters: www.haiti.oneresponse.info.
For the long term, Duguid said the United Nations General Assembly will be presented with a proposal in 60 days to rebuild Haiti.
But Duguid admitted that challenges exist and things don't always run smoothly. "There are always gong to be problems when you have different groups, different nations, different organizations. They all have different ways of doing things," Duguid said.
Representative Maxine Waters (D-Calif.) just returned from Haiti. She said it's a massive undertaking with some successes, but it was difficult to figure out who was in charge. She said it does not appear to be the US. She said Rajiv Shah can't "really tell the UN what to do. The UN seems to be very powerful there. They seem to be the biggest operation."
Duguid said it is ultimately Haiti's disaster and they are responsible for rebuilding.
You can follow Leigh Ann Caldwell on Twitter and hear an audio version of this story on FSRN.
Editor's Note: Please follow The News Junkie Post on Twitter.