Iran: Reformists Attacked During Revolution Anniversary Rallies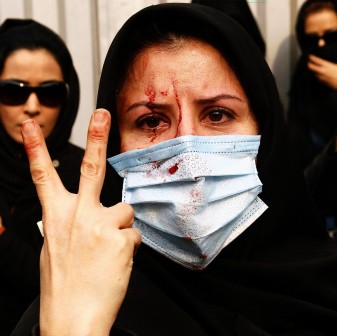 Today, tens of thousands of Iranians from opposing camps gathered for the 31 ST anniversary of the Islamic Revolution. According to the opposition web site Rahesabz, and other independent sources in Tehran key Iranian opposition leaders Khatami & Karroubi were attacked in their cars by members of the Basij militia. Karroubi's car windows were smashed. The same sources also reported that Khatami's brother and his wife have been arrested. Tehran Bureau has just released an interview of Karroubi's son made today concerning the incident.
According to state controlled television, one million pro-government supporters gathered in Azadi Square in Tehran. President Ahmadinejad delivered a one hour speech, and told the reportedly subdued crowd that the Islamic Republic has already successfully processed a batch of 20 percent enriched uranium in complete defiance of  growing international pressure. Ahmadinejad added that "Iran can enrich uranium up to 80 percent, but will not do so".
The large rally in Tehran marked the revolution which toppled the US-backed Shah in 1979.
The pro-reformist web site Rahesabz reports that "thousands of anti-government protesters were on the street of Tehran today". There is no major international  news organizations covering the event, and the authorities clamped down on Internet and mobile phone connections ahead of the event. A massive amount of government security forces were deployed in Tehran today. The revolutionary guards and the police had issued strong warnings that they would crack down on any protest.
"If anyone wants to disrupt the glorious ceremony, they will be confronted by people and we too are fully prepared," stated police chief Ahmadi Moghaddam. Violent clashes between reformists and pro-government forces were reported by witnesses on Azadi Square.
Wednesday in Washington, the State Department announced an order imposing a complete freeze on assets connected to the Iran revolutionary guard. The next step for the international community is to work on the language of a strong UN resolution within the United Nations Security Council, and by this resolution to impose the strongest sanctions which China will agree on, concerning Iran's controversial  nuclear program.
To see videos and photographs of today's events by journalist/ photojournalist Mehdi Saharkhiz click here.
Editor's Note: Please follow The News Junkie Post on Twitter.