Iran's Two Slogans: "Death To The Dictator" & "Death To America"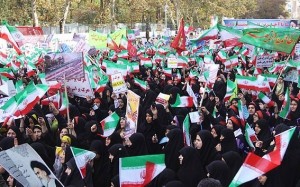 Today in Tehran, the police violently broke up an opposition rally. The riot police used batons and tear gas as a separate demonstration was staged to mark the storming of the US embassy 30 years ago. The green movement demonstrators were chanting "Death to the dictator", while pro-government hardliners were chanting the familiar "Death to America".
The violent clashes between the opposition supporters and the police occurred at the central Haft-e-Tir square, where riot police took on a crowd of several hundreds. The protesters refused to disperse, and according to eye witnesses dozens were beaten and arrested by the police.
Groups of pro-government supporters also gathered at the Haft-e-Tir square chanting "Death to America". Earlier today, thousands of Iranians gathered outside the old US embassy complex to mark the 30th anniversary of its capture by Islamist students. The students took 52 American diplomats hostage and held them for 444 days, just a few months after the Islamic Revolution toppled the regime of the US-backed Shah. The pro-hardliners supporters smashed effigies of Uncle Sam.
According to an opposition web site, opposition leader Mehdi Karroubi was present at the demonstration today.
"Every year this day was commemorated across Iran with the full backing of the government and was the platform for radical voices in Iran who would shamelessly hijack the ceremonies. However this time, students across from all over Iran are gearing up to mark the day with protests against the coup government of Ahmadinejad which lack any form of legitimacy after it committed a monumental fraud during the elections in June," wrote an anonymous writer on the opposition web site Mowzcam.com.
Almost six months after the contested elections in June, Iran remains deeply divided between the supporters of the reformists and the supporters of the hardliners. The division expressed itself again today. Iran has literally two clashing slogans, either "Death to the dictator" or "Death to America". Regardless, the green wave of the reformist movement is not going away or fading anytime soon.
To stay updated on the Iranian green movement click here.