Middle-East: Mossad Kills Hope For Peace In Dubai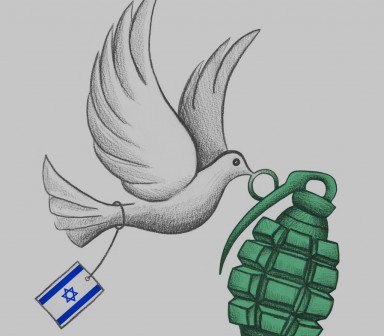 Today, the authorities in Dubai have issued an international arrest warrant for 11 suspects which Dubai police claims were the 11-persons hit squad responsible for the assassination of Hamas leader Mahmud al-Mabhouh in a Dubai hotel room on January 20.
Among the 11-strong hit squad, nine were passport holders from various European countries such as Britain, Ireland, France and Germany. Britain and Ireland are saying that the passports are fake documents.
"We are aware that the holders of the six British passports have been named in this case. We believe the passports used were fraudulent and have begun our own investigation," said a spokesman for Britain's Foreign Office today.
The Irish Foreign Affairs Department also said today the the 3 passports in possession of 3 hit squad members were fake.
Is Mossad To Blame?
Dubai police chief, Dhafi Khalfan, said on Monday that he is seriously considering a potential involvement of Mossad, Israel's intelligence agency, in the assassination. Hamas is blaming Mossad for Mabhouh's death.
Israeli Reactions
There is still no official comment on Mabhouh's execution from Israeli authorities, but some Israeli media, such as The Jerusalem Post have welcomed the killing.
A former high ranking Mossad official, Rami Yigal, told an Israeli radio station today that the assassins "does look professionals", but Yigal added that it doesn't look like an Israeli operation "because of the apparent shortcuts, such as allowing members of the team to be videotaped by security cameras".
Al-Mabhouh, one of the founder of Hamas military wing, had been wanted by Israel for his alleged role in the 1989 kidnapping and killing of two Israeli soldiers on leave.
However, despite Rami Yigal's reaction to the killing, Yossi Melman from the Haaretz wrote today that al-Mabhouh's assassination was a "Mossad style execution".
Updates 0n 2/17/2010 9:00 AM US (PST)- First Israeli Official Reaction
Israel's Foreign Minister, Avigdor Lieberman, says there is "no proof Mossad carried out Hamas Dubai killing", but he did not fully deny it.
"I don't know why we are assuming that Israel, or the Mossad, used those passports", said Lieberman in an interview with Israeli radio station Army Radio.
Six of the suspects were carrying fake British passports, and now the story is getting major coverage from the BBC. The BBC also posted photographs of the 11 "European" suspects sough for the assassination by Dubai police in conjunction with Interpol.

Editor's Note: Please follow The News Junkie Post on Twitter.