Direct Action in the UK to Support Palestine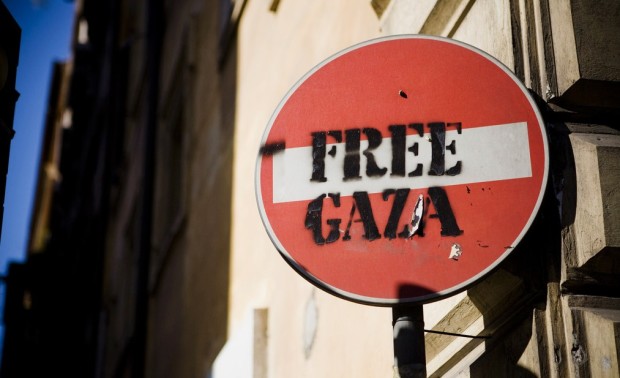 Direct action against the wanton killing of civilians in Gaza and other parts of Palestine is bringing the accomplices to these abominable war crimes into the public eye, and awareness is starting to grow all over the world. Take the case of the "Elbit 9" protestors from the London Palestine Action Group, who staged a rooftop protest at UAV Engines Ltd, Shenstone, Staffordshire on August 5 and 6, 2014. This action, which included chaining shut the doors of the unmanned aerial vehicle (UAV, drone) factory, brought it to a standstill for two days. Moreover, it inspired an Australian group to occupy another Elbit-owned factory roof at Ingles Street, Port Melbourne.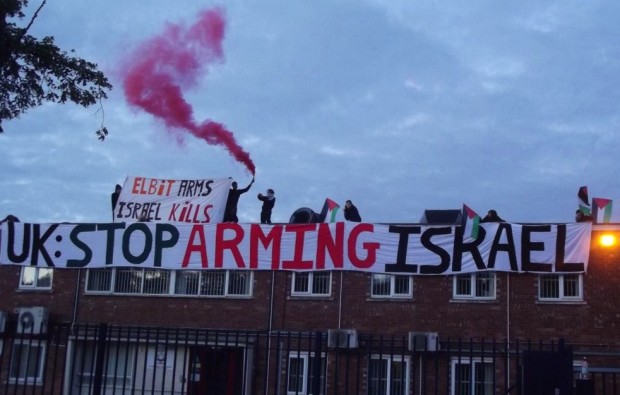 Elbit Systems Ltd is Israel's largest weapons company and the world's biggest manufacturer of drones, with revenues of $3 billion per year. It is an international company that is publicly traded on the NASDAQ stock exchange and has locations throughout Europe (France, Italy, United Kingdom, Romania), Latin America (Argentina, Brazil, Colombia), and the United States. Elbit manufactures components for companies such as Lockheed Martin and Boeing. It sells its weapons of death all over the world as being "field-tested." This makes one wonder how many Palestinians have died in field-testing experiments for Elbit.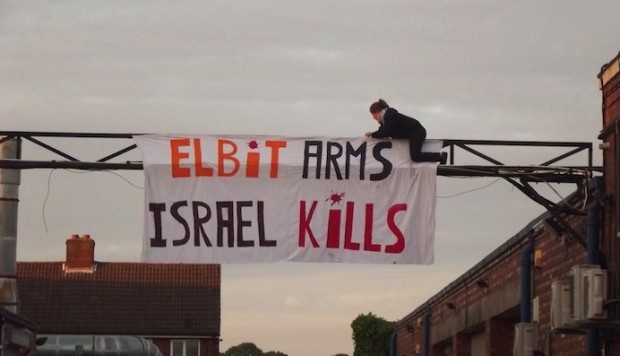 The highly organized Elbit 9 protesters at Shenstone brought with them not only a ladder to climb to the factory's roof, but also enough food to last a week, tents in which to sleep and other essentials such as batteries to charge their phones so that they could keep contact with legal observers on the ground. Maya Evans, one of the nine, told me that it was cold up there during the night. She also said that the police had been professional and not provocative. Safety was a concern, since it had been impossible to see the protestors on the roof from where supporters were positioned by the police on the second day of the protest.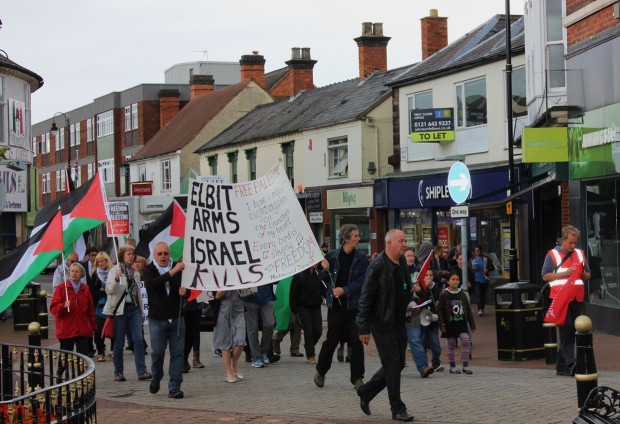 The nine protestors appeared at Cannock Magistrate's Court on Wednesday, August 20 to plead not guilty to a charge of aggravated trespass. Although this was a work day, there was a respectable crowd of supporters outside the court, with representatives from areas including London, Birmingham, Coventry, Manchester, Worcestershire, and Sheffield. The court officials and legal wigs were able to hear the amplified good-humored support outside to buoy the spirits of the Elbit 9 as they waited for their hearing.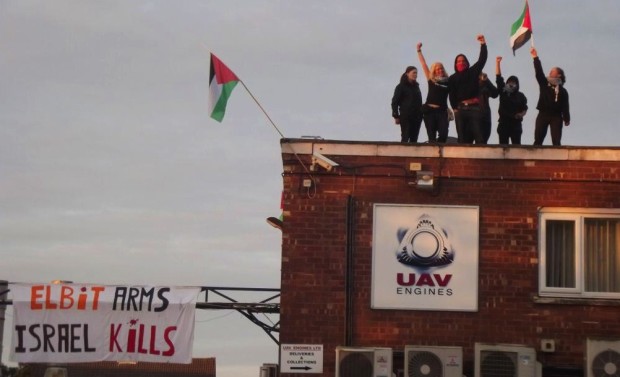 Norman Turner of Manchester Palestine Solidarity Group called on everyone to boycott Israeli goods, and there was general condemnation of Business Secretary Vince Cable and Deputy Prime Minister Nick Clegg for their U-turns on prohibiting the export of UK military components to Israel, despite their feeble threat to revoke export licenses. Naeem Malik, chairman of Birmingham Stop the War, called for a mock trial to expose the hypocrisy of politicians, including David Cameron, who told a December 2010 business luncheon of the Conservative Friends of Israel: "In me you have a Prime Minister whose belief in Israel is indestructible."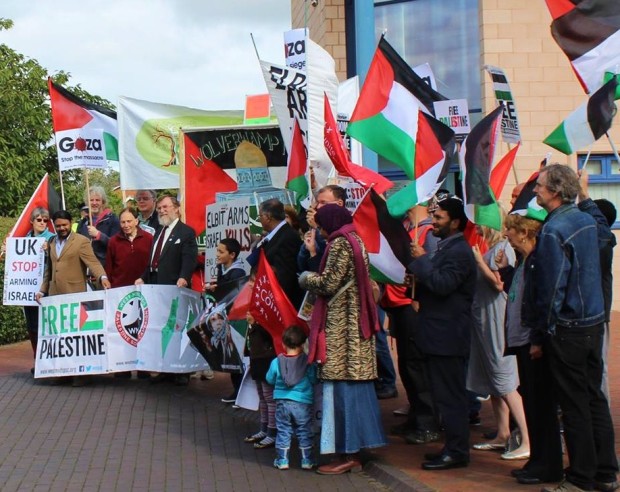 John Nicholson, of Manchester's "Stop G4S Campaign," spoke of a need to target the private security firm G4S. As well as this firm's appalling record of deaths in custody and its recent contract to service Guantanamo, Nicholson told the attentive assembly that in every Israeli prison cell there is a spy camera on Palestinians that bears a G4S logo. The very personable Mark France, from Worcester Unite the Union, who also kindly drove protestors and some of the Elbit 9 on an unscheduled tour of Staffordshire, informed everybody of collaboration between various direct action groups and how they were keeping in touch with one another via roof-to-roof solidarity communications. In the age of 5 Eyes snooping, this almost conjures a mental image of smoke signals billowing from one roof to another. One of Coventry Friends of Palestine representatives, Karen Whyte, brought attention to their weekly protests outside the Council House, Sainsburys, the British Broadcasting Corporation (BBC), and Lockheed Martin.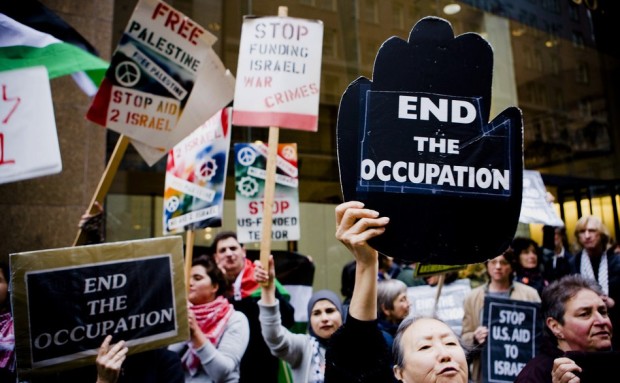 In his testimony at Cannock, the Managing Director of UAV Engines Ltd ineptly tried to defend the greater crime of manufacturing drone engines for Israel. The company's defense was that "components produced in the factory were not exported for use in Israel," an argument that Charlie Deas, one of the Elbit 9 speaking after the hearing, called "bizarre," given that the company is Israeli owned.
Speaking also after the hearing, Elbit 9 Ewa Jasiewicz and Maya Evans discussed why they took their action. Both have lived in places, including Gaza, that are targeted by Israeli drones. They have seen the devastating damage done by drones and spoken with bereaved families whose loved ones can never be brought back to them. This factory needs closing down completely for the sake of Palestinian people who are suffering Israeli crimes against humanity; there needs to be an arms embargo against Israel, Ewa told supporters. The morning finished with a march into the town of Cannock where shoppers had not been so amazed since the aviation pioneer Gustav Hamel flew his plane round there in 1913. A hundred years of so-called progress have turned aircraft into pilot-less killing machines.
There will be another hearing for the Elbit 9 on Monday, October 6, 2014, at which the prosecution and defense lawyers will outline legal arguments before the case goes to trial.
From the long list of companies that are breaking international law by fueling the illegal Israeli war effort, it is clear that direct action needs to become more widespread, because Israel listens to no third parties. And this is happening.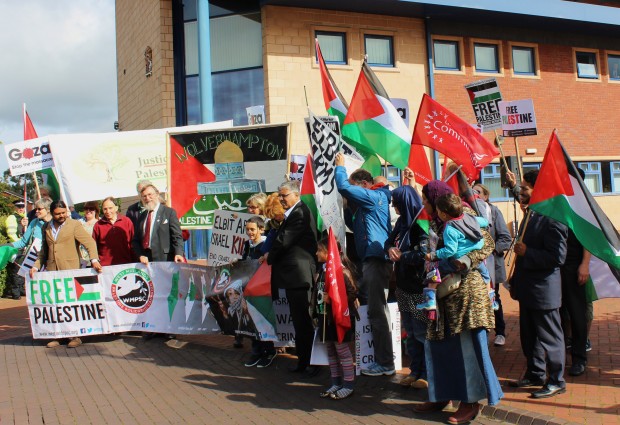 In Birmingham, a protest on Saturday, August 16, 2014 targeted the City Council's waste services, which are operated by the French company Veolia. Veolia also builds public transport links, bus and rail (for segregated use by Israelis only) to East Jerusalem on land stolen from Palestinians in the settlements. This kind of segregation today is another facet of Israel's ugly apartheid face. Birmingham taxpayers fund Veolia's huge profits, which average more than £4 million annually (2011 and 2012 figures), with clauses that are highly favorable to the company. These include a guaranteed profit protection for the company despite Birmingham waste-disposal services being drastically cut. Veolia's contract with Birmingham City Council will not expire until 2019. While many residents hope for a new company, others look back to the days when waste services were part of the public sector.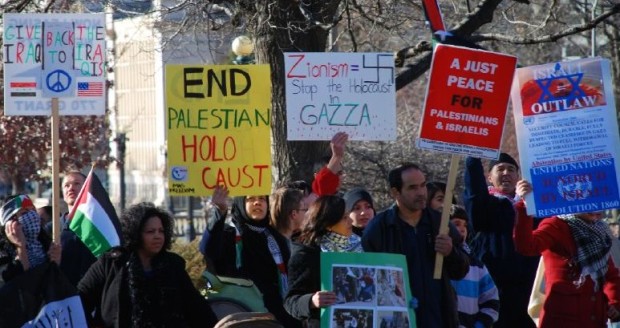 At the protest against Veolia, Birmingham residents chanted anti-Israeli and pro-Palestinian slogans. Again there was outrage from the speakers. The protest took place on an open day at Tyseley waste disposal plant. Somebody evidently knew about the protest outside because two from a party of visitors who were being shown around did a die-in after they questioned the morality of staff wearing Veolia logos on their uniforms. The police were called, but no arrests were made. Another direct action initiative had raised further awareness. Add to this other ongoing protests, including those at Tesco by demonstrators who want the store to stop selling Israeli food, and eventually the message will be driven home. Good people do not want Israel to kill civilians disproportionately in order to steal Palestinian land. The protestors believe that direct action will succeed and call on the world to organize more of it.
Editor's Note: Photographs one and seven by Hossam el-Hamalawy. Photographs four, six and eight by John Goss.