Midnight of Haiti's Parliament on the Earthquake's Anniversary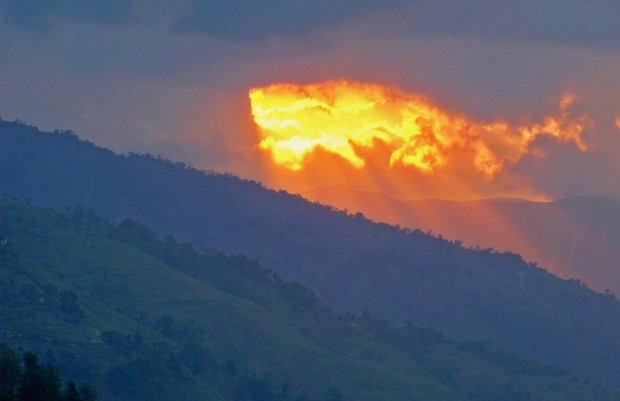 Just as the earthquake had rattled the ground under the feet of Haitians, the dissolution of the Haitian Parliament at midnight, 00:00 on January 12, 2015, exactly five years later, has shaken to the core Haiti's republican institutions. Right at the day's start, the terms expired for all 99 members of the House of Representatives and 10 Senators. With only 10 members left, the Senate lacks a quorum and cannot function. This loss of the legislature, plus the replacement in 2012 of every elected judge, mayor and other local executive by presidentially-appointed "interim executives," have concentrated all the country's power in Michel Martelly, who is now a full-blown dictator. The current state of affairs resulted from Martelly's deliberate neglect to organize elections for almost four years. Year after year, he demanded a rewrite of the Constitution as a precondition for elections, and year after year, the Senate refused to yield to his demands. One of the amendments would have allowed consecutive terms for Haitian presidents and made it possible for him to extend his tenure to 10 years.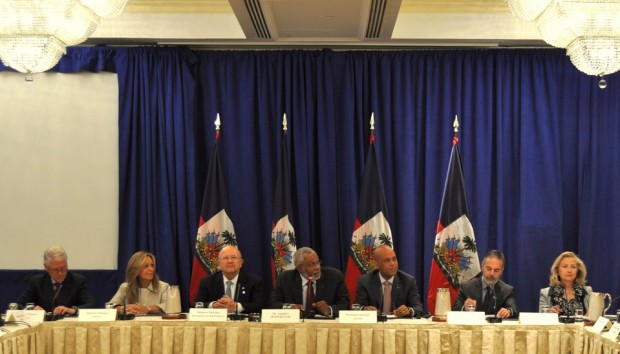 As Haiti's government was systematically dismantled according to a plan laid out by Bill Clinton in 2011, the international community wholeheartedly supported Martelly. Every year, the United Nations Stabilization Mission in Haiti (MINUSTAH) justified its $500 million budget and the renewal of its mandate by promises that it would organize elections and render the horrific situation in Haiti yet more stable. After 10 years of such "stabilization," the crime rate has climbed, the parliament is dysfunctional, and the Haitian government counts less than one percent of its normal number of elected officials.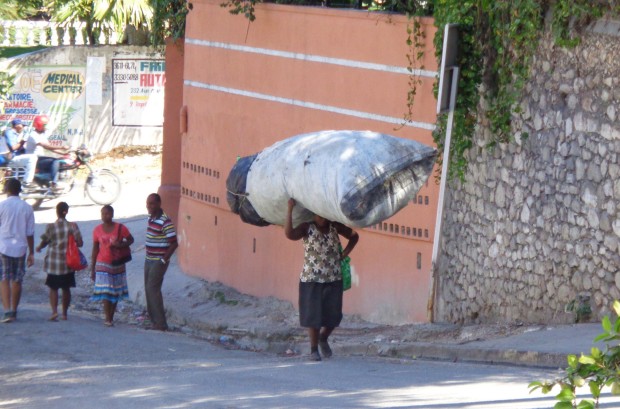 The absence of legislators from Haiti did not deter United States Ambassador Pamela White from organizing a meeting at 10 a.m. between Martelly and Haiti's phantom lawmakers and then trumpeting, in a press release, that they had reached an agreement. The pact was signed by the following motley crew of insignificant parties and non-governmental organizations (NGO):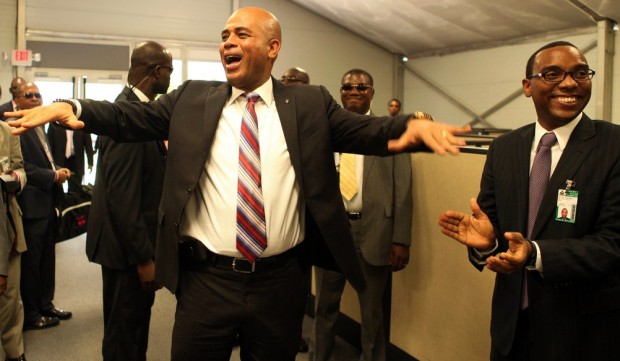 Jean Henry Ceant, Renmen Ayiti
Jose Ulysse, Ansanm Nou Fo
Pasteur Chavannes Jeune, Alliance Chretienne et Citoyenne pour la Reconstruction d'Haiti (ACCRHA)
Marc Guillaume, Union des Patriotes pour l"Avancement National (UPAN)
Harry Precius Dessieu, Konfyans
Fils-Aime Ignace Saint-Fleur, Patriyot Natif Natal (PNN)
Kettly Adam Surin, Union Patriotique des Democrates Chretiens (UPDC)
Masconne Polyte, Parti de la Diaspora Haitienne pour Haiti (MUDHAH)
Eddy Mesidor, Union des Democrates Haitiens (UNDH)
Sene Debre Juslair, Rassemblement des Militants Progressistes d'Haiti (RAMPHA)
Pierre Melisca Romestil, Parti Resistance Nationale Contre la Pauvrete (PRENACOP)
Asnel Alexandre, Mobilisation Democratique pour le Relevement d'Haiti (MDRH)
Notice the absence of Fanmi Lavalas, Platfom Pitit Desalin, Mouvement Patriotique de l'Opposition Démocratique (MOPOD) and other parties and popular organizations that, together, command more than 90 percent of the electoral support.
The reason for such contortions by the US to display a semblance of a democratic process in Haiti is because the Latin American participants in MINUSTAH have announced that they would not serve as the praetorian guard for a US client in repressing Haitians. Of course, they already do so, but they do it in a pseudo-democracy rather than an outright dictatorship. Form is everything.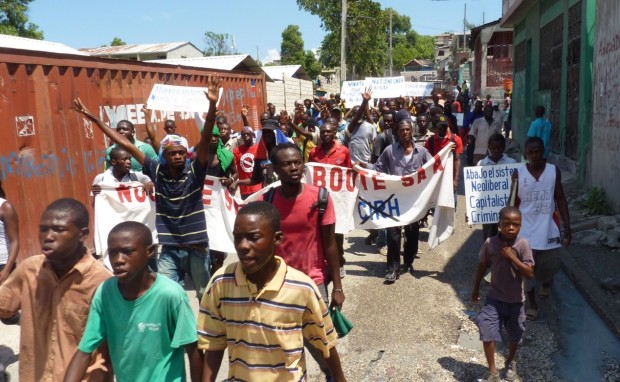 Crowds of angry Haitian citizens took to the streets to continue the protests they began more than three months ago, despite having suffered several deaths and countless injuries from police attacks. Having successfully forced the release of political prisoners and ejection of the previous prime minister, Laurent Lamothe, the protesters continue to call for:
1. Martelly's departure.
2. Formation of an Electoral Council that is credible and in accord with the spirit of the 1987 Constitution.
3. Formation of a transitional government to organize general elections in 2015.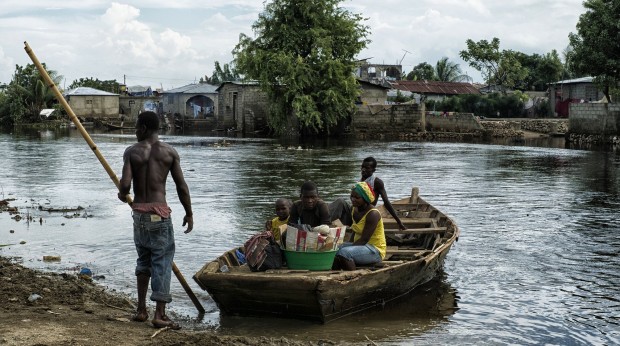 At Haiti's official earthquake commemoration, Martelly took a break from his orders of police attacks on protesters, lewd insults to journalists, physical assaults against congressmen, and release of hardened criminals from prison, to discuss how much the country needs reconciliation. He should know: he needs forgiveness more than anyone. During his rule, charges of usurpation and money laundering against his wife and son resulted in the suspicious death of the investigating judge. Numerous political activists have died under questionable circumstances or have been killed in drive-by shootings that were essentially assassinations. In early November 2014, in a television interview, Martelly casually announced that he would rule by decree, come January 12. If his American puppeteers have toned down his rhetoric, they have not dampened his ambition.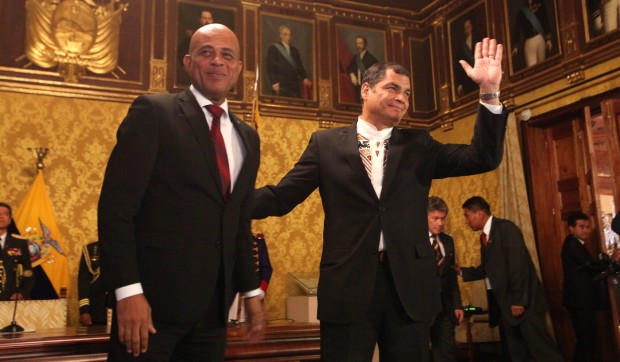 With a little help from Rafael Correa, Martelly might soon be able to do as he pleases. A large force of tontons macoutes loyal only to him is being quietly assembled and will be put at his disposal by Summer 2015. At 7:45 a.m. on Monday, January 12, 2015, for example, the third installment of 40 soldiers (tontons macoutes) graduated from Ecuador's Escuela de Formación de Soldados del Ejército.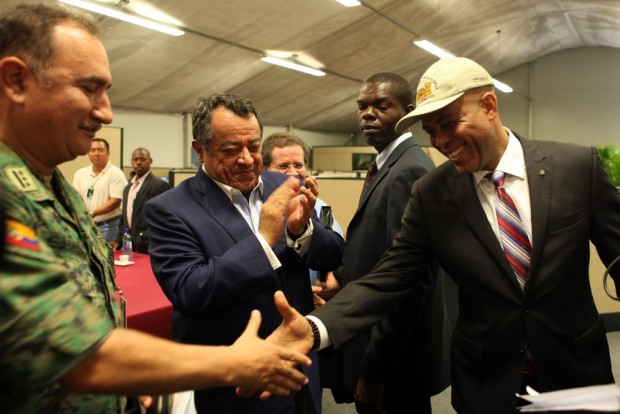 Former United States President Bill Clinton missed Haiti's official earthquake commemoration this year: a good sign for Haitians. He is no longer welcome in Haiti, and legal action has been taken against him with regard to the disposal of earthquake reconstruction funds by his Interim Haiti Recovery Committee (IHRC). Clinton attended a different event: the fourth annual "Help Haiti Home" gala fundraiser held by Sean Penn on the evening of Saturday January 10. This party has become a major place in which to be seen and photographed on a red carpet in designer clothes. In previous years, it was held in Haiti, in complete disregard for the poverty around it and the mourning related to the earthquake anniversary. In 2015, the opulent affair was held in Los Angeles: another good sign. Clinton's protégé, disgraced Prime Minister Laurent Lamothe, who is also under investigation for fraud, was in attendance. The event raised another $6 million of reconstruction funds.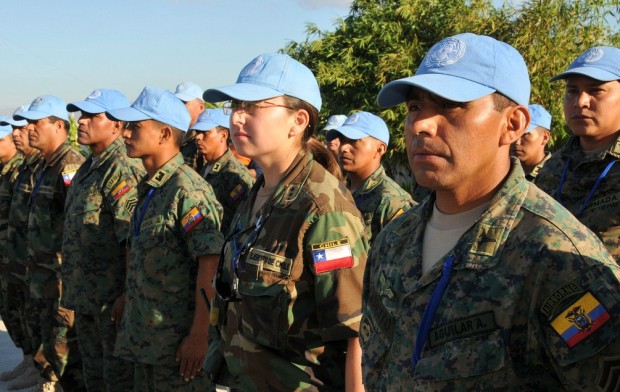 Martelly's handlers failed to catch his gaffe, of also declaring January 12 — the day to mourn the 300,000 victims of the earthquake — to be the official start of the 2015 pre-carnival activities. This was bound to happen. After all, carnivals are what Martelly does best. The carnival king evidently plans to dance over yet more graves while he sings about reconciliation. He might well do so, unless the Haitian people cut short his incipient career as the konpa dictator.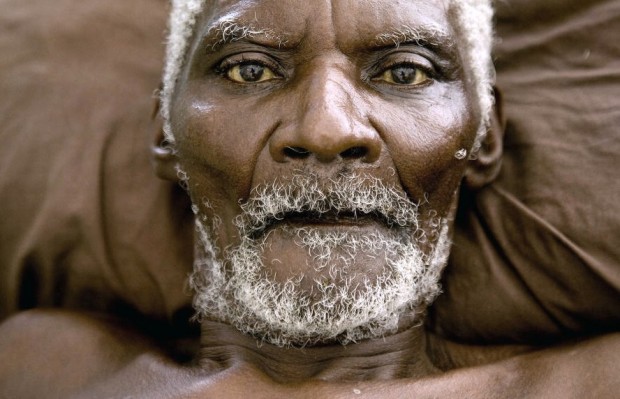 Editor's Notes: This article is also available in French. | Photographs one and three by Eric Goldhagen; five and six from Ansel's archive; four, eight, nine and ten from Presidencia de la Republica del Ecuador's archive; and seven and eleven from United Nations Photo archive. | For more from Dady Chery on the dismantlement of Haiti's government, read We Have Dared to be Free: Haiti's Struggle Against Occupation.
Le minuit du parlement d'Haïti au jour de l'anniversaire du séisme
Par Dady Chery
Haiti Chery
Tout comme le tremblement de terre avait secoué le sol sous les pieds des Haïtiens, la dissolution du Parlement haïtien à minuit, 00h00 le 12 Janvier, 2015, exactement cinq ans plus tard, a ébranlé les institutions républicaines d'Haïti. Au début de cette journée, les termes ont expiré pour tous les 99 membres de la Chambre des Députés et pour 10 Sénateurs. Ce qui laissa seulement 10 Sénateurs; en conséquence il n'y aura pas le quorum, et le Sénat ne pourra pas fonctionner. Cette crise législative, et par ailleurs, le remplacement en 2012 de tous les juges élus, les maires et les autres exécutifs locaux du pays par des soit-disant « agents exécutifs intérimaires » nommés par le président, ont concentré de facto tout le pouvoir du pays dans les mains moites de Michel Martelly. Ce dernier est maintenant officiellement un dictateur. L'état des choses actuel provient d'une négligence délibérée de Martelly à organiser des élections pendant presque les quatre dernières années. Chaque fois, il a utilisé des excuses pour demander des réécritures de la Constitution comme condition préalable pour des élections, et chaque fois, le Sénat a refusé de céder à ses exigences innacceptables. L'un des amendements aurait permis des mandats consécutifs pour le président haïtien et aurait rendu possible un prolongement de son mandat à 10 ans.
Tandis que le gouvernement d'Haïti fut systématiquement démantelé selon un plan établi par Bill Clinton en 2011, la communauté internationale a appuyé Martelly sans vergogne. Chaque année, la Mission des Nations Unies de Stabilisation en Haïti (MINUSTAH) a ainsi justifié un budget de 500 millions de dollars et le renouvellement de son mandat en promettant d'organiser des élections et de stabiliser dans la permanence la situation épouvantable d'Haïti. Après 10 ans de cette pseudo-stabilisation, le taux de la criminalité a grimpé, le Parlement est moribond, et le gouvernement haïtien compte moins d'un pour cent de son nombre normal d'élus.
L'absence de législateurs en Haïti n'a pourtant pas empêché l'Ambassadeur Américain, Pamela White, d'organiser une réunion à 10 heures du matin entre Martelly et la législature fantôme d'Haïti. Les Américains ont ensuite annoncé, dans un communiqué de presse, qu'ils étaient parvenus à un accord. Le pacte a été signé par un groupe hétéroclite de partis politiques insignifiants et d'organisations non-gouvernementales (ONG). En voici la composition :
Jean Henry Céant, Renmen Ayiti
Jose Ulysse, Ansanm Nou Fo
Pasteur Chavannes Jeune, Alliance Chrétienne et Citoyenne Pour la Reconstruction d'Haïti (ACCRHA)
Marc Guillaume, de l'Union des Patriotes verser l'Avancement National (UPAN)
Harry Precius Dessieu, Konfyans
Fils-Aimé Ignace Saint-Fleur, Patriyot Natif Natal (PNN)
Kettly Adam Surin, l'Union Patriotique des Démocrates Chrétiens (UPDC)
Masconne Polyte, Parti de la Diaspora Haïtienne pour Haïti (MUDHAH)
Eddy Mesidor, Union des Démocrates Haïtiens (UNDH)
Sené Débré Juslair, Rassemblement des Militants Progressistes d'Haïti (RAMPHA)
Pierre Mélisca Romestil, Parti Résistance Nationale Contre la Pauvreté (PRENACOP)
Asnel Alexandre, Mobilisation Démocratique pour le Relèvement d'Haïti (MDRH)
L'absence de Fanmi Lavalas, Platfom Pitit Desalin, Mouvement Patriotique de l'Opposition Démocratique (MOPOD), et d'autres parties et organisations populaires qui, ensemble, commanderaient plus de 90 pour cent du soutien populaire, est à noter.
La raison pour ces contorsions diplomatiques par les États-Unis est d'afficher un semblant de processus démocratique. Les participants latino-américains de la MINUSTAH ont déclaré qu'ils ne seraient pas utilisés en tant que garde prétorienne dans la répression des haïtiens pour un dictateur-client des États-Unis. Bien sûr, les troupes de MINUSTAH le font déjà, mais ils le font sous un costume pseudo-démocratique plutôt qu'une dictature à nue. Tout est dans la forme.
Des foules innombrables de citoyens haïtiens en colère descendent dans les rues pour continuer les protestations qu'ils ont commencé il y a plus de trois mois, malgré d'avoir subi plusieurs morts et beaucoup de blessés à cause des attaques de la police. Le peuple haïtien a ainsi réussi à forcer la libération des prisonniers politiques et la résignation du premier ministre, Laurent Lamothe. Les manifestants continuent de réclamer les choses suivantes:
1. Le départ de Martelly ;
2. La formation d'un Conseil électoral crédible et en accord avec l'esprit de la Constitution de 1987 ;
3. La formation d'un gouvernement de transition pour organiser des élections générales en 2015.
Aux commémorations du tremblement de terre, Martelly a déclaré une trêve de ses ordres d'attaques par sa police, de ses insultes obscènes et abjectes à l'envers de journalistes, de ses agressions manu militari contre des membres du Parlement, et de sa libération de criminels endurcis des prisons. Cette trêve était pour discuter combien le pays a besoin de réconciliation. Martelly devrait bien savoir qu'il a besoin d'être pardonné plus que n'importe qui en Haïti. Durant son mandat, des accusations d'usurpation et de blanchissement d'argent à l'encontre de sa femme et de son fils ont abouti à la mort suspecte d'un juge d'instruction. De nombreux opposants politiques ont trouvé la mort dans des circonstances plus que douteuses ou ont été tués par des tueurs à gage à moto. Au début de Novembre 2014, dans une interview pour une station de télévision française, Martelly a annoncé comme en passant qu'il gouvernerait par décret après le 12 janvier si il n'y avait plus de Parlement. Si ses chefs d'orchestre américains ont mis la pédale douce sur sa rhétorique, ils n'ont pas freiné son ambition.
Avec un peu d'aide de Rafael Correa, Martelly pourrait bientôt être en mesure de faire ce qu'il veut. Une force substantielle de tontons macoutes, fidèles seulement à lui, est en train d'être assemblée en silence et sera mise à sa disposition en été 2015. À 07h45, le lundi 12 Janvier, 2015, la troisième tranche de 40 soldats (tontons macoutes) fut diplômée de l'Ecole de Formation des Soldats de l'Armée d'Equateur.
L'ancien président américain Bill Clinton a manqué la commémoration du tremblement de terre en Haïti cette année, et cela est un bon signe pour les Haïtiens. Il n'est pas bienvenu en Haïti, et une procédure judiciaire a commencé contre lui au sujet de la comptabilité des fonds de reconstruction gérés par son Comité Intérimaire pour la Reconstruction d'Haïti (CIRH). Clinton a préféré Hollywood en joignant l'événement « Help Haïti Home », un gala « charitable » annuel pour remplir les caisses sans fonds de la reconstruction. Ce gala, organisé par Sean Penn le samedi 10 Janvier cette année, est devenu un endroit impératif ou les célébrités montrent leurs plumages et sont photographiés à tir larigot sur le tapis rouge. Antérieurement, ce gala se faisait en Haïti, au mépris total de la misère et en affront du deuil de l'anniversaire du tremblement de terre. En 2015, ces extravagances des rois et reines hollywoodiennes ont eu lieu à Los Angeles: encore un bon signe pour les haïtiens. Le chouchou de Clinton, le premier ministre déchu Laurent Lamothe, qui est également sous enquête pour fraude, était présent. L'événement a ramassé six millions de dollars de plus pour une reconstruction évasive.
Les conseillers de Martelly n'ont pas pu empêcher un faux pas de plus, celui de déclarer aussi le 12 Janvier — un jour de deuil national pour les 300 000 victimes du tremblement de terre — d'être le début officiel des préparations du carnaval 2015. C'était prévisible. Après tout, le carnaval et l'amusement sont les pêchés mignons de Martelly. Evidemment, le roi du carnaval a l'intention de danser sur les tombes en chantant sa musique sordide de réconciliation. Il pourrait bien le faire, à moins que le peuple haïtien mette fin à sa carrière de dictateur fantoche du konpa.
Source: Haiti Chery