Food for the Gods: Link of Vodou to Haiti's Agriculture, a Legacy of the Ancestors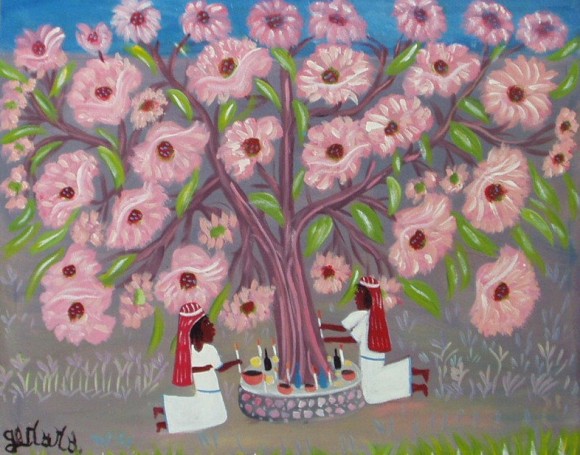 Haitian religion and culture are so linked to local agriculture that Vodou ceremonies are routinely called manje lwa: food for the gods. Our lwa (gods, spirits, deities) must be fed. They are not eternal and can only exist so long as they continue to be summoned to participate in human affairs. In other words, their strength comes from ritual remembrance celebrations. During these feasts, the gods and their communities partake of local foods. The gods become empowered in direct proportion to the quantities and varieties of favorite foods that are offered to them, and the care that is put into their preparation and presentation.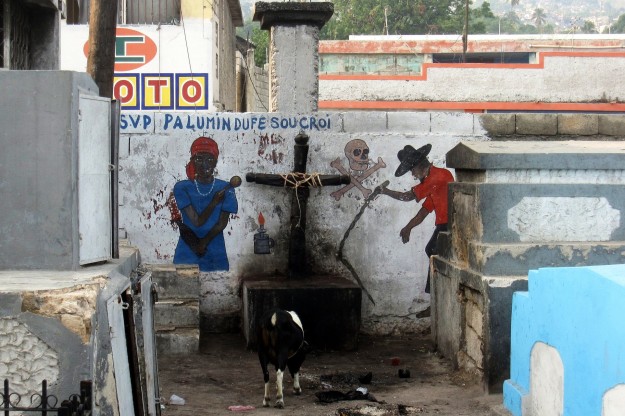 The spirits of Vodou are, for the most part, venerable ancestors. They are not worshipped but respected, loved, and sought after, mostly for advice, protection and blessings. To summon them requires certain formalities. One does not greet an important ancestor without at least cooking a chicken and throwing a party, not for him or her alone, but the entire neighborhood. The practices of Haitian Vodou represent religion, unadulterated, unappropriated and at its best: not an infantilizing force that habituates people to their prostration before a greater power, but a cultural force that anchors people in the lands and waters around them and furnishes them with the practices for a joyful, sustainable life.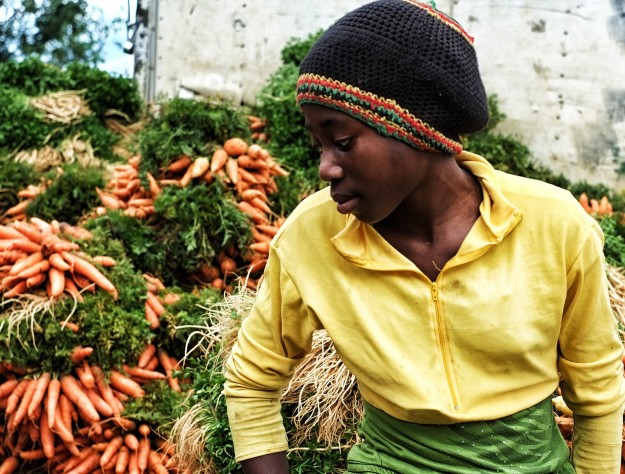 Vegetables aplenty
Westerners are so fascinated with the blood offered to Vodou gods, that many imagine the gods eat nothing but animals. I will not address here the hypocrisy of people who care nothing about how the beasts they eat have spent their lives, how they are slaughtered, whether they are thanked for their flesh, or if half of it winds up in a garbage receptacle. Instead I will first discuss the vegetarian foods routinely eaten by the Haitian lwa. Local fruits, vegetables, and the plants that produce them are essential to Vodou service in every respect. Plantains, rice and yuca among many others, are consumed by Vodou's most venerable deities. Even Papa Legba, who guards the gateway between the spiritual and material worlds, needs these foods. He is the first spirit always to be called in any ceremony: the one who gives humans access to all the other spirits. If Legba is not empowered, no Vodou service can happen.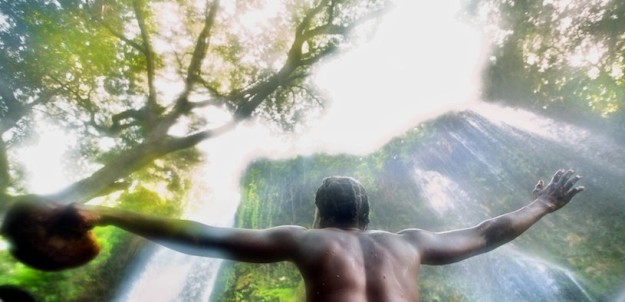 The tree of life – The gods of ancestral wisdom and knowledge, Danmbala Wèdo and his wife Ayida Wèdo, who are traditionally represented as a pair of serpents, favor the banana/plantain tree. In Vodou mythology, the banana is the tree of the first and greatest Vodou priest and priestess, and the serpent is thought to have fed on the fruit. The tree symbolizes eternal life because it is hermaphroditic and can grow continually from new shoots. The huge leaves are a conduit to Ginen: the Haitian slaves' earthly paradise. In some ceremonies, such as the consecrations of drums or foods, the floor of the Vodou temple is covered with banana leaves, and symbolic actions are performed on them to represent the voyage of the objects or foods to Ginen for blessings. Interestingly, plantains were a major food for the slaves in colonial times; bananas and plantains are thought to have been the earliest fruit crops, originating in New Guinea around 8000 BC and reaching Africa by 3000 BC.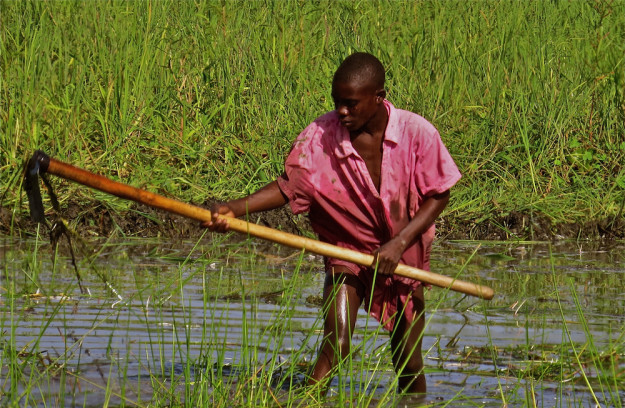 Rice and beans – The great spirits Danmbala and Ayida Wèdo look favorably, not only on plantains, but also on offerings of rice, milk, eggs, and white pastries. Èzili Freda, goddess of love, beauty and art, is one of several other deities who enjoy white foods. She is fond of rice pudding, and she also likes sugar-sprinkled fried bananas, mangoes with white flesh, fried eggs, and milk flavored with cinnamon. Other deities who favor these foods include the water spirits, such as Lasirèn, the goddess of the ocean and music, and Agwe, the god of fishing and sailing. The Ogou family of gods, who preside over war, metallurgy, fire and lightning, are not particular to white foods, although they too eat rice; they take their rice cooked with red beans. In every case, the varieties of rice and beans favored by the gods are local.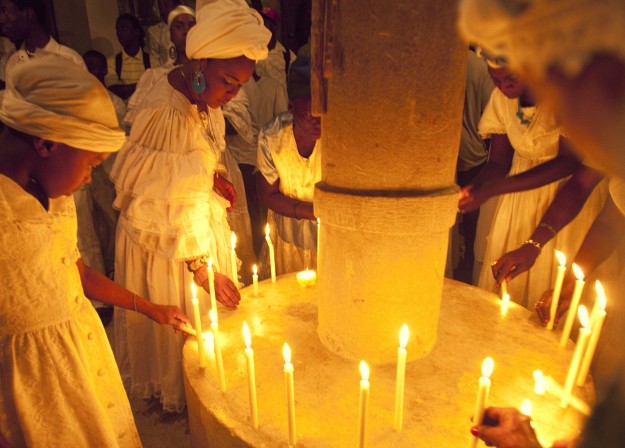 Corn and yuca – At Vodou services, corn is never far. For example, the sacred drawings, called veve, are usually made with corn flour. The priest or priestess sprinkles the flour in the appropriate pattern(s) for the god(s) being summoned, on the ground of the Vodou temple, which is a covered circular courtyard with a central post. The ritual offerings of foods are ultimately put on these drawings, which are thought to focus the energies to call forth the deities. Corn, grilled on the cob, is also a staple of Vodou celebrations, together with cassava and grilled peanuts. Such foods are typically arranged in small clusters on the veve, and they are often sprinked on ceremonial animals. Akasan, a corn-flour drink, is also often served at services.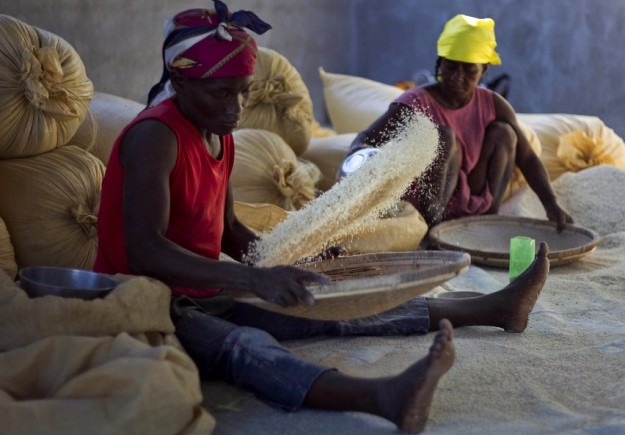 Yuca (yanm in Haitian kreyòl, and the root from which cassava is made) is so important that it is central to a two-day harvest festival. This Vodou festival of thanksgiving, called Manje Yanm, happens around November 25-26. Manje Yanm commemorates the connection made by yuca between Africa, where it originated, and the New World; it also celebrates the Vodou god of agriculture, Zaka, usually affectionately called Kouzen Zaka (Cousin Zaka). On the first day of the festival, fresh yuca and other foods are harvested, consecrated, and offered to Zaka overnight. On the second day, the foods are cooked, the portion for Zaka is buried, and the rest is eaten in a feast that usually includes, in addition to yuca, plantains, rice and beans, avocado, corn, barley, and fish. Only then, with Zaka's blessings, can the harvest continue.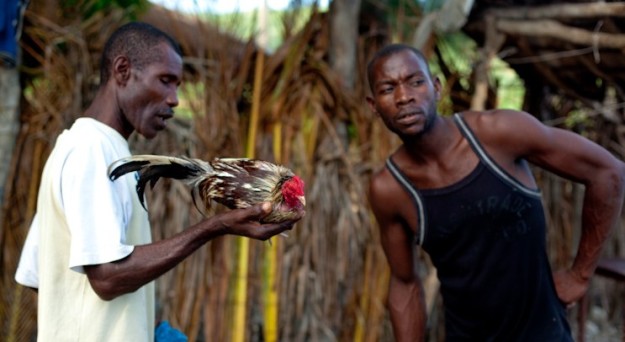 Animals
The great majority of the Vodou gods eat meats, although Kouzen Zaka mostly favors the fruits of the land, and Gran Bwa, the god of the forest and of herbal medicine, is partial to peanut cakes, bread, and cornmeal, and he appears to be vegan. Offerings of animals are quite dear for most Haitians. Furthermore, with regard to animal offerings, the gods are extremely particular. In every case, as part of the ceremony of sacrifice, the animals are offered food before their slaughter, and they are considered to become one with the person who called for the ceremony at the instant they accept this food. Moreover, at that moment, their life's energy is accepted by the god being summoned, and so such animals are treated with great respect.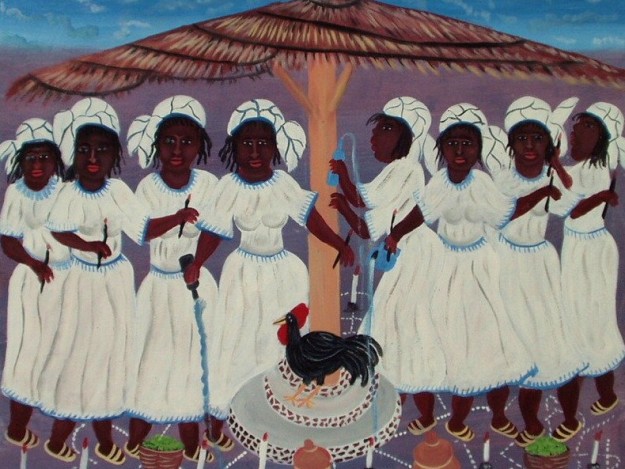 The animals to feed the gods include doves, chickens, roosters, pigs, goats, oxen, bulls, and fish. Everything is specified: from the age of the animal, its color and patterns, its treatment before it is killed, the prayers that precede the slaughter, the slaughter itself (including the consecration of the instrument used to kill the animal, and rapid and ritualized method of killing), the offering of the animal's blood, entrails and uneaten parts to the god, to the final presentation of the meat as a cooked food. Consider for example, the case of Papa Legba. His vegetables must all be grilled on an open fire; his sacrificial animal, usually a rooster, must be killed and quartered without breaking any of its bones, prepared without removing its feet, except for the nails and spurs; and finally, all his foods must be served in a red calabash.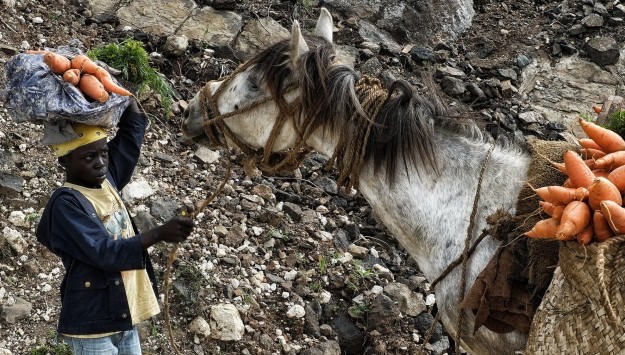 Among the gods who like white foods, Agwe will accept white hens, white sheep, or white goats. On the other hand, Danmbala and Ayida Wèdo, who are snake gods, will not take sheep and goats but will accept white chickens; Èzili Freda prefers white doves. The Gede family of gods, who rule over death and sexuality favor black foods, including black chickens, black roosters, black goats, black cows, or salted herring, depending on the god. Bosou, the god of virility (of men and seeds) and violence, likes black pigs, as does Èzili Dantò, the goddess of fierce love and motherhood.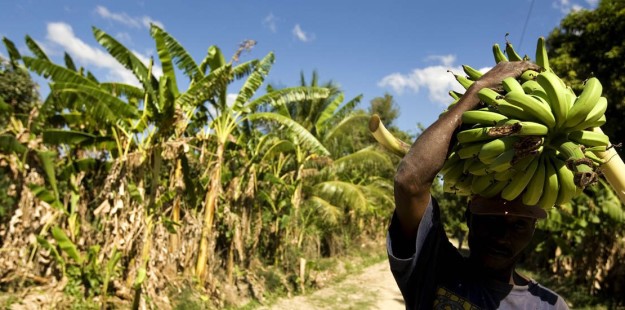 Black pigs also feature in the Manje Mò, a ritual feeding of the ancestors that takes place around the end of April. Typically, a stew is prepared, entirely by men and without salt, that contains corn, red beans, beef, and pigs' feet. It is served to the dead, along with melons, grilled peanuts and corn on the cob, coconut, milk, rice, white cakes, soda and rum, in a room that is shut for several hours while prayers and appeals are said outside. Finally the head of the family knocks on the door and then enters; he returns with the foods, which are first offered to the four points of the compass and then the children, and the rest of the household. A portion is also put at a crossroad for Papa Legba.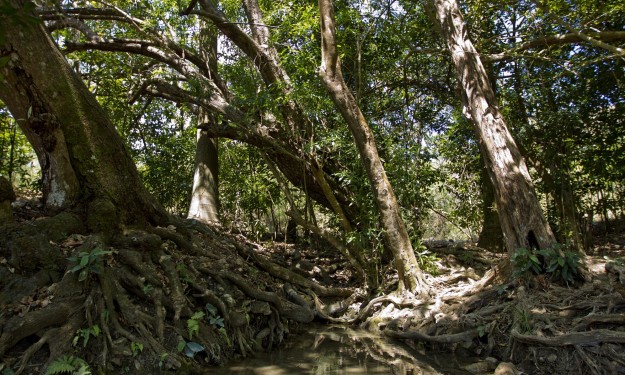 Drinks and gifts

Kleren (a Haitian partially distilled rhum), refined rhum, coffee, and carbonated sweet cola, all manufactured in Haiti, are the gods' favorite drinks; tobacco, cigars, cigarettes, flowers, and locally made perfumes are among their favorite gifts.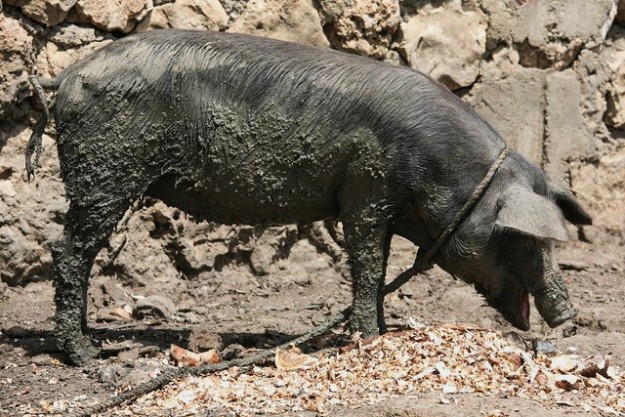 Implications of the loss of the creole pig and Haitian rice
It goes without saying that if a dove or rooster cannot be substituted for a chicken, or even a speckled hen for a white one, one cannot substitute an American farm chicken for a Haitian chicken in the service of the Haitian gods. Likewise, the Arkansas rice that has been forced on Haiti by Bill Clinton will not do as a substitute for the three varieties of vastly more delicious Haitian rice in the celebrations of major deities like Papa Legba, or Danmbala and Ayida Wèdo. Similarly, one cannot, in honoring one's dead, or summoning Bosou or Èzili Dantò, substitute any pig, or even any little black pig, for the creole pig that had been adapted to the island for over 300 years and was eradicated by USAID in 1982. It is important to understand that any blow to Haitian agriculture, any attack on Haitian peasants, is potentially fatal to all Haitian culture and the integrity of Haiti as a nation. Such a blow constitutes no less than a declaration of war on all Haitians, whether they perceive this or not.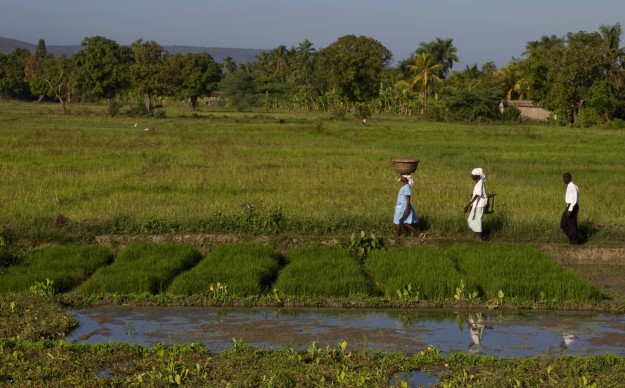 I urge every Haitian to consider this: if it takes a lifetime to grasp most religions, you owe it to yourself to study Vodou, for the simple reasons that it is important and an act of self respect, first and foremost, to understand one's own culture. Some Westerners call Vodou devil worship, but even the more enlightened ones who label Vodou ancestor worship, polytheistic, pagan, animist, or a danced religion, understand it in much the same way that a child thinks it understands a living, breathing animal by saying "cow" when shown a two-dimensional drawing in a picture book. Vodou is all these things, but more than anything, it is the religion of the gods who incited and then fought alongside men in the world's only successful slave revolt. It is a non-hierarchical, living and evolving religion that cannot be understood by association to known Western concepts. Our ancestors fully deserve to be regarded as deities for having established a new republic, with its culture and language, plus a religion to usher their revolution into a sustainable lifestyle: this, while two-thirds of these former slaves were still transplants from Africa. It is our duty to keep their spirits alive and forever sated and strong.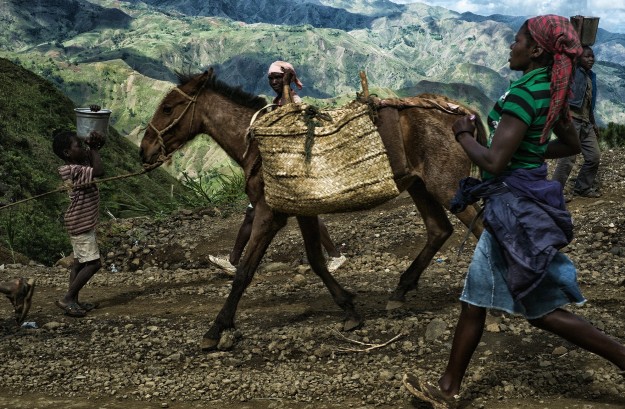 Editor's Notes: Paintings one and nine by Haitian artist and Vodou priest Gerard Fortuné; photograph two by Stefan Krasowski. | For more from Dady Chery on Haitian culture and religion, read: We Have Dared to be Free: Haiti's Struggle Against Occupation.
Le festin des dieux: Lien du Vodou à l'agriculture d'Haïti et aux ancêtres
Par Dady Chery
Haiti Chery
La religion et la culture haïtienne sont intimement liées à l'agriculture locale, à tel point que les cérémonies de Vaudou sont habituellement appelées manje lwa: festin des dieux. Nos lwa (dieux, esprits, divinités) doivent être nourris. Ils ne sont pas éternels et ne peuvent continuer d'exister seulement quand ils sont convoqués à participer aux affaires humaines. Ainsi leur force provient des rituels durant les célébrations commémoratives. Pendant ces festivités, les dieux et le voisinage mangent des aliments locaux. Les divinités deviennent puissantes en proportion directe des quantités et variétés de nourritures préférées qui leur sont données en offrande, et aussi du soin qui est mis dans leur préparation et présentation.
La plupart des esprits du Vodou sont des ancêtres vénérables. Ils ne sont pas adorés mais respectés, aimés et convoités principalement pour leurs conseils, protection et bénédictions. Leur invitation nécessite un certain protocol. On ne reçoit pas un ancêtre important sans au moins cuire un poulet et organizer une fête, pas pour lui seul, mais pour tout le quartier. Les pratiques du Vaudou haïtien représentent la religion sans fard et dans sa forme la plus pure. Il ne s'agit pas d'une force infantilisante qui greffe les gens à se prosterner devant une authorité, mais d'une force culturelle qui ancre les êtres humains à la terre et aux eaux autour d'eux et leur fournit les moeurs pour une vie équilibrée et joyeuse.
Les occidentaux sont tellement fascinés par le sang offert aux dieux du Vaudou, que beaucoup d'entre eux imaginent que les dieux ne dévorent que des animaux. Je n'aborderai pas ici l'hypocrisie des gens qui ne se soucient pas de la façon dont les bêtes qu'ils mangent ont passé leurs vies, comment ils sont abattus, si ils sont remerciés pour leur chair, ou si la moitié de celle-ci aboutit dans une poubelle. Au lieu de cela, je vais d'abord parler des aliments végétariens que les lwa haïtiens consomment fréquemment. Les fruits locaux, les legumes, aussi bien que les arbres et les plantes qui les produisent sont essentiels aux cérémonies Vodou à touts les égards. Les bananes, le riz et le manioc parmi beaucoup d'autres, sont consommés par les divinités les plus vénérables du Vaudou. Papa Legba, lui même, qui garde la croisée entre les mondes spirituels et matériels, a besoin de ces aliments. Il est toujours le premier esprit à être appelé à une cérémonie: c'est lui qui donne accès aux autres esprits. Si Papa Legba est impuissant, aucun service Vodou ne peut se faire.
L'arbre de vie – Les dieux de la sagesse et du savoir-faire ancestral, Danmbala Wèdo et son épouse Ayida Wèdo, qui sont traditionnellement représentés par une paire de serpents, ont une prédiléction pour les bananiers. Dans la mythologie du Vaudou, le bananier est l'arbre des premiers et plus grands prêtre et prêtresse, et le serpent se nourrit de ce fruit. L'arbre symbolise la vie éternelle car il est hemaphrodite et peut grandir sans cesse de nouvelles pousses. Les immenses feuilles sont un passage pour Ginen: le paradis terrestre des esclaves haïtiens. Dans certaines cérémonies, comme les consécrations des tambours ou des aliments, le sol du temple Vaudou est recouvert de feuilles de bananiers, et des gestes symboliques sont effectués sur eux pour représenter le voyage des objets ou des aliments à Ginen pour leur bénédiction. Un fait intéressant: la banane était un aliment fondamental pour les esclaves à l'époque colonial. Les bananiers sont considérés comme ayant été les premières cultures de fruits, originaires de Nouvelle-Guinée aux alentours de 8000 BC et atteignant l'Afrique vers 3000 BC.
Riz et haricots – Les grands esprits Danmbala et Ayida Wèdo aiment non seulement les bananes, mais aussi les offrandes de riz, de lait, d'œuf et de pâtisseries blanches. Èzili Freda, déesse de l'amour, de la beauté et de l'art, est l'une de plusieurs autres divinités qui aiment les aliments blancs. Elle aime le riz au lait et aussi les bananes frites couvertes de sucre, les mangues à chair blanche, les œufs frits, et le lait parfumé à la cannelle. D'autres divinités qui apprécient ces aliments incluent les esprits de l'eau, tels que Lasirèn, déesse de l'océan et de la musique, et Agwe, dieu de la navigation et de la pêche. La famille des dieux Ogou, qui président à la guerre, à la métallurgie, au feu et à la foudre, n'ont pas de préférence particulière pour des aliments blancs, même si eux aussi, ils mangent du riz; ils prennent leur riz cuit avec des haricots rouges. En touts cas, les variétés de riz et de haricots favorisées par les dieux sont locales.
Le maïs et le manioc – Aux cérémonies du Vaudou, le maïs n'est jamais très loin. Par exemple, les dessins sacrés, appelés veve, sont généralement fabriqués avec de la farine de maïs. Le prêtre ou la prêtresse dessine avec la farine de façon appropriée pour les dieux ainsi convoqués, sur la terre du temple vaudou, qui est une cour circulaire, couverte, et avec un poteau central. Les offrandes rituelles d'aliments sont finalement placées sur ces dessins, qui sont censés concentrer les énergies pour faire appel aux divinités. Le maïs, grillé en épi, est également un aliment de base des célébrations Vaudou, ainsi que le manioc et les arachides grillées. Ces aliments sont généralement disposés en petits groupes sur le veve, et ils sont souvent soupoudrés sur les animaux de la cérémonie. L'akasan, une boisson de farine de maïs, est également souvent bu pendant les cérémonies.
Le manioc (yanm en kreyòl haïtien) est tellement important qu'il est au centre d'une fête de la moisson qui dure pendant deux jours. Ce festival Vaudou d'action de grâces, appelé Manje Yanm, se passe aux alentours du 25 au 26 Novembre. Manje Yanm commémore la connexion faite par le manioc entre l'Afrique, dont il est originaire, et le Nouveau Monde. Cette fête de la moisson célèbre aussi le dieu Vaudou de l'agriculture, Zaka, généralement appelé affectueusement Kouzen Zaka (cousin Zaka). Le premier jour du festival, le manioc frais et d'autres aliments sont récoltés, consacrés, et offerts à Zaka durant la nuit. Le deuxième jour, les aliments sont cuits, la part pour Zaka est enterrée, et le reste est consommé dans une fête qui inclut habituellement, à part du manioc, des bananes, du riz, des haricots, des avocats, du maïs, de l'orge, et du poisson. Seulement après, avec la bénédiction de Zaka, la récolte peut continuer son cours.
La grande majorité des dieux du Vaudou mangent de la viande, bien que Kouzen Zaka prefère les fruits de la terre, et que Gran Bwa, le dieu de la forêt et de la médecine à base de plantes, aime les gâteaux d'arachide, le pain et la semoule de maïs. Il semblerait que Gran Bwa est végétarien. Les offrandes d'animaux sont coûteuses pour la plupart des Haïtiens. En outre, en ce qui concerne les sacrifices d'animaux, les dieux sont extrêmement particuliers. En touts cas, dans le cadre de la cérémonie du sacrifice, les animaux sont donnés de la nourriture avant l'abattage, et sont considérés comme devenant un avec la personne qui a demandé la cérémonie à l'instant où l'animal accepte cette nourriture. De plus, à ce moment là, l'énergie de l'animal est acceptée par le dieu qui a été convoqué. Alors, les animaux sacrifiés sont traités avec beaucoup de respect.
Les animaux pour nourrir les dieux peuvent être des colombes, des poules, des coqs, des cochons, des chèvres, des bœufs, des taureaux, et des poissons. Tout est codifié: y compris l'âge de l'animal, sa couleur et ses marquages, son traitement avant qu'il soit tué, les prières qui précèdent l'abattage, l'abattage même (à partir de la consécration de l'instrument utilisé pour tuer l'animal, la méthode rapide et ritualisée de mise à mort), l'offrande du sang de l'animal et des entrailles consacrés aux dieux, jusqu'à la présentation finale de la viande cuite. Considérons l'exemple de Papa Legba. Ses légumes doivent tous être grillés sur un feu à air libre; son animal sacrificiel, généralement un coq, doit être tué et coupé sans casser un de ses os, et enfin cuit sans enlever ses pieds, sauf les ongles et les éperons; et finalement, tous les aliments doivent être servis dans une calebasse rouge.
Parmi les dieux qui aiment les aliments blancs, Agwe accepte des poulets blancs, moutons blancs, ou chèvres blanches. D'autre part, Danmbala et Ayida Wèdo, qui sont des dieux serpents, n'accepteraient pas les moutons et les chèvres, mais ils prendraient des poulets blancs; Èzili Freda préfère des colombes blanches. La famille des dieux Gede, qui gouvernent la mort et la sexualité ont un goût pour les aliments noirs, y compris des poulets noirs, coqs noirs, chèvres noires, vaches noires, ou du hareng salé, dépendant du dieu. Bosou, le dieu de la virilité (des hommes et des semences) et de la violence, aime les cochons noirs, comme aussi Èzili Dantò, la déesse de l'amour féroce et de la maternité.
Les cochons noirs figurent également dans le Manje Mò, une alimentation rituelle des ancêtres qui a lieu vers la fin du mois d'Avril. Typiquement, un ragoût est préparé, uniquement par des hommes et sans sel, contenant du maïs, des haricots rouges, du bœuf et des pieds de porc. Ceci est servi aux morts, avec des melons, des arachides grillées et des épis de maïs, de la noix de coco, du lait, du riz, des gâteaux blancs, de la soude et du rhum, dans une pièce qui est fermée pendant plusieurs heures pendant qu'à l'extérieur on dit des prières et des incantations. Enfin, le chef de la famille frappe à la porte, puis rentre; il revient avec les aliments, qui sont d'abord offerts aux quatre points cardinaux, puis aux enfants, et au reste de la maison. Une partie est également mise à un carrefour pour Papa Legba.
Kleren (un rhum haïtien partiellement distillé), du rhum, du café, et du cola doux carbonisé, tous fabriqués en Haïti, sont les boissons préférées des dieux; le tabac, les cigares, les cigarettes, les fleurs et les parfums fabriqués localement sont parmi leurs cadeaux préférés.
Il va sans dire que si une colombe ou un coq ne peuvent pas être substitués par un poulet, ou même un poulet moucheté pour un poulet blanc, on ne peut pas substituer un poulet fermier américain pour un poulet haïtien en offrande aux dieux Vaudou. De même, le riz d'Arkansas qui a été forcé sur Haïti par Bill Clinton n'est pas acceptable en substitution pour les trois variétés haïtiennes de riz qui sont beaucoup plus délicieuses et fondamentales dans les célébrations des grandes divinités comme Papa Legba, ou Danmbala et Ayida Wèdo. De même, on ne peut, pour rendre hommage à ses morts, ou convoquer Bosou ou Èzili Dantò, substituer n'importe quel cochon, ou même n'importe quel cochon noir, pour le cochon créole qui s'était adapté à l'île pendant plus de 300 ans et a été systématiquement éradiqué par l'USAID en 1982. Il est important de comprendre que toute attaque à l'agriculture haïtienne et contre les paysans haïtiens est potentiellement mortelle à toute la culture haïtienne et même à l'intégrité d'Haïti en tant qu'une culture et une nation. Un tel affront constitue rien de moins qu'une déclaration de guerre contre tous les Haïtiens, qu'elle soit perçue ou non.
J'exhorte tous les Haïtiens à considérer ceci: s'il faut toute une vie pour comprendre la plupart des religions, vous êtes dans l'obligation d'étudier le Vaudou, pour la simple raison que c'est important et un acte d'amour propre d'abord et avant tout, de comprendre sa culture. Certains occidentaux disent que le Vodou est l'adoration du diable, et même ceux plus éduqués qui appellent le Vodou un culte des ancêtres, polythéiste, païen, animiste ou une religion dansée, la comprenne de la même manière qu'un enfant pense qu'il comprend l'animal qui vit et respire en disant « vache » lorsqu'on lui montre un dessin en deux dimensions dans un livre d'images. Le Vodou est tout cela, mais plus que tout, c'est la religion des dieux qui ont incité et puis se sont battu aux côtés des hommes et des femmes dans la seule révolte d'esclaves du monde qui a porté ses fruits. Le Vaudou est une religion vivante, évolutive, et non-hiérarchique qui échappe toute association a des concepts occidentaux. Nos ancêtres méritent d'être considérés comme des divinités à part entière pour avoir établi une nouvelle république, avec sa culture, sa langue, ainsi qu'une religion pour inaugurer leur révolution dans un mode de vie durable: ceci, alors que les deux tiers de ces anciens esclaves étaient encore des nouveaux arrivants d'Afrique. C'est notre devoir de les garder vivants, repus, et forts.
Sources: Peintures une et neuf par l'artiste haïtien et prêtre Vaudou Gérard Fortuné; photo deux par Stefan Krasowski.