Haiti's Aristide: Yet Another Return of the Prodigal Son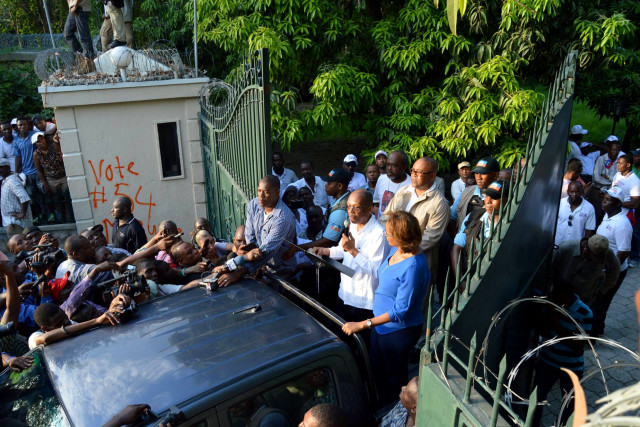 Once again, Jean-Bertrand Aristide's person is serving as a front to help legitimize Haiti's pillage by the international community. On September 29 and 30, while a group of more than 15 Haitian political parties organized a series of forums to discuss the debacle of the Haitian elections and conclude that they should be annulled, the Fanmi Lavalas party organized a conflicting series of activities that culminated with Mr. Aristide's first appearance in four years. After all the Haitian protests, all the poor who paid with their lives for their calls for Mr. Aristide's return, he has kept silent during the four years since he came back to Haiti, but he found it appropriate to appear in public for the first time to support the presidential candidacy of Maryse Narcisse in the elections. According to Radio Kiskeya, Mme Narcisse is not only a former Minister of Public Health but also a former employee of the United States Agency for International Development (USAID).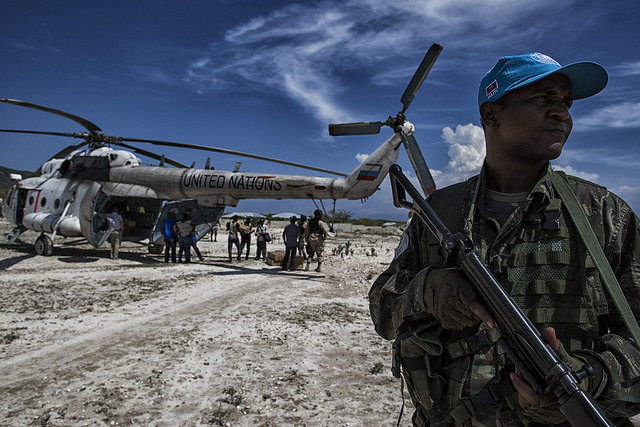 Haiti has been entirely without a government since Michel Martelly replaced, by presidential decree, every elected local judge and executive (governor, mayor, police commissioner, etc.) with his own appointees starting in 2012, and he allowed the parliament to expire on January 12, 2015 by failing to hold two rounds of elections. The current project for Haiti, which is certainly impossible, is to elect all of its government, federal and local, in slightly more than four months, specifically between August 9 and December 27, 2015.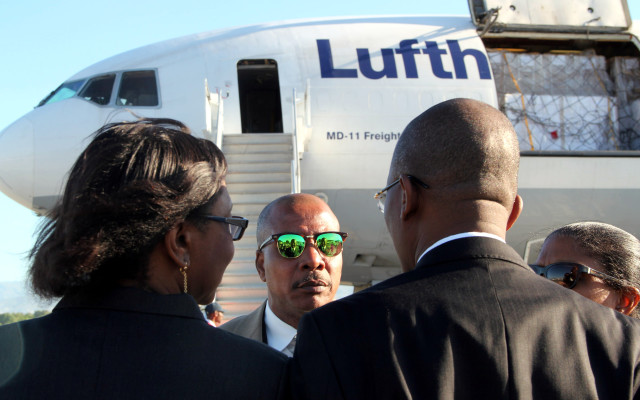 So far, the elections have been a disaster. I have related the details of this elsewhere and will only mention here that the first-round legislative elections on August 9 excluded several major cities. Even by official estimates, this exercise drew no more than 8 percent of the electorate in the greater Port-au-Prince area, where about 40 percent of the population lives. In the end, only 8 out 119 candidates for the Lower House and 2 out 20 candidates for the Senate were elected. Most of these individuals were connected to either Michel Martelly's party or the coup government that had succeeded Aristide's removal in 2004. The unofficial estimates are much worse.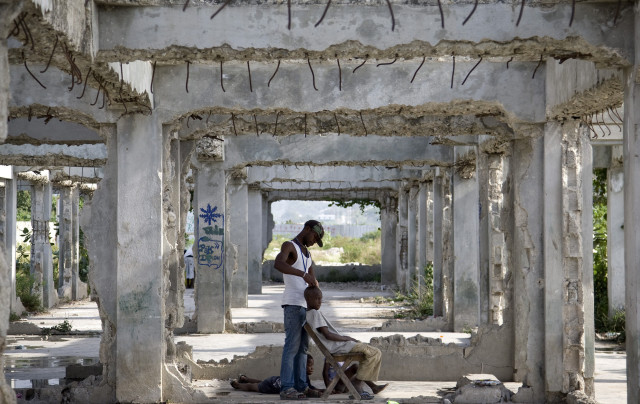 Haiti's presidential candidates have paraded themselves in the US and Haiti as if the position of President of the Republic is the only one being filled. It is important to keep in mind that on October 25 the country is expected to hold, not only the first round of its presidential elections but also the second round of its legislative elections and its municipal elections, all of which are certain to be disastrous.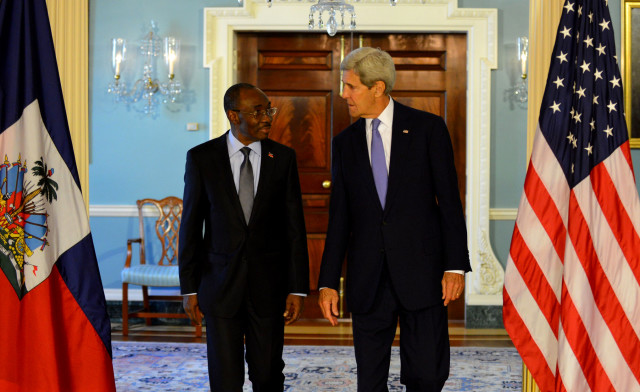 The risk that the mess in Haiti might explode into a major revolt during Hillary Clinton's election campaign is so high that it has led the US State Department to take a quite active interest in recent weeks in the Haitian elections. Presidential candidates have debated each other at George Washington University, as if the State Department and Haitian diaspora would elect them. Secretary of State John Kerry has held an audience in Washington DC with Evans Paul, whom Martelly decreed last December 25 to be prime minister, almost as a Christmas gift to the US; Kerry is scheduled to visit Haiti on October 6. Kenneth Merten, who was deputy secretary to Hillary Clinton, while she was secretary of state, and the US ambassador to Haiti during the 2010 elections, has returned, presumably to teach Haitians another lesson on democracy.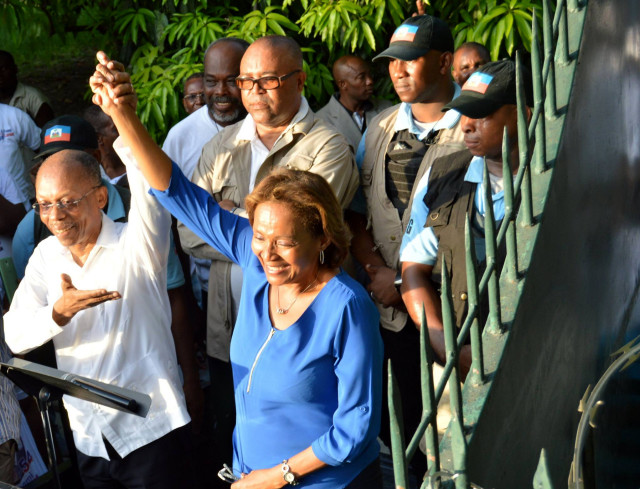 It is ironic that the United States, which continued to be a slave-owning country for 59 years after Haiti became a republic of self-emancipated slaves, can pretend to instruct Haitians in matters pertaining to democracy and human rights. Haitians understand the profound insult of these sham elections to their aspirations for a democratic society. An Interim Electoral Council (Conseil Electoral Provisoire, CEP) is in charge of the elections, which have cost more than $50 million. This council is financed by the international community via the United Nations, and it is considered by most Haitians to be corrupt. It has rejected more than 30 percent of the candidates for the Lower House without explanation, and its methods of vote tabulation have been less than transparent.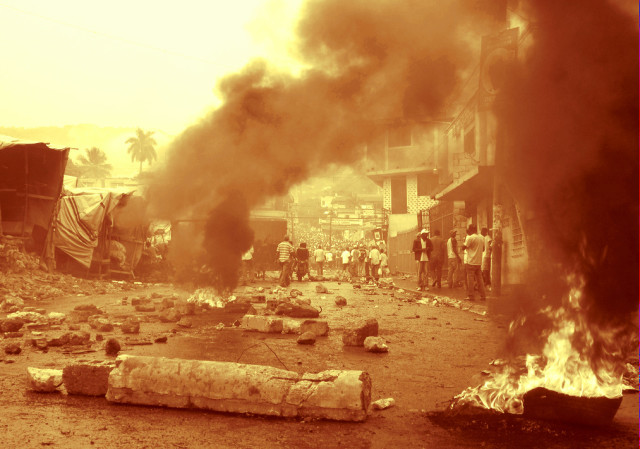 At least 15 major political parties want the CEP to be dissolved and replaced by a transitional government that can properly conduct the elections. CEP Member Nehemy Joseph resigned his post on October 2 and wrote that his respect for the law and regard for each citizen's vote had brought him to do so. Many Haitians have tired of marching with posters. Unlike the George Washington University affair, attempts to hold a charade of a presidential debate at Haiti's National University (University d'Etat d'Haiti, UEH) on September 29 were disrupted by students who required that the candidates "demonstrate a requisite minimum of morality and honesty." At least one presidential rally has been scattered by gunmen. One CEP employee, Wilkenson Bazile, was shot to death on July 5, and a CEP Member, Vijonet Demero, had his home riddled with bullets during the night of September 29.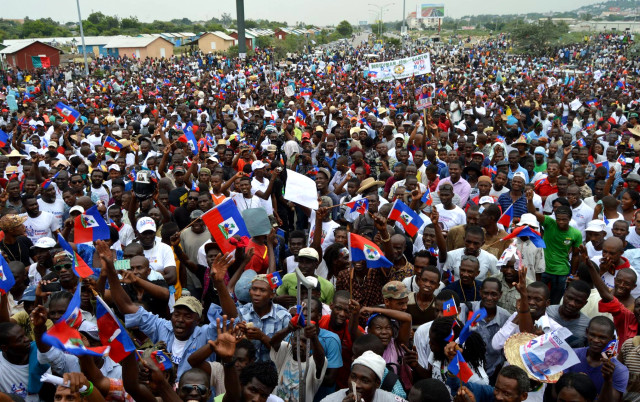 By contrast, the CEP has the enthusiastic support of Haiti's handful of wealthy families. According to Le Nouvelliste, Reginald Boulos has said: "I'm going to shock the world, but I believe that this CEP is still one of the best CEPs that we have had. We forget, we forget. We forget the CEP of 2010, and the CEP of 2000. We forget so many things…. We estimate that the October 25 elections will take place…. There will be greater participation, and we will move toward the transfer of power from an elected president to another elected president…." Gregory Brandt had this to add: "The process is flawed. Adjustments are being made. They are necessary…. Let the campaign proceed, let the people choose their president on October 25."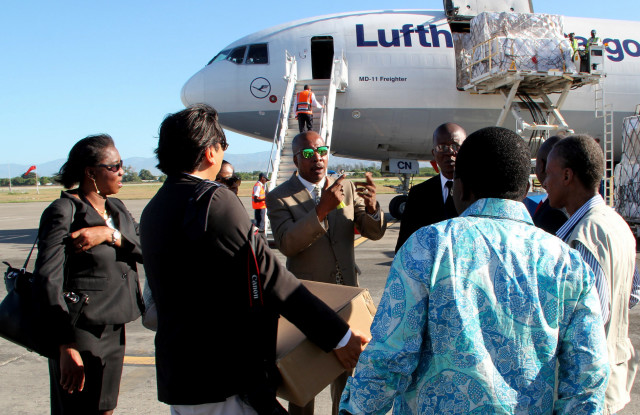 The president has already been chosen, and it is certain to be Mme Narcisse. The zeal with which the mainstream US media has reported the involvement of Aristide in the elections to support Narcisse suggests that his participation was staged. In his appearance by the gate of his house, Aristide looked imprisoned. His speech was reported by the Associated Press and Agence France Press earlier than any Haitian newspaper. In fact, it was reported by Fox News earlier than anyone. It is disappointing to think that Aristide and Narcisse are part of a subterfuge to persuade the world, particularly the US, that Haiti's elections are legitimate. This is far from the truth.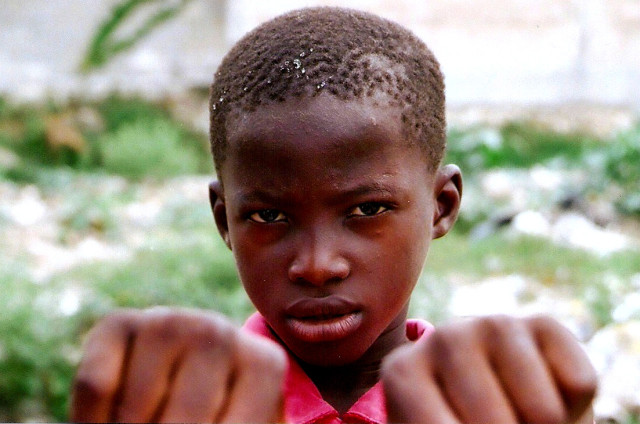 It appears that Mr. Aristide can be switched off and on by the US at any time. This has happened before, when he disappeared abroad for years and then was brought back by Bill Clinton. Without the capital of knowledge from his most nationalistic partisans and financial supporters, including people like Antoine Izmery, all of whom have been killed, Aristide has become nothing more than a symbol of the Haitian poor's failed attempt to retake Haiti by drafting a new Constitution in 1987 and hijacking the presidential elections of 1990. After the 1991 coup, he was returned to Haiti in 1994 in a plexiglass box and kept under guard while Clinton initiated a sale of the country, firstly to his Arkansas backers. Aristide was there to break the ground at the inauguration of Clinton's first sweatshop in Haiti; he was there too when the tariffs were reduced on rice imports and the country was flooded with subsidized Arkansas rice to destroy Haiti's agriculture. For decades, he has been there whenever the appeasement of the population and a façade of legitimacy have been needed by those who were set on robbing Haiti. Aristide has the affection and backing of the Haitian poor, who still regard him as being the only major political figure who has spoken for them since Dumarsais Estime in the 1940s. But in his golden cage, and without his most resourceful supporters, Mr. Aristide is nothing but a hollow shell of his former self. It is time for Haitians to stop putting their hopes and dreams into providential men and women.
UPDATE, NOV 5, 2015. The plans for a Maryse Narcisse presidency were scrapped after she failed to bring out the slum vote, despite the contrived Aristide endorsement.
Editor's Note: For more from Dady Chery on the Haitian elections, read We Have Dared to be Free: Haiti's Struggle Against Occupation.
La mise-en-scène du retour d'Aristide et le choix de sa dauphine Maryse Narcisse en Haïti
By Dady Chery
Haiti Chery
Une fois de plus, Jean-Bertrand Aristide est utilisé comme un front pour aider à légitimer le pillage d'Haïti par la communauté internationale. Le 29 et 30 septembre, tandis qu'un groupe de plus de 15 partis politiques haïtiens organisaient une série de reunions pour discuter de la débâcle des élections et conclure qu'elles doivent être annulées, le parti Fanmi Lavalas a organisé des activités contradictoires qui ont culminé avec la première apparition d'Aristide depuis quatre ans. Après toutes les manifestations, après tous les pauvres ayant payé de leurs vies pour avoir appelé pour un retour d'Aristide, celui là a été muet pendant quatre ans. Pourtant il a trouvé necessaire de se ridiculiser en public pour la première fois à fin de soutenir la candidature présidentielle de Maryse Narcisse. Selon la station de Radio Kiskeya, Mme Narcisse est non seulement un ancien ministre de la santé publique mais aussi un ancien employé de l'Agence des États-Unis pour le Développement International (USAID).
Haïti est entièrement sans gouvernement depuis que Michel Martelly a remplacé, par décret présidentiel, chaque juge local élu ainsi que les gouverneurs, maires, commissaires de police, etc., par ses propres accolytes à partir de 2012. Le parlement aussi n'existe plus depuis le 12 janvier 2015, parce qu'il n'a pas voulu qu'il y ait des élections. L'idée éléctorale pour Haiti, qui n'est pas dutout réaliste, est d'élire la totalité du gouvernement, national et local, dans un delai de quatre mois, plus précisément entre le 9 août et le 27 décembre 2015.
Jusqu'à maintenant, les élections ont été un désâstre. Les élections du premier tour, le 9 août, ont été a l'exclusion de plusieurs grandes villes. Même selon les estimations officielles, ce scrutin n'a pas representé plus de 8 pour cent de l'électorat dans la région de Port-au-Prince, où environ 40 pour cent de la population vit. En fin de compte, seulement 8 sur 119 candidats pour l'assemblée nationale et 2 sur 20 candidats pour le sénat ont été élus. La plupart de ces gens ont des relations avec Michel Martelly ou avec le gouvernement de coup d'état qui avait succédé Aristide en 2004. Les estimations officieuses sont bien pires.
Les candidats à la présidence d'Haïti ont paradé aux États-Unis et Haïti comme si la position de président de la république etait la seule à remplir dans le scrutin. Il est important de garder en tête que le 25 octobre, le pays doit maintenir, non seulement le premier tour des élections présidentielles, mais aussi le deuxième tour des élections législatives, et des élections municipales. Toutes ces élections seront un desâstre.
Le risque que des désordres en Haïti pourraient devenir une révolte explosive durant la campagne électorale d'Hillary Clinton est tellement élevé que cela a induit le département d'état américain à participater très activement au cours des dernières semaines aux affaires électorales haïtiennes. Les candidats à l'élection présidentielle ont tenu un débat à l'Université George Washington, comme si le département d'état et la diaspora haïtienne seraient leurs électeurs. Le Secrétaire d'État John Kerry a reçu à Washington Evans Paul, que Martelly a décrété le 25 décembre dernier comme premier ministre. C'est comme si c'était un cadeau de Noël pour les americains. Kerry était en Haïti le 6 octobre 2015. Kenneth Merten, qui était sous-secrétaire d'Hillary Clinton quand elle était secrétaire d'état, et qui était l'ambassadeur américain en Haïti pendant les élections de 2010, est maintenant de retour. Il s'agit probablement de donner aux haïtiens une nouvelle leçon en démocratie.
Il est ironique de constater que les États-Unis, qui ont continué à être un pays esclavagiste pendant 59 ans après qu'Haïti fut devenu une république, à la suite d'une révolution d'esclaves, peuvent prétendre à instruire les haïtiens au sujet de la démocratie et des droits humains. Ce simulâcre d'élections est une insulte profonde à l'égard des haitiens et de leurs aspirations pour une société enfin démocratique. Un conseil électoral provisoire (CEP) est maintenant en charge des élections, qui pour le moment ont coûté plus de 50 millions de dollars. Ce conseil est financé par la communauté internationale par l'intermédiaire des Nations Unies, et il est considéré par la plupart des haïtiens comme étant pourri par la corruption. Le commité a rejeté plus de 30 pour cent des candidats à l'élection de l'assemblée nationale, sans aucune explication. D'autre part, ses méthodes de tabulation du scrutin ont baigné dans l'opacité.
Au moins 15 partis politiques veulent que le CEP soit dissous et remplacé par un gouvernement de transition qui pourra superviser les élections. Néhémy Joseph, un membre du CEP a démissionné de son poste le 2 octobre et a exprimé que son respect pour la loi et pour ce qui concerne le vote des citoyens l'avaient amené à le faire. Beaucoup d'haïtiens sont fatigué de marcher avec des pancartes. Contrairement au faux débat a l'Université George Washington, leurs tentatives d'organiser un débat présidentiel à l'Université d'État d'Haïti (UEH) le 29 septembre ont été perturbées par des étudiants qui ont exigé que les candidats "démontrent un minimum requis de moralité et d'honnêteté." Au moins, un rally présidentiel a été dispersé par des hommes armés. Un employé du CEP, Wilkenson Bazile, a été tué le 5 juillet, et un autre membre du CEP, Vijonet Déméro, a eu son domicile criblé de balles au cours de la nuit du 29 septembre.
En revanche, le CEP a le soutien enthousiaste de la poignée de familles riches en Haïti. Selon Le Nouvelliste, Réginald Boulos aurait dit: "Je vais choquer le monde. Moi je crois que ce CEP reste quand même un des meilleurs CEP que nous ayons eus. On oublie, on oublie. Nous avons une mémoire courte. Nous oublions le CEP de 2010, le CEP de 2000. Nous oublions tellement de choses…. Nous estimons que les élections du 25 octobre auront lieu…. Il y aura probablement un taux de participation beaucoup plus fort et nous allons vers la passation de pouvoir d'un président élu à un autre président élu…. " Pour sa part, Grégory Brandt aurait aussi ajouté ceci: "Le processus est imparfait. Il y a des ajustements qui se font. Ils sont nécessaires…. Laissons faire la campagne, laissons les gens choisir leur président le 25 octobre."
Cela donne à penser que le président a déjà été designé, et il est certain que cela sera Mme Narcisse. Le zèle avec lequel les médias américaines ont reporté le role d'Aristide aux élections pour soutenir Narcisse suggère que cette participation a été mise en scène. Lors de son apparition par la porte de sa maison bien gardée, Aristide avait l'air d'être en prison. Son discours a été publié par l'Associated Press et l'Agence France Presse plus rapidement que par touts les journaux haïtiens. En fait, il a été discuté par Fox News avant quiconque. Il est affligant de penser qu'Aristide et Narcisse font partie d'un subterfuge pour persuader le public, en particulier la diaspora aux États-Unis, que les élections en Haïti sont légitimes. C'est loin d'être la réalité.
Il semble qu'Aristide peut être activé et desactivé par les États-Unis à tout moment. Cela est déjà arrivé, quand il a disparu à l'étranger pendant des années, et puis a été ramené par Bill Clinton. Sans ses partisans les plus fervents et aussi ses soutiens financiers comme Antoine Izméry, qui ont tous été tués, Aristide n'est rien de plus qu'un symbole de l'échec de la tentative de reprendre Haïti par la rédaction d'une nouvelle Constitution en 1987 et enfin sa victoire surprenante aux élections présidentielles de 1990. Trois ans après le coup d'état contre lui en 1991, Aristide est revenu comme un oiseau prisonnier dans une cage en plexiglas et maintenu sous garde pendant que Clinton a commencé à brader le pays, en premier lieu à ses investisseurs d'Arkansas. Aristide était bien là pour gratter la terre à l'inauguration de la première usine a très bas salaire de Clinton en Haïti. Aristide était là aussi quand les droits de douane ont été réduits sur les importations de riz et le pays a été inondé de riz subventionné en provenance d'Arkansas à fin détruire l'agriculture d'Haïti. Pendant des années, il a toujours été là à chaque fois que l'apaisement de la population et qu'une façade de légitimité ont été nécessaires pour ceux qui ont toujours eu l'intention de voler et ensuite vendre Haïti. Malheureusement Aristide bénéficie de l'affection et du soutien des Haïtiens pauvres, qui le considèrent toujours comme étant la seule personalité politique parlant pour eux depuis Dumarsais Estimé durant les années 1940. Dans sa prison de luxe, et sans ses soutiens clefs, M. Aristide n'est plus rien q'une coquille vide. Il est grand temps pour les haïtiens de cesser d'investir leurs espoirs et leurs rêves en hommes et femmes providentiels.
Sources: Haiti Chery  | Lisez aussi le livre de Dady Chery, We Have Dared to Be Free: Haiti's Struggle Against Occupation (Nous avons osé d'être libre: la lutte contre l'occupation d'Haïti).