Fox in the Chicken Coop: Outsourcing Customs Tax Collection in Haiti and Elsewhere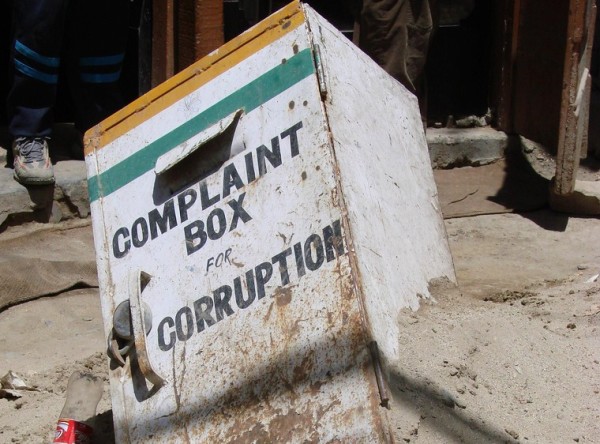 Haitian President Michel Martelly, along with dozens of cabinet ministers and members of the private business sector, went on a European tour from October 27 to November 2, 2014, to promote the notion that Haiti is "open for business" with Europe. We are beginning to get a glimpse of the kind of business they had in mind: a fire sale of Haitian sovereignty itself.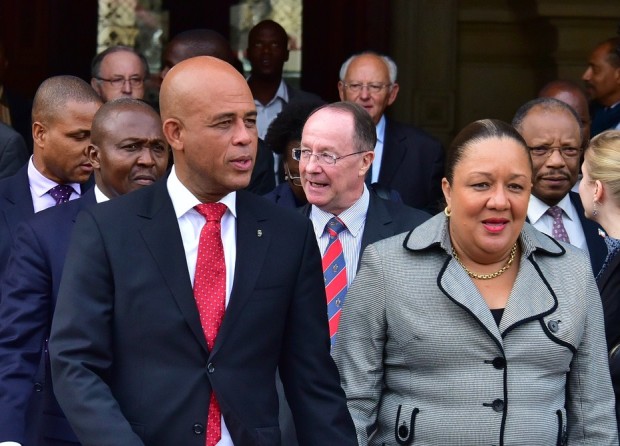 On November 13, 2014, Haiti's Senate committees on Finance, Justice, and on Public Works, Transport, Communications, Energy and Mines, were delivered a letter that calls for an investigation into the circumstances under which an alleged contract was granted that allows control of all customs tariffs of the Republic of Haiti by a foreign company for 10 years. The alleged contract was entered into by Haiti's Minister of Economy and Finance, Marie Camelle Jean-Marie, and the Societe Generale de Surveillance SA (SGS).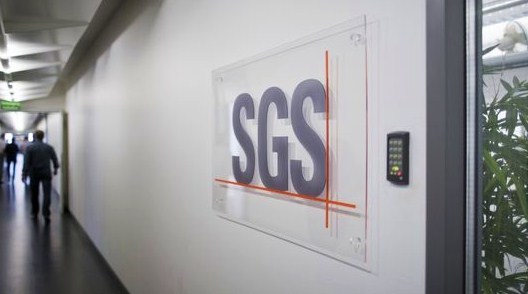 The correspondence to the Senate committees was drafted by Haitian lawyers Newton Louis St Juste and André Michel, who consider the alleged contract with SGS to be corrupt. They have alerted the press of their action. The two lawyers feel that a scandalous agreement was entered into under opaque circumstances that merit the scrutiny of Haiti's Senate because:
1. A history of corruption surrounds contracts between Haiti and SGS. The Senate Committee on Public Works, Transport, Communications, Energy and Mines, chaired by the Honorable Senator Jean William Jeanty, recommended, in a report in April 2013, the dismissal of Conseil National de Télécommunications (CONATEL) Director General, Jean-Marie Guillaume, because of irregularities and corruption regarding a contract on September 19, 2011 with SGS about collection of funds on incoming international calls.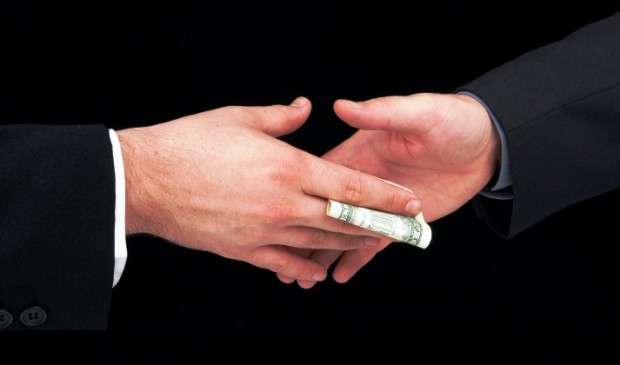 2. The contract violates Haitians' right to information. According to Article 40 of the 1987 Constitution: "The State has the obligation to publicize in the oral, written and televised press in the Creole and French languages all laws, orders, decrees, international agreements, treaties, and conventions on everything affecting the national life, except for information concerning national security."
3. The contract violates Haitian sovereignty. This alleged contract, which grants control of all customs to a foreign company for 10 years, represents a serious violation of Haiti's sovereignty. It is symptomatic of the wish of those in power to sell off the country's scarce resources and weakened structures for the profit of corrupt private interests, the lawyers said.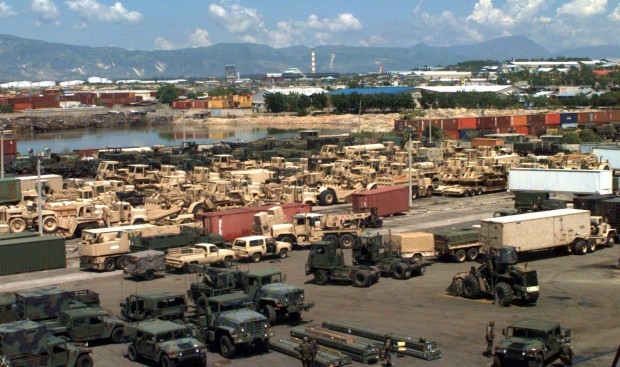 The correspondence to Minister of Economy and Finance, Marie Carmelle Jean-Marie calls for an immediate stop to the finalization of this alleged agreement, under penalty of criminal prosecution for corruption and related offenses. A similar action is underway in Switzerland, with regard to SGS Chief Executive Officer, Chris Kirk.
Societe Generale de Surveillance SA is a multinational company based in Geneva, Switzerland, that provides pre-shipment inspection services (PIS) to about 50 developing nations, including 22 out of 23 African countries. The list of these countries essentially matches the list of the world's most corrupt regimes. The SGS inspects, verifies and certifies the quantity and quality of goods traded by these countries in a sort of outsourcing of tax collection that is a throwback to the middle ages. Although the idea is that these countries' nationals are too corrupt to be entrusted with tax collection, the PIS system itself is rife with corruption.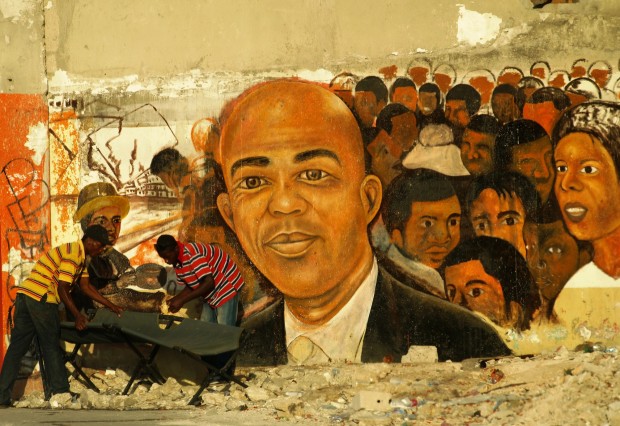 One quarter of SGS' voting stock is controlled by the family of German multi-billionaire Baron August von Finck; another quarter is controlled by the Agnelli family, the Italian owners of the Fiat Group (by way of Sequana, previously called Worms & Cie: a French private equity firm that the Agnellis acquired in 1990; and SwissLife, Switzerland's top insurance company). Among SGS' influential friends in the United States are former CIA Director R. James Woolsey, who listed the company as being one of his key clients when he practiced law from 1991 to 1993, and again when he returned to private practice from 1995 to 2003.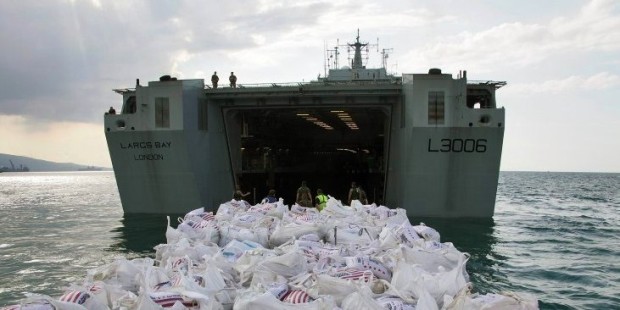 As of 2013, SGS had over 80,000 employees worldwide and revenues of more than $6.0 billion per year, despite having suffered a major scandal in 1998 involving accusations of payments of $15 million in bribes to Pakistani government officials in return for contracts. Contracts between Pakistan and SGS were dropped, and the company retaliated with a lawsuit. It took more than five years to reach a settlement, with both parties withdrawing their claims. Meanwhile SGS lost its contracts, at least temporarily, with the Philippines, Ivory Coast, Ethiopia, Angola, Indonesia and Paraguay because of investigations that caused yet more allegations of corruption to surface. Ultimately, one of SGS' former employees was indicted for  disbursing alleged commissions of 6 to 10 percent of Pakistan's customs tax revenues, via Geneva lawyer Jens Schlegelmilch, to Benazir Bhutto and her family.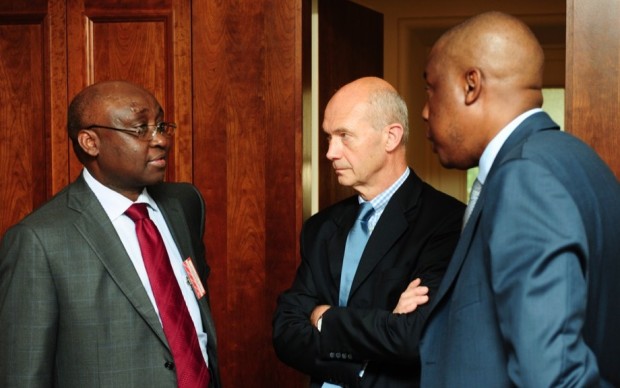 Thus it appears that SGS likes to go straight to the top for its business deals. The current contract being considered with Haiti will likely make some officials in the current occupation regime extremely rich and might administer a fatal blow to Haitian sovereignty. It hardly matters who will be (s)elected to replace Martelly. In an island nation like Haiti, whoever controls the ports controls everything.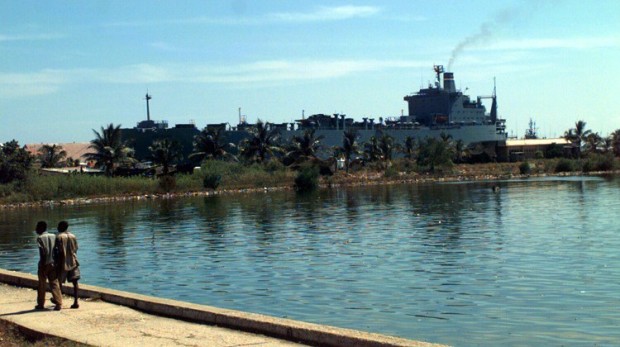 Editor's Note: Photograph one by Watchsmart; five and nine from Expert Infantry archive; two by Glyn Lowe; four by Elmago Delmar; six by Nacho Fradejas Garcia; seven from the archive of UK Ministry of defense; and photo eight from the World Trade Organization archive.
For more from Dady Chery on the foreign takeover of Haiti's finances, read We Have Dared to be Free: Haiti's Struggle Against Occupation, available as a paperback from Amazon and e-book from Kindle and other vendors.