Haiti's Depopulation: A Globalist Project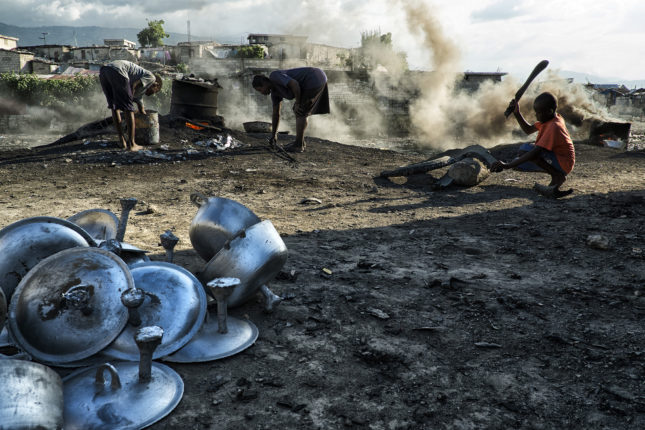 A full two-thirds of the earthquake casualties in Haiti on January 12, 2010 were directly due to policies that the Inter-American Development Bank (IDB), World Bank, and United States Agency for International Development (USAID) put in place to create surplus labor for the country's sweatshops. The now well-known reductions in the tariffs on agricultural products, flood of subsidized Arkansas rice on the Haitian market, and eradication of the locally adapted creole pig were all components of a well mapped-out plan to impoverish Haitian farmers and force their migration from their villages to the capital city of Port-au-Prince. In this way, about 1.6 million Haitians were added in 30 years to about 800,000 people who were already in the area that would become the earthquake's epicenter. Since that disaster, there has been a nearly complete eradication of Haitian agriculture and a simultaneous dissipation of the Haitian population to prevent a major famine and popular revolt. This process has required a collaboration of the Latin American member countries of the United Nations' so-called peacekeeping mission (MINUSTAH) and Haiti's richest families.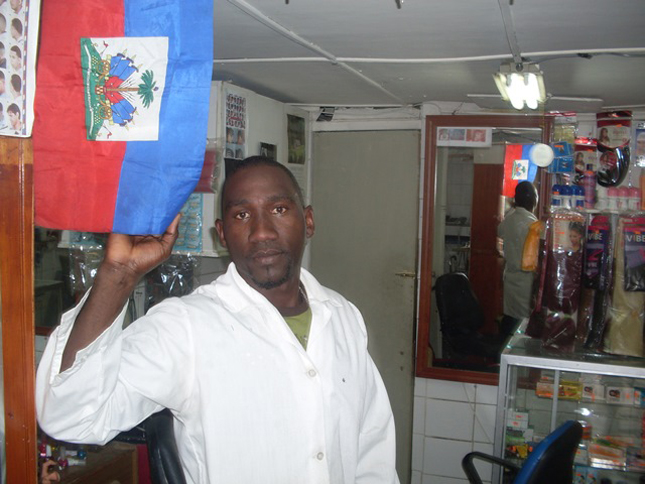 A zero-employment remittance economy
Most countries would not give up their middle class without first being destroyed by a war, as nearly happened in Syria. Haiti's government, however, is not representative; in fact, it is, for the most part, inimical to its own population. On the subject of emigration, Haitian industrialists make common cause with the globalist project to depopulate Haiti and disenfranchise Haitians. This supposed elite believes that one can base an economy entirely on money transfers from abroad. It has observed, while licking its lips, that the roughly $2 billion sent to Haiti per year by those Haitians who live abroad represents more than 20 percent of the Gross Domestic Product (GDP). Furthermore, these remittances often exceed foreign aid or direct foreign investment, which are considered to be less reliable because they depend on political decisions and market forces. Nearly all the remittances have traditionally come from Haitians in the Dominican Republic, United States, Canada, the Bahamas, and France, where the great majority of the diaspora, about 2 million in all, reside. This began to change, however, when the Haitian government set out to achieve more than 90 percent unemployment at home and deliberately create a diaspora in Latin America to generate more remittances.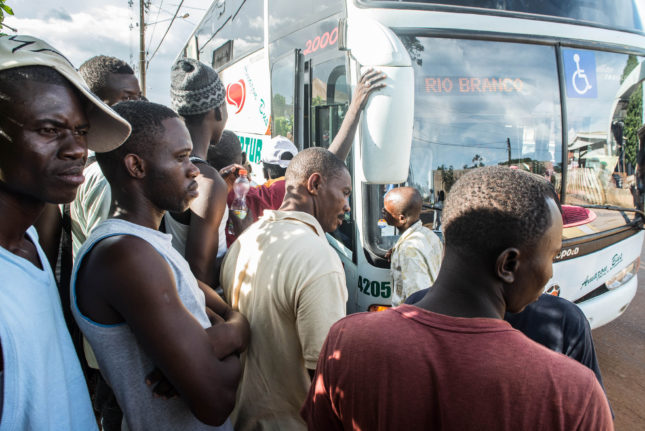 Ecuador opens its door
The start of the movement of Haitians toward Central and South America preceded the earthquake by two years and was not due to homelessness from that disaster. In July 2008, the Ecuadorian government dropped all its visa requirements and threw open its doors to immigrants and asylum seekers. From the start, this project involved Haitian and Ecuadorian human traffickers who were probably in league with their governments. The first Haitians to fall into their clutches were young adults who aspired to continue their studies abroad. In one well-documented case, four Haitians between 17 and 28 years old were lured to Ecuador with promises of full scholarships and then imprisoned in a house for nearly a year while being forced to pay $150 per month for their rent and board.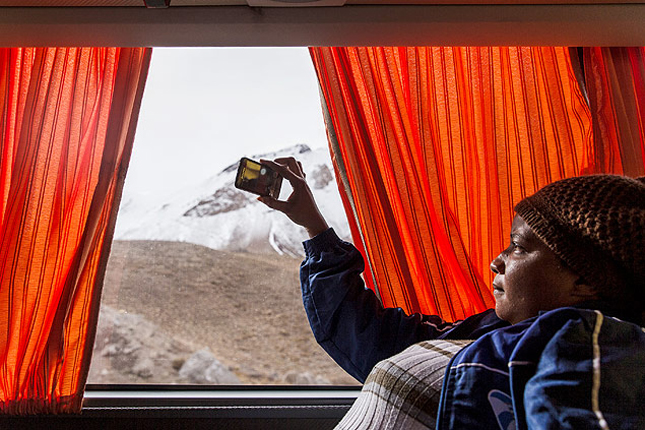 A requirement of their scholarship had been to prove that they had family members in the US or Canada who could pay for their registration fee of about $300. The monthly payments were subsequently extorted from those families. The Ecuadorian government was not much better than the coyotes. In response to the earthquake in 2010, it legalized the status of 390 Haitians but left about 1,000 others to the whims of human traffickers and abusive employers. By 2015, the number of irregular Haitian immigrants had grown to about 20,000. In May of that year, Ecuador announced that it would grant six-month nonimmigrant visas to all Haitian nationals illegally on its soil, after which they could apply for migrant visas. It is unclear how many Haitians have regularized their situations by this approach.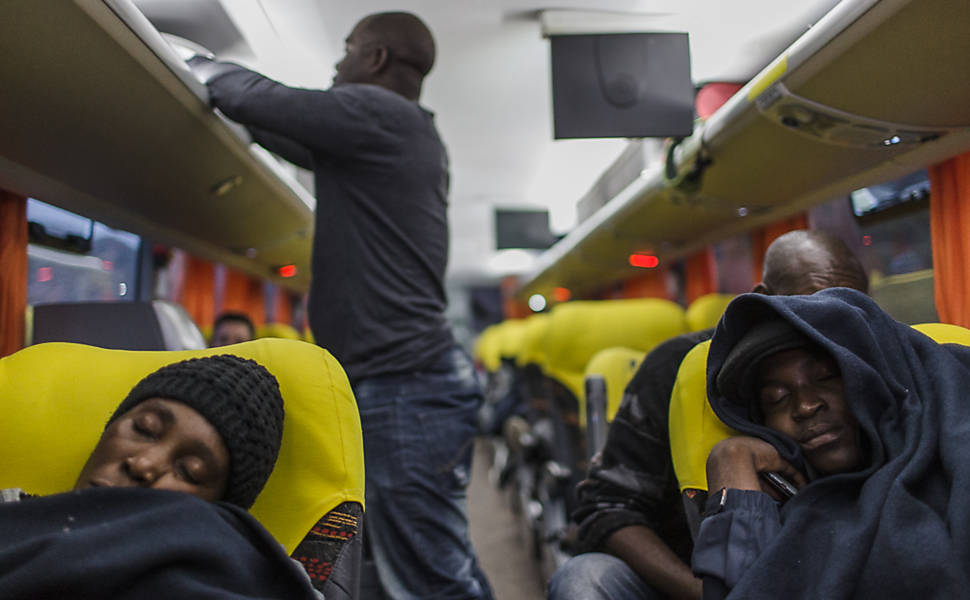 Dilma does visas
Thanks to Brazil's healthy judicial system, many of the Brazilian construction concerns and politicians who instigated the sordid traffic of Haitians to Brazil for slave labor are now out of business, in prison, or both, for other crimes. Like Ecuador, Brazil threw open its doors to unsuspecting Haitians, but its sudden generosity with visas involved no humanitarian concerns. An aggressive recruitment of Haitians by Dilma Rousseff immediately followed a Brazilian workers' revolt in spring 2011, more than a year after the earthquake. One aim of the visas was to generate a captive scab labor force for dangerous jobs like the construction of stadiums, mines, bridges, and hydroelectric dams. Such workers could have easily been drawn from a pool of unskilled laborers, like the Haitians in the Dominican Republic, but there was another aim, and this was to free Haiti of a group of potentially troublesome citizens. Seventy-seven percent of those trafficked to Brazil were male, and more than 90 percent were educated and between 19 and 45 years old.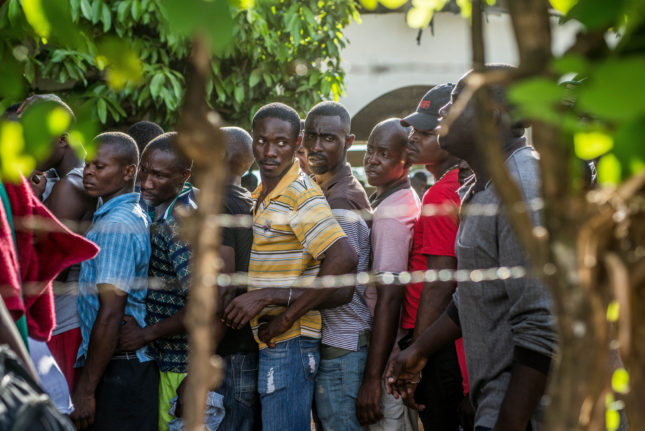 When the migration of Haitians to Brazil began to slow down, around summer 2015, after one Haitian was killed and five others injured, Brazil renewed its offer of visas. "All Haitians will be welcome in Brazil: those who arrive legally just as those who arrive undocumented," announced the new Brazilian Ambassador to Haiti, Fernando Vidal, on October 6, 2015. And when a journalist asked "even if all 10 million Haitians decide to go over there?" Vidal explained, "There is no ceiling, no requirement, and no constraint." One month later, Brazil made a big show of granting permanent residency to 58 percent of its then total of about 76,000 Haitians. Subsequently, it let the Haitian population grow to more than 100,000. After the massive corruption of Rousseff's party began to make itself felt as an economic recession in 2016, the Brazilian jobs dried up, as did the visas.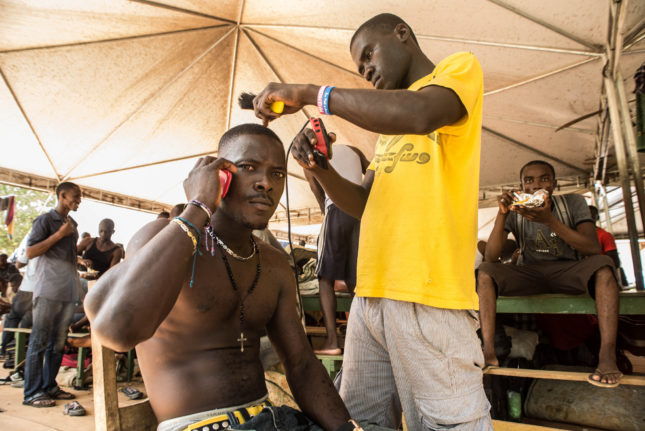 Next stop, Chile
In Chile, a migration of Haitians also began around 2011, but between 2011 and early 2016, the population of migrants never reached a size comparable to that of Brazil and appeared to level at about 9,000. These were mostly students; 80 percent were between 15 and 30 years olds, and about 65 percent were female. Since a visa was not required for entry into Chile, they needed only their passport and an airlines ticket. Generally, they traveled by plane from Port-au-Prince to Santiago, with a stop in Panama City. Though they were not trafficked on land, as happened in the other cases, they were still heavily exploited. This took the form of excessive charges for their tickets (more than $2,300) and unorthodox travel fees of hundreds of dollars. On their arrival in Chile, many found that their Haitian diplomas were not accepted for credit. Worse, some discovered after four to five years of study that their academic institutions would not grant them their degrees. In August 2016 the Haitian population in Chile suddenly exploded to more 40,000, when Haitians began to leave Brazil at a rapid rate due to a lack of jobs. Another 50,000 Haitians are expected to settle in Chile from Brazil in 2017.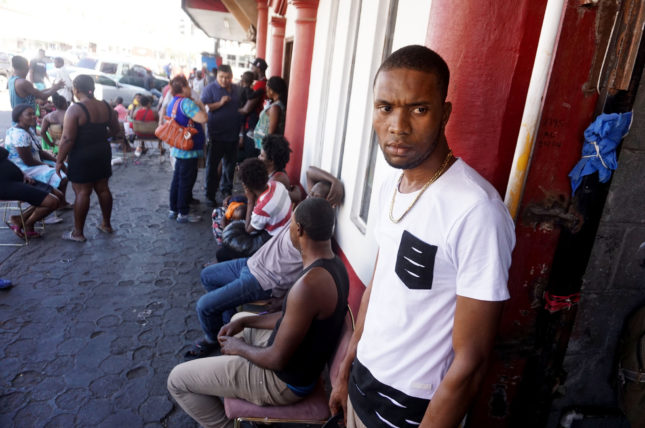 The superhuman trek to Mexico
Another group of Haitians chose to move from Brazil, by a land route, to the United States. According to a report by Christiane Ndedi, about 5,000 have made their way to San Ysidro, just south of San Diego. Others wait in Tijuana and Mexicali to cross the border into the US. In all cases, they live under abominable conditions, often in well-meaning churches that lack the beds or bathrooms to accommodate all of them. Many of the migrants are well-educated people who have given up on ever using their training. For example, one civil engineer had become a plumber in Brazil. During a series of interviews, Ndedi discovered that each had spent $3,000 to $5,000 and traveled for three months through forests, mountains, deserts and rivers, being palmed off from one human trafficker to another. From Brazil, the migrants crossed into Peru, Ecuador, Colombia, Panama, Costa Rica, Nicaragua, Honduras, and Guatemala, to arrive in Mexico at Tapachula and continue northward. They generally agreed that the border between Colombia and Panama was their most dangerous passage. Some say they witnessed the deaths of men, women, and children there.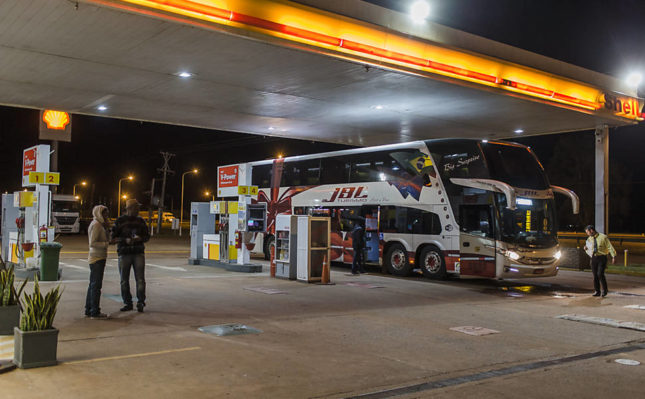 Where do we go from here?
The Haitian government has been reluctant to receive Haitian deportees, accepting only about 50 per month and claiming that the country cannot establish the citizenship of most others. Meanwhile, thousands of impoverished Haitians and even Dominicans are dumped every week into Haiti from the Dominican Republic (DR) because of decisions that were set in motion by the UN in 2013. Indeed, it is estimated that 126,000 people entered Haiti from the DR between June 2015 and July 2016, most of them with only the clothes on their backs. In effect, the Haitian rich have been doubled-crossed in their Faustian bargain to discard their own population so as to collect money.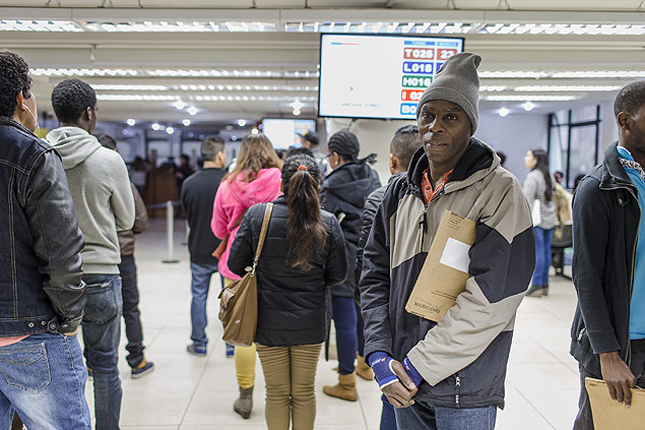 If Haiti has abandoned its recent emigrants, their rejection of Haiti is even more total. Despite an arduous journey, none of the travelers from Brazil to Mexico considered a return to Haiti as a possible way out. Though they all summarized their grievances as a shortage of work in Haiti, I believe that one could easily add to this complaint a total collapse of the state apparatus, an absence of the law, routine land grabs, runaway inflation, skyrocketing food prices, and a regular sabotage of potable water systems that have made life unbearable.
"If everybody leaves Haiti, what's going to happen there?" Christiane Ndedi asked one of the travellers.
J: "I don't know. As far as I am concerned, if everybody had an opportunity to get out, it would be better."
N: "But if one leaves, things will never change. [The government] will continue to do what it wants."
J: "I understand. I, who have children, cannot stay there. If I stay, I have nothing to give them. I can do what there? I spent 14 years in school for nothing. For nothing….
Those migrants, who have made a superhuman effort to guide their own destinies, could never imagine themselves to be leaves blown to the winds, eventually to crumble and disappear: the subjects of a vile experiment to ablate nationalism and citizenship so that territories and people may be better controlled by supranational entities like the UN, IDB, and World Bank.
Editor's Notes: Dady Chery is the author of We Have Dared to Be Free: Haiti's Struggle Against Occupation. | This article has been translated into Italian.
LO "SPOPOLAMENTO" DI HAITI: DISLOCAZIONE ECONOMICA, POVERTA' E DISPERAZIONE, UN PIANO GLOBALISTA?
DI DADY CHERY
Traduzione per www.comedonchisciotte.org a cura di ALE.OLIVI
Quasi due terzi delle vittime del terremoto che colpì Haiti il 12 Gennaio del 2010 furono diretta conseguenza delle politiche economiche che l'Inter-American Developement Bank (IDB), World Bank, e United States Agency for International Developement (USAID) misero in atto per creare un surplus di lavoro per l'industria dolciaria del paese.
La ben nota riduzione delle tariffe sulle produzioni agricole, l'invasione del mercato haitiano con le produzioni delle risaie sovvenzionate dell'Arkansas, e l'eliminazione della razza autoctona di maiale creolo, furono tutti passi di un piano ben organizzato al fine di impoverire gli allevatori haitiani e indurli ad un esodo forzato dai loro villaggi alla capitale Port-au-Prince. Così facendo in circa trent'anni, qualcosa come 1,6 milioni di haitiani andarono ad aggiungersi agli 800,000 già presenti nell'area che divenne poi l'epicentro del sisma.
Fino a quel disastro ci fu una quasi completa scomparsa dell'agricoltura haitiana e una dissipazione della popolazione al fine di prevenire la carestia ed una conseguente rivolta. Questo processo richiedette la partecipazione dei paesi latino americani facenti parte delle Nazioni Unite in "missione di pace" (MINUSTAH), e delle famiglie più ricche di Haiti.
UN'ECONOMIA A ZERO-OCCUPAZIONE RETRIBUITA
La maggior parte delle nazioni non lascerebbe andare in rovina la propria classe media se non in caso di distruzione sistematica dovuta ad una guerra, come appena successo in Siria. Il governo haitiano però non fa testo, esso è infatti nemico della popolazione. Nel caso delle migrazioni, gli industriali haitiani fecero partito comune e contribuirono al progetto globalista per lo spopolamento del paese e la diseredazione degli abitanti.
Questa élite di persone credeva fosse possibile basare l'economia del paese interamente sul money transfer dall'estero. Osservarono, con bramosia, come quasi 2 miliardi di dollari provenienti dagli haitiani residenti all'estero rappresentassero circa il 20% del prodotto interno lordo. Per di più queste entrate superavano gli aiuti dall'estero o comunque gli investimenti di capitali esteri, essendo quest'ultimi meno affidabili perché dipendenti da decisioni politiche e variazioni di mercato. Tradizionalmente la maggior parte delle entrate provengono dagli emigrati residenti in Repubblica Dominicana, Stati Uniti, Canada, Bahamas e Francia; paesi che sono diventati la meta principale della diaspora, dove risiedono in tutto 2 milioni di haitiani. Tutto ciò cambiò quando il Governo decise di lasciare senza lavoro il 90% della cittadinanza, e creare deliberatamente un esodo in tutta l'America latina per trarne guadagno.
L'EQUADOR APRE LE PORTE
L'inizio dei peregrinaggi degli haitiani per l'America latina precedette il terremoto di un paio di anni, e il fenomeno dei senza tetto non è imputabile ad esso. Nel Luglio del 2008 il Governo equadoriano fece cadere tutte le restrizioni riguardanti visti e documentazioni di genere ed aprì le frontiere agli immigrati e richiedenti asilo. All'inizio ciò coinvolse i trafficanti di uomini di entrambi i paesi che erano chiaramente in combutta con i rispettivi governi.
I primi haitiani che caddero nella presa dei trafficanti furono i giovani, appena maggiorenni che aspiravano a continuare gli studi all'estero. In un caso ben documentato, quattro giovani fra i 17 e i 28 anni attratti da allettanti promesse di borse di studio, si trasferirono in Equador dove vennero praticamente sequestrati nel loro alloggio per circa un anno e costretti a pagare 150$ al mese di affitto. Un requisito per ottenere una borsa di studio era la necessità di avere parenti in America o Canada così da poter pagare il costo dell'iscrizione di circa300$. Il denaro per pagare l'affitto veniva successivamente estorto alle famiglie. Il Governo dell'Equador non si comportò meglio dei coyote. In seguito al terremoto del 2010 mise in regola circa 390 haitiani ma ne lasciò altri 1000 nelle mani dei trafficanti e del lavoro nero. Dal 2015 il numero degli immigrati irregolari provenienti da Haiti ha raggiunto quota 20,000. Nel Maggio dello stesso anno l'Equador ha annunciato che avrebbe concesso un visto di cittadinanza valido 6 mesi a tutti gli haitiani immigrati irregolari; decorso tale periodo sarebbe valso come permesso di soggiorno. Non è chiaro quanti abbiamo approfittato di tale manovra per legalizzare il loro status.
DILMA CONCEDE I VISTI
Grazie allo stato di salute di cui gode il sistema giudiziario brasiliano, molte delle ditte di costruzioni e dei politici che caldeggiarono il sordido traffico di esseri umani da Haiti verso il Brasile, non sono stati estromessi dal mercato o imprigionati per i loro crimini. Come per l'Equador le loro frontiere si sono spalancate all'arrivo degli insospettabili migranti haitiani, ma la subitanea generosità riguardo ai visti non comprendeva alcun interesse umanitario. Al massiccio reclutamento di manodopera da Haiti da parte di Dilma Roussef fece immediatamente seguito una rivolta dei lavoratori brasiliani nella primavera2011, più di un anno dopo il terremoto di Haiti. Uno degli obbiettivi della concessione dei visti fu l'arruolamento di crumiri per i lavori pericolosi che riguardavano la costruzione di stadi, miniere, ponti e dighe per centrali idroelettriche. Per manodopera del genere si poteva facilmente attingere al pozzo costituito da lavoratori non specializzati, come quelli haitiani e dominicani, ma c'era anche un altro scopo, ossia quello di liberare Haiti da un gran numero di cittadini facinorosi e potenzialmente pericolosi. Il 77% di coloro che migrarono in Brasile erano uomini e il 90% di essi era scolarizzato di età compresa fra i 19 e i 45 anni.
Quando i flussi migratori verso il Brasile cominciarono a rallentare, nell'estate del 2015, dopo che un haitiano morì ed altri cinque rimasero feriti, il Governo rinnovò l'offerta dei visti. "Tutti gli haitiani che arriveranno in Brasile saranno i benvenuti: quelli che entreranno legalmente verranno trattati alla stregua di coloro che lo faranno senza documenti", annunciò l'ambasciatore brasiliano ad Haiti, Fernando Vidal, il 6 Ottobre 2015. Quando un giornalista gli chiese "anche se ne arrivassero 10 milioni?" Vidal spiegò "Non ci sono tetti, né requisiti né restrizioni". Un mese dopo il Brasile diede spettacolo garantendo al 58% dei 76,000 haitiani residenza permanente. Successivamente si permise alla popolazione dei provenienti da Haiti di crescere fino a 100,000. Dopo che la massiccia corruzione all'interno del partito della Roussef cominciò a mostrarsi sotto forma di recessione nel 2016, il mercato del lavoro in Brasile subì un brusco rallentamento, e con esso sparirono anche i visti.
PROSSIMA FERMATA: CILE
In Cile la migrazione di haitiani iniziò all'incirca nel 2011, ma tra il 2011 e il 2016 il fenomeno non raggiunse mai i livelli di Equador e Brasile, fermandosi a quota 9,000. Riguardò soprattutto studenti, l'80% di essi in età compresa tra i 15 e i 30 anni, di cui circa il 65% di sesso femminile. Fino a che non fu necessario il visto, bastava possedere passaporto e biglietto aereo. Generalmente partivano da Port-au-Prince in aereo fino a Santiago, facendo tappa a Panama City. Sebbene non vi fossero molti traffici come negli altri casi, il problema dello sfruttamento si verificò ugualmente; sotto forma di prezzi eccessivi per i biglietti (più di 2,300$) e centinaia di dollari di tasse davvero poco ortodosse.
Al loro arrivo in Cile molti scoprirono che i diplomi conseguiti in patria non avevano alcun valore. Ad altri andò peggio ancora; dopo cinque anni di studi, gli istituti formazione non garantirono alcun diploma. Nell'Agosto del 2016 improvvisamente la popolazione haitiana in Cile raggiunse i 40,000 abitanti, quando gli immigrati cominciarono a lasciare il Brasile a causa della mancanza di posti di lavoro. Altri 70,000 immigrati dal Brasile sono previsti arrivare nel 2017.
IL VIAGGIO INUMANO VERSO IL MESSICO
Un'altra parte di haitiani decise invece di affrontare un viaggio su gomma verso gli Stati Uniti. Secondo un report di Christiane Ndedi cica 5,000 si sono diretti a san Ysidro, appena un po' a sud di San Diego. Altri aspettano Tijuana e Mexicali per attraversare il confine. In ogni caso vivendo in condizioni abominevoli, spesso anche gli enti caritatevoli e le chiese non hanno posti letto e servizi a sufficienza per accoglierli tutti. Molti dei migranti sono persone istruite che hanno abbandonato l'idea di poter trarre utilità dalla propria formazione scolastica. Per esempio un ingegnere civile ha trovato impiego come semplice idraulico in Brasile. Tramite una serie di interviste Ndedi ha scoperto che ogni immigrato spende dai 3,000 ai 5,000 dollari e ha viaggia per mesi attraverso foreste, deserti e fiumi, sballottato da un trafficante al successivo. Dal Brasile, carichi umani attraversano, Perù, Equador, Colombia, Panama, CostaRica, Nicaragua, Honduras, e Guatemala, per arrivare in Messico a Tapachula e proseguire verso nord. Generalmente sono tutti concordi nell'affermare che la frontiera tra Colombia e Panama è la più ostica da attraversare. Alcuni sostengo di aver assistito alla morte di uomini, donne, e bambini in quel tratto.
"El Poli" alias di Luis Ramirez, domenicano; "El Pastor" ossia Cedanus Dorvil, e "El Guardaespaldas" Jean Blendy Mahotiere, entrambi da Haiti. I loro canali di traffici umani portano gli haitiani a Santiago, Cile, dove li scaricano direttamente in strada (FONTE: Gustavo Villarruba e Juan Pablo Figueroa/CIPES ).
….E DOVE FINISCONO POI?
Il Governo di Haiti è riluttante ad accettare indietro i migranti, ne accetta solamente 50 al mese, sostenendo che per la maggior parte la cittadinanza originaria non può essere accertata. Nel frattempo migliaia di poveri haitiani, e anche domenicani, vengono scarrozzati ogni settimana dalla Repubblica Domenicana ad Haiti, a causa della decisione della UN nel 2013. Infatti si stima che circa 126,000 persone sono rientrate ad Haiti dalla Repubblica Domenicana tra Giugno 2015 e il Luglio 2016, la maggior parte con nient'altro che i vestiti che indossavano. In effetti gli haitiani ricchi doppiogiochisti hanno organizzato un affare faustiano ingannando i loro compatrioti poveri lasciandoli nella miseria, per poi arricchirsi.
Se Haiti ha abbandonato i suoi cittadini costringendoli alla migrazione, poi la loro seconda espulsione forzata dal paese è stato, se possibile, ancora più drastica. Nonostante le traumatizzanti traversate, nessuno di coloro arrivati da Brasile e Messico aveva preso un ritorno in patria come un'eventualità possibile. Nonostante i torti subiti dalla popolazione siano dovuti alla mancanza di lavoro, ciò si può facilmente ricondurre al totale collasso degli apparati statali, all'assenza di leggi, alla inefficiente amministrazione beni terrieri, all'inflazione fuori controllo, ai prezzi folli dei beni primari e al sabotaggio degli acquedotti che hanno reso l'acqua imbevibile e la vita insostenibile.
"Se tutti lasciassero Haiti, che ne sarebbe del paese?" Christiane Ndedi chiede ad alcuni espatriati.
J: "Non so, per quanto mi riguarda, se ognuno può avere la possibilità di andarsene sarà meglio"
N: "Ma se continuiamo così le cose non cambieranno mai. Il Governo continuerà a fare ciò che vuole"
J: "Lo capisco, ma io che ho dei figli non posso restare. Se rimango non avrò nulla da dargli. Che opportunità ho qui? Ho frequentato 14 anni di scuola per niente. Per niente…."
Questi migranti che hanno deciso di affrontare un viaggio inumano per prendere in mano il loro destino, non possono immaginarsi abbandonati al loro destino, fino a scomparire: un esperimento di asportazione di cittadini e con loro di identità nazionale, così che entità "superiori" ( vedi UN, IDB, e World Bank) possano agevolmente manovrare l'economia di Haiti.
Fonti: Dady Chery autore di We have Dare To Be Free.