Breaking: New Riots And Ethnic Violence In Chinese City Of Urumqi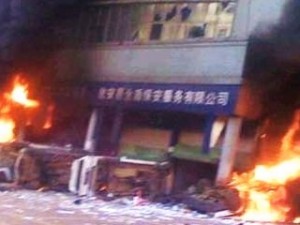 By Gilbert Mercier, NEWS JUNKIE POST
Following the violence of two days ago in the Chinese region of Xinjiang  that  left at least 156 people dead and 800 injured (according to the Chinese police) after clashes between Muslim ethnic groups and police, new riots have erupted in Urumqi.
At least 200 ethnic Uighurs, a Muslim minority, are facing off  with the police as groups of ethnic Han Chinese have armed themselves with batons, machetes and stones.
The Chinese authorities have restricted full access to the international press, as the riots are unfolding. They also have shut down, since two days, most Internet connections especially the one to Twitter.
The Chinese government controlled news agency Xinhua claims that they have evidence that World  Uyghur Congress was behind Sunday's violence. They say that " The riot was by no means incidental or spontaneous but well organized."
TV news coverage of yesterday's violence in Urumqi