Ahmadinejad's Absurd Defiance: "Iran Will Resist Oppressive Power"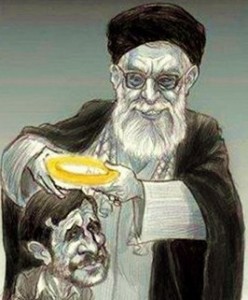 Today, Mahmoud Ahmadinejad was sworn in for his 2ND term in office. His inaugural speech was  absurd, delusional, and peppered with remarks that would be comical if  it wasn't taking place in the tragic context of the election aftermath.
Ahmadinejad said that his re-election is "The start of major change in Iran & the world." He added, "We will resist oppressor and try to correct the global discriminatory mechanism in order to benefit all the nations around the world."
Ahmadinejad eluded direct comments about the post election protests, that led to the deaths of more than 20 people and the arrests of around 2000 others. He stated: "We will not remain silent, we will not tolerate disrespect, interference and insults, and we will resist any violation of the law."
Next, he proceeded on attacking Western powers for what he views as interference and unjustified pressure. "They only want democracy when it serves them, and they do not respect other people's rights. You should know that nobody in Iran awaits your congratulations," he said.
Meanwhile, outside the parliament, hundreds of protesters wearing either black (in sign of grief) or green (the color of the reformists) T-shirts chanted "Death to the dictator".The bazaar around the parliament was forced to shut down ahead of the inauguration (to see photos click here). The massive security force, estimated by some eye witnesses to be around 5,000, which included  police and Basij cracked down quickly and violently on the protesters using batons and tear gas. Some Twitter messages came in overnight reporting additional arrests of protesters.
The next challenge for the regime, viewed by many Iranians as utterly illegitimate, will be to put together a semi-credible  cabinet. However, the protests are far from over, and it is likely that the reformists will keep challenging the authority of the Ahmadinejad administration.
The fundamental dishonesty (or delusion) of Mahmoud Ahmadinejad is limitless, otherwise  how could anybody in his right mind claim that "Iran will resist oppressive power" while orchestrating a brutal repression and oppression of his own people after rigging an election?