Iran: The 'Holy' Regime Put 100 Protesters On 'Trial'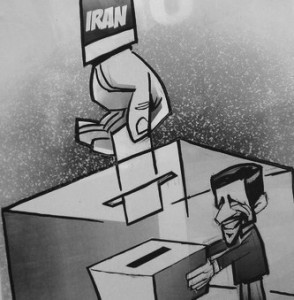 Today, in Tehran, about 100 protesters appeared before the Revolutionary court to face numerous allegations.
According to the official 'news' agency IRNA, the defendant are facing the following charges: "Attacking military centers with firearms & bombs, attacking government centers and setting them on fire, destroying public property, creating terror amongst the public, contact with militants and hostile groups, violence against police and security agents, reporting for foreign and hostile media, violence against people and distributing material against the holy regime."
According to Iran's Islamic law, actions against national security, the common charge against the protesters, is punishable by the death penalty.

Needless to say, this parody of justice was closed to both the public and the media. The Iranian news agency FARS reports that a number of those appearing today, in front of the court, were reformists who served in the government of former president Khatami. Among them are Mohammad Abtahi , a former vice president, Mohsen Mirdamadi, leader of a reformist party, Behzad Nabavi, former industry minister, and Mohsen Aminzadeh, former deputy foreign minister.
According to FARS, Abtahi stated at the trial: " I say to all my friends and all friends who hear us, that the issue of fraud in Iran was a lie, and was brought up to create riots so Iran becomes like Afghanistan or Iraq, and suffers damage and hardship."
The timing of the quickly organized  trial surprised everybody. Ahmadinejad will be inaugurated on August 5TH, this new move suggests that the Iranian leadership wants to quell any more protests ahead of the inauguration. However, judging from messages that I received on Twitter overnight, this move could have the exact opposite effect and energized the reformists even more. The 100s on trial are already described, by the protesters, as heroes of the velvet revolution.