Afghanistan: Should The Taliban Be Part Of The Political Process?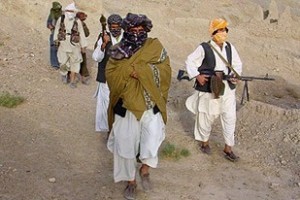 Afghanistan is voting in 10 days, yet if the security doesn't improve, and  it is unlikely, 93 voting stations will be closed in 10 districts. This will translate into a low turnout, and will put the legitimacy of the elections in doubt.
Today, another bold attack by the Taliban killed 5 police officers in Pule Alam, a small town only 70 kilometers from Kabul. The targets were the Governor's office, the police headquarters and the election office.
In recent weeks, the level of violence in Afghanistan has increased  drastically, especially since July 30, when the Taliban called upon Afghans to boycott the elections (read article), and urged them to fight a Jihad against the foreign invaders.
The head of Afghanistan's Independent Electoral Commission, Zekria Barakzai, stated today:"The commission cannot do anything unless the elections take place in a peaceful environment. The commission will publish the final list of zones where the elections will go on as scheduled on August 15."
The Taliban goal is to disrupt the elections  which  they view as a sham orchestrated by the US and NATO. The are currently completely excluded from the political process, and it is  counterproductive.
The Obama administration recent troop surge was supposed to help stabilized Afghanistan ahead of the elections, it is having the complete opposite effect, and it will make a lot of Afghans, especially the Pashtuns, view the elections as illegitimate. The Taliban are now  only a  large  part of  Afghanistan's problems, they must become part of the solution.
Afghanistan & Pakistan experts Barnett R. Rubin & Ahmed Rashid made a similar argument in an essay published by the Council on Foreign Relations (CFR) in December 2008. This is how Rubin & Rashid summarized their article:"The crisis in Afghanistan & Pakistan is beyond the point where more troops will help. The US startegy must be to seek compromise with insurgents while addressing regional rivalries and insecurities."