EU Politics: Arab Spring's Migrants Are Giving the Far-Right a Boost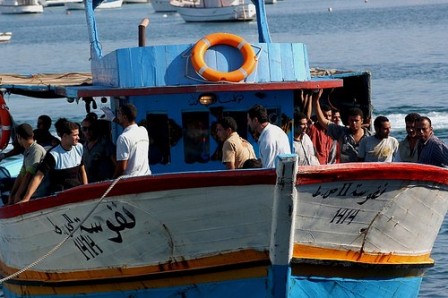 The European Union's interior ministers met in Luxembourg on April 11, 2011 to discuss a recent spike of undocumented migrants from North Africa in the aftermath of the Tunisian revolution. Italy alone has reported that 26,000 migrants have entered the country since the North African unrest started in January 2011. One of the numerous threats made by Gaddafi, after the West militarily intervened in Libya, was to "flood Europe with African migrants." In Europe, the far-right is calling the influx of new migrants a "human tsunami." This duly amplified "crisis" is already giving the racist European far-right an opportunity to make substantial political gains.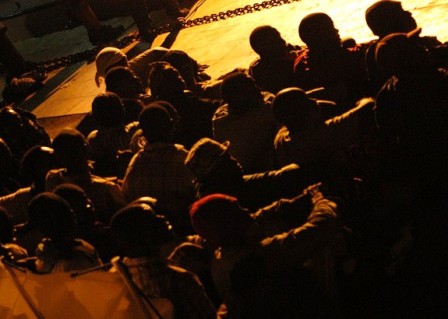 So far, most of the migrants that have reached Italy are Tunisians. Italy is trying to pass on its migration problem to other EU members, as if the Berlusconi administration has forgotten to take into account a European law stipulating that the country where migrants first arrive is obligated to assess their status before allowing them to leave. Under the EU law, migrants who are authorized to apply for asylum are sent to detention centers whereas economic migrants are returned to their respective countries. The so-called human tsunami, together with the financial crises of Portugal and Ireland, is putting a major stress on the unity of the EU. At the Luxembourg meeting, Italy threatened to leave the European Union.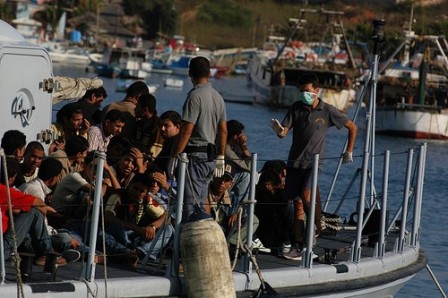 Extremely negative reactions over Italy's migrants policy were expressed across  the board. The Dutch minister for immigration and asylum, Gerd Leers, accused Italy of "passing its problems to others without prior notice." Hans-Peter Friedrich, Germany's interior minister, denounced Italy's decision in even stronger terms: "We cannot accept numerous economic migrants arriving in Europe through Italy. This is why we expect Italy to respect the existing legal framework." France, Austria and Germany are all tightening controls at their borders and threatening to send back migrants to Italy. The Berlusconi administration's view is that the sudden increase in migration should be handled by all the EU members and not only by Italy. Berlusconi rightly argues that 80 percent of Tunisian migrants are hoping to join relatives in France.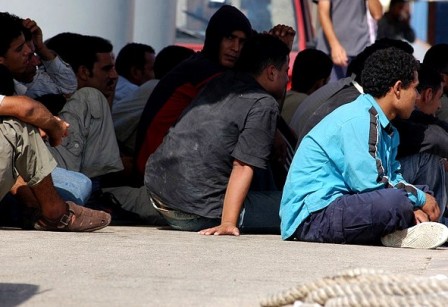 A large number of North African migrants are kept in detention on the southern island of Lampedusa. Tunisians migrants are contained in the squalor of cramped facilities with little access to basic sanitation. Lampedusa has a population of just 6,000 people, but since Tunisia's Jasmine revolution, in January 2011, it has received around 8,000 Tunisian migrants. The island has become the flashpoint of what the European racist far-right calls the "immigration problem." In March 2011, Marine Le Pen, the leader of French far-right party Front National, traveled to the Italian island. Another EU far-right political leader, Mario Borghezio from the Northern League party, joined Le Pen on the trip. "I want to draw Europe's attention to what is happening. European officials are averting their gaze and are trying to play down the risk of immigration flows," said Le Pen.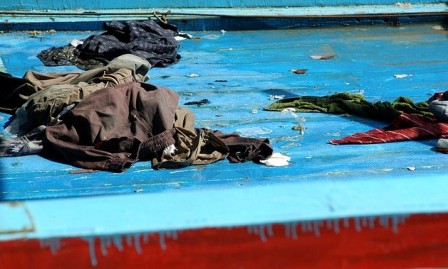 Unfortunately, the racist anti-immigration platform of Le Pen's Front National is getting traction among the French electorate. The French far-right has enjoyed historic gains in the 2011 local elections, with more than 15 percent of the votes. According to a poll conducted by daily newspaper Liberation, 21 percent of the people who said they were favored Le Pen's election voted for Sarkozy in 2007. On March 7, 2011, a poll about potential 2012 presidential candidates shocked France's political class and public opinion by showing Le Pen to be the lead. In the poll, conducted by daily newspaper Le Parisien, she was heading the race with 23 percent, against 21 percent for sitting president Sarkozy. Marine Le Pen is anti-immigration, anti-EU, and she has a "French first" agenda. In December 2010, Le Pen compared "Muslims praying in the streets to the German occupation during World War II." Le Pen also blames the economic crisis on globalization and, of course, immigration.
Editor's Note: All photographs of Tunisian migrants in the island of Lampedusa courtesy of No Border Network's photo stream.