Brazil's Military Dictatorship: Bolsonaro's Godfather Is Home from Haiti to Roost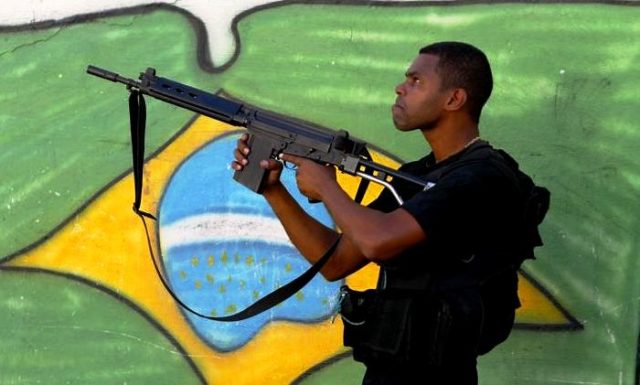 It is bittersweet to be right about my prediction that the occupation of Haiti by Brazil would destroy its democracy. The real power behind the far-right congressman and former army captain, Jair Bolsonaro, who will take office on January 1, 2019 as Brazil's president, is his mentor, the retired General Augusto Heleno Ribeiro Pereira. Mr. Ribeiro Pereira will likely become the most powerful man in Brazil and the next defense minister. He was the first commander, in 2004 to 2005, of the infamous United Nations Mission for the (de)Stabilization of Haiti (MINUSTAH).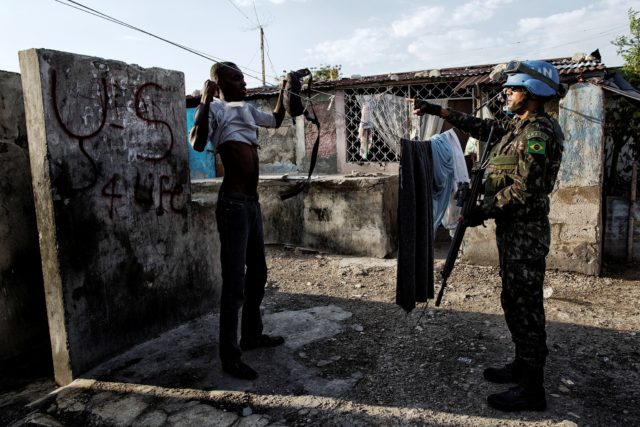 It is important to note that MINUSTAH's architect was not the Brazilian right, but Celso Amorim, when he was the foreign affairs minister in President Lula da Silva's leftist government, together with Bill Clinton. Lula has been convicted of corruption and is now in prison. Nevertheless, if the Brazilian left had won the October 2018 elections, the next defense minister would probably have been Amorim. Mr. Amorim's last stint in Haiti was as the leader of an Organization of American States (OAS) observation mission for the fraudulent 2015 elections. Nothing whatever would have changed with regard to the countries that Brazilian troops currently occupy mainly for the United States, France, and Canada. There are nine such countries now. Venezuela might be the next.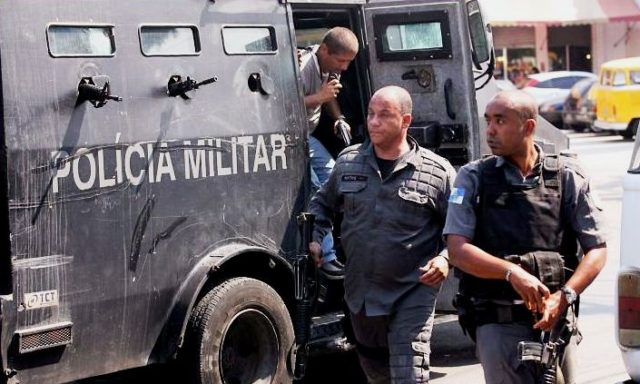 In his capacity as MINUSTAH commander, Ribeiro Pereira is associated with a notorious massacre on July 6, 2005 in the Port-au-Prince slum neighborhood of Cite Soleil, after which he quickly returned to Brazil. He has been suggesting ever since that he had behaved with restraint while under pressure to use excessive force. Statements from MINUSTAH to the public about the massacre have disagreed with its after-action report to the US Embassy. In that report, MINUSTAH described a firefight that "lasted over seven hours during which time their forces expended over 22,000 rounds of ammunition," and an operation that involved 1,440 troops: 1,000 who "secured the perimeter" and 440 who engaged in a raid. It has been suggested that Ribeiro Pereira left Haiti for fear of "being hauled before an international court for war crimes."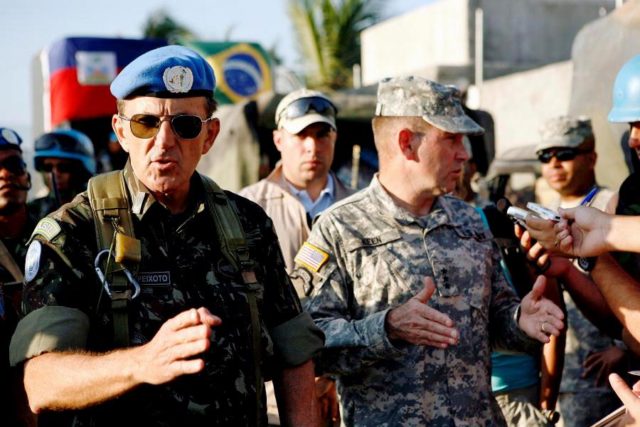 One may evoke sophisticated geopolitical reasons why the Brazilian government would occupy a friendly country far from its borders, but I believe the reasons for the supposed humanitarian intervention in Haiti were rather mundane. The one most often cited is Brazil's ambition to enhance its image on the world scene since the United Kingdom and Soviet Union blocked its permanent membership in the UN Security Council in 1945 because of its military and financial weakness. Indeed, on his accession to MINUSTAH, Ribeiro Pereira said, "this is an occasion to project the name of the country." Likewise, when Dilma Rousseff became president in 2011, she named Celso Amorim her defense minister and credited him with "an independent foreign policy that put Brazil at the same level as the leading nations of the world."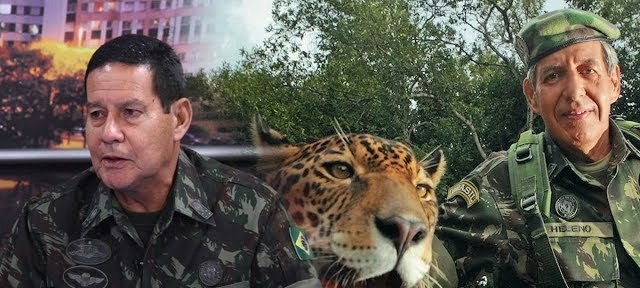 Another reason was the use of Haiti as a testing ground for military hardware, such as armored amphibian vehicles manufactured in Brazil that could then be sold as being battle-tested. This was important for the Brazilian army brass, which considered Haiti to be perfect for this project because the population was unaware that it was at war and posed no risk.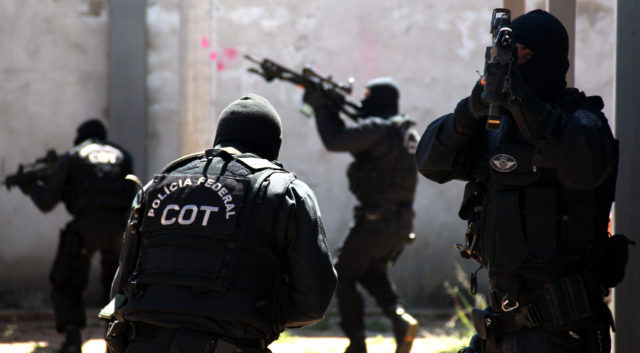 For the Lula and Dilma administrations, Haiti probably satisfied a need to scatter their most racist and fascist elements to other countries for their soldier games. Before MINUSTAH, Ribeiro Pereira was a military attaché in France from 1996 to 1998. It is unclear what he did in that capacity. After MINUSTAH, he was army commander in Amazonia, but Lula was forced to remove him from this post after he publicly criticized the president for having a "regrettable, not to say chaotic" Indian policy because he had granted government land to several communities in the area. Ribeiro Pereira's final job before retirement was in the Department of Science and Technology. He referred to that position as "being placed in the professional refrigerator" and turned by Lula into a "stereotype of the wrong man in the wrong place."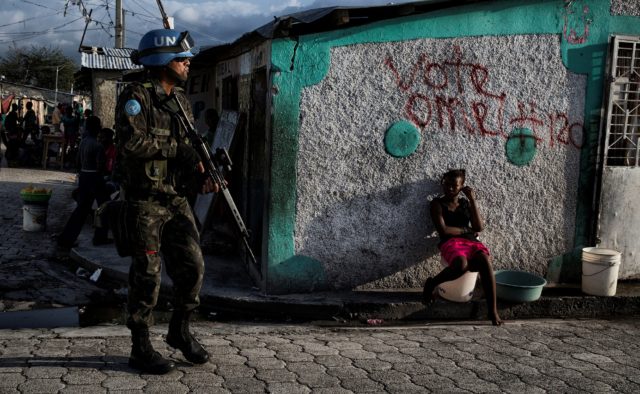 After his retirement, Gen. Ribeiro Pereira, who began his military career during Brazil's last dictatorship, became an unofficial spokesman for MINUSTAH as well as the Brazilian Army. Year after year, he advocated for renewal of MINUSTAH mandates. In 2011, when Defense Minister Celso Amorim began to plan a withdrawal of Brazil from MINUSTAH, Ribeiro Pereira pointedly warned him not to give the army a "leftist ideological imprint," and Amorim promptly dropped the project. In the run-up to Brazil's 2018 presidential elections, Ribeiro Pereira publicly defended the 1964 coup against what he calls "the country's communization." He also began to advocate for a Haiti-style pacification regime for Brazil's favelas, complete with immunity for the military, collective search-and-seizure warrants, and even the use of snipers to kill presumed criminals.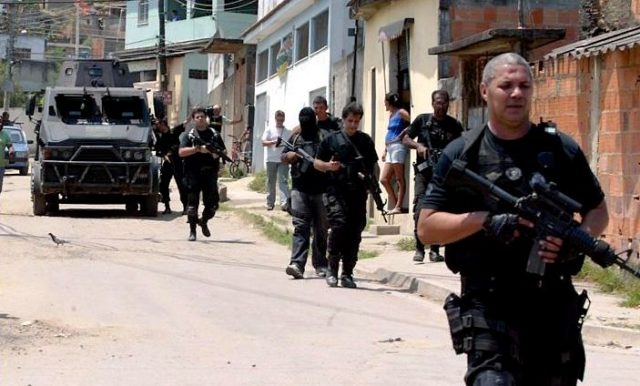 Ribeiro Pereira speaks casually about his work to structure the future management of Brazil's government. He is described as having a father-son relationship with President-Elect Bolsonaro. Another of his protégés is the Vice President-Elect, the retired Gen. Hamilton Mourao, whose father was a coup general. Mourao has not only publicly defended the 1964 coup but also criticized Brazilians as being afflicted with a legacy of the "indolence of the Indians and sly spirit of the Africans." Men like Mourao are probably representative of those who were charged for over 13 years by the United Nations with promoting democracy in the world's first Black Republic.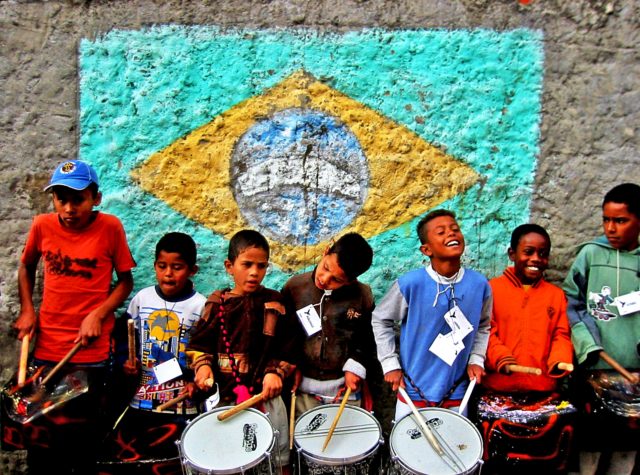 The military managed to win Brazil by the ballot because it hijacked as its main issue the rampant government corruption that had been exposed by well meaning people like Judge Sergio Moro. But if the military had lost the elections, it would probably have staged a coup, and the threats were there. Many leftist Brazilians are angry with the Workers Party's last-ditch attempt to hold on to power. They fail to see that their made-in-Haiti military dictatorship had become inevitable, and their military men had become impatient with legal procedures precisely because the army had already grown too strong. Thanks in large part to the United Nations and Gen. Ribeiro Pereira, the security apparatus that grew out of sight has ballooned beyond control. In Haiti alone, over 37,000 personnel were trained and recycled back into Brazil. Among them were the first soldiers of the Unidades de Policia Pacificadora (UPP) of Rio de Janeiro's favelas, trained in urban warfare in Port-au-Prince's slums. Sadly, the sun has set on Brazil's democracy, and the snipers and their masters are home to roost.
UPDATE #1. November 13, 2018.  Bolsonaro named Gen. Augusto Heleno Ribeiro Pereira as the Director of the Presidential Office for National Security and appointed as Brazil's Minister of Defense the retired army Gen. Fernando Azevedo e Silva, who was MINUSTAH's operations chief under Heleno's command.
UPDATE #2. April 2, 2019.  The more complete made-in-Haiti-team of Brazil's latest military junta is as follows: Gen. Augusto Heleno Ribeiro Pereira, Director of the Presidential Office for National Security; Gen. Floriano Peixoto, Chief Minister of the General Secretariat of the Presidency; Gen. Fernando Azevedo e Silva, Minister of Defense; Gen. Carlos Alberto dos Santos Cruz, Secretary of the Government; Capt. Tarcisio Gomes de Freitas, Minister of Infrastructure; Col. José Arnon dos Santos Guerra & Col. Freibergue Rubem no Nascimento, Ministry of Justice; Gen. Edson Leal Pujol, Army Commander; Gen. Otávio Santana do Rêgo Barros, Spokesperson for the Presidency of the Republic; and Gen. Ajax Porto Pinheiro, Special Adviser to the Supreme Court President.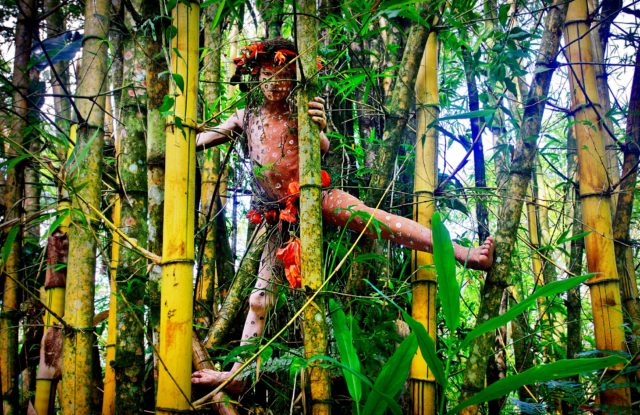 Editor's notes: Dady Chery is the author of We Have Dared to Be Free: Haiti's Struggle Against Occupation. | This article is also available in Portuguese.
Ditadura Militar do Brasil: Padrinho de Bolsonaro Volta do Haiti Para o País, Que Agora Ceifa o Que Semeou
Por Dady Chery
Traduzido por Murilo Leme
É uma sensação doce e amarga estar certa acerca de minha previsão de que a ocupação do Haiti pelo Brasil destruiria a democracia daquele país. O real poder por trás do deputado de extrema direita e ex-capitão do exército, Jair Bolsonaro, que tomará posse em 1o. de janeiro de 2019 como presidente do Brasil, é seu mentor, o General reformado Augusto Heleno Ribeiro Pereira. O Sr. Ribeiro Pereira provavelmente tornar-se-á o homem mais poderoso do Brasil, e o próximo ministro da defesa. Ele foi o primeiro comandante, de 2004 a 2005, da tristemente célebre Missão das Nações Unidas para (des)Estabilização do Haiti (MINUSTAH).
É importante registrar que o arquiteto da MINUSTAH não foi a direita brasileira, e sim Celso Amorim, quando era o ministro de relações exteriores do governo esquerdista do Presidente Lula da Silva, juntamente com Bill Clinton. Lula vem de ser condenado por corrupção e está agora na prisão. Todavia, se a esquerda brasileira tivesse vencido as eleições de outubro de 2018, o próximo ministro da defesa provavelmente seria Amorim. A última função do Sr. Amorim no Haiti foi a de líder de missão de observação da Organização dos Estados Americanos (OAS) das fraudulentas eleições de 2015. Absolutamente nada teria mudado no tocante aos países que tropas brasileiras atualmente ocupam para Estados Unidos, França e Canadá. Há agora nove desses países. A Venezuela poderá ser o próximo.
Na qualidade de comandante da MINUSTAH, Ribeiro Pereira está ligado a notório massacre em 6 de julho de 2005 no bairro de favela de Port-au-Prince de Cité Soleil, depois do qual ele rapidamente voltou ao Brasil. Desde então ele vem sugerindo que agiu com comedimento apesar de sob pressão para usar força excessiva. Declarações da MINUSTAH ao público acerca do massacre têm discrepado de seu relatório posterior à ação à Embaixada dos Estados Unidos – US. Naquele relatório a MINUSTAH descreveu tiroteio que "demorou mais de sete horas, período durante o qual suas forças empregaram mais de 22.000 rounds(*) de munição," e operação que envolveu 1.440 soldados: 1.000 que "protegeram o perímetro" e  440 que se lançaram em incursão. Já foi sugerido que Ribeiro Pereira deixou o Haiti por temor de "ser arrastado para tribunal internacional por crimes de guerra."
É possível suscitar sofisticadas razões geopolíticas para explicar por que o governo brasileiro ocuparia país amigo longe de suas fronteiras, mas acredito que os motivos para a pretensa intervenção humanitária no Haiti foram bastante prosaicas. O mais citado é a ambição do Brasil de promover sua imagem no cenário mundial desde quando o Reino Unido e a União Soviética bloquearam sua condição de membro permanente do Conselho de Segurança das Nações Unidas – UN em 1945 por causa de sua debilidade militar e financeira. Com efeito, ao ascender à MINUSTAH, Ribeiro Pereira disse: "esta é ocasião de projetar o nome do país." Analogamente, quando Dilma Rousseff tornou-se presidente em 2011, nomeou Celso Amorim como ministro da defesa e creditou-lhe "política externa independente que coloca o Brasil no mesmo nível das mais importantes nações do mundo."
Outro motivo foi o uso do Haiti como tubo de ensaio de equipamento militar, como veículos anfíbios blindados fabricados no Brasil que poderão em seguida ser vendidos como testados em batalha. Isso foi importante para o alto escalão militar do exército brasileiro, que considerava o Haiti ser perfeito para tal projeto porque a população desconhecia estar em guerra e não representava risco.
Para as administrações de Lula e Dilma, o Haiti provavelmente satisfazia necessidade de mandar os elementos mais racistas e fascistas para outros países para seus jogos de soldado. Antes da MINUSTAH, Ribeiro Pereira foi adido militar na França de 1996 a 1998. Não está claro o que ele fez nessa função. Depois da MINUSTAH, ele foi comandante do exército na Amazônia, mas Lula foi forçado a transferi-lo de seu posto depois de ele publicamente criticar o presidente por ter adotado política para os índios "lamentável, para não dizer caótica" por ter concedido terra do governo para diversas comunidades da área. A função final de Ribeiro Pereira antes de ser reformado foi no Departamento de Ciência e Tecnologia. Ele se referiu a tal posição como "ser colocado na geladeira profissional" e transformado por Lula em "exemplo típico do homem errado no lugar errado."
Depois de sua reforma o Gen. Ribeiro Pereira, que começou sua carreira militar durante a última ditadura no Brasil, tornou-se porta-voz não oficial da MINUSTAH bem como do Exército Brasileiro. Ano após ano defendeu renovação dos mandatos da MINUSTAH. Em 2011, quando o Ministro da Defesa Celso Amorim começou a planejar saída do Brasil da MINUSTAH, Ribeiro Pereira, em termos não equívocos, advertiu-o para que não imprimisse ao exército "chancela ideológica esquerdista," e Amorim prontamente desativou o projeto. À véspera da eleição para presidente do Brasil em 2018, Ribeiro Pereira publicamente defendeu o golpe de 1964 contra o que ele chama de "comunização do país." Também começou a defender regime de pacificação estilo Haiti para as favelas do Brasil, inclusive com imunidade para a instituição militar, mandados coletivos de busca e apreensão, e até o uso de franco-atiradores para matar presumíveis criminosos.
Ribeiro Pereira fala descontraidamente acerca de seu trabalho para estruturar o futuro do governo do Brasil. É descrito como tendo relacionamento de pai-filho com o Presidente-Eleito Bolsonaro. Outro de seus pupilos é o Vice-Presidente Eleito, o General reformado Hamilton Mourão, cujo pai foi general do golpe. Mourão até agora não defendeu publicamente o golpe de 1964, mas também criticou os brasileiros como afligidos com legado da "indolência dos índios e o espírito maroto dos africanos." Homens como Mourão são provavelmente representativos daqueles que foram encarregados há mais de 13 anos pelas Nações Unidas de promover a democracia na primeira República Negra do mundo.
Os militares conseguiram ganhar o Brasil pelo voto porque tomaram como sua bandeira principal a desenfreada corrupção do governo que havia sido exposta por pessoas bem-intencionadas como o Juiz Sérgio Moro. Se porém os militares tivessem perdido as eleições, provavelmente teriam desferido golpe, e ameaças foram feitas. Muitos brasileiros esquerdistas estão irritados com a tentativa desesperada do Partido dos Trabalhadores de manter-se no poder. Pois não enxerga que ditadura militar made-in-Haiti tornou-se inevitável, e que os militares passaram a ficar impacientes com procedimentos legais precisamente porque o exército se tornou tão poderoso. Graças em grande parte às Nações Unidas e ao Gen. Ribeiro Pereira, o aparato de segurança que cresceu exageradamente inflou-se escapando a qualquer controle. Só no Haiti, mais de 37,000 militares / policiais foram treinados e reciclados de volta ao Brasil. Entre eles os primeiros soldados das Unidades de Policia Pacificadora (UPP) das favelas do Rio de Janeiro, treinados em guerra urbana nas favelas de Port-au-Prince. Infelizmente o sol se pôs sobre a democracia do Brasil e os franco-atiradores e seus superiores farão no país o que fizeram no exterior(**).
__________________________________________________________
(*) Rounds – Round é a quantidade de munição necessária para um tiro. Oxford
(**) Are home to roost – Se ações más ou erradas que alguém cometeu no passado have come home to roost, ou se suas chickens have come home to roost, esse alguém está hoje sofrendo os efeitos adversos / desagradáveis de referidas ações. 'Os políticos podem enganar algumas pessoas por algum tempo mas, por fim, the chickens come home to roost.' 'A política de apaziguamento/empurrar com a barriga, em vez de política de solução de problemas, has come home to roost.' Collins
Fontes: News Junkie Post | Dady Chery é a autora de We Have Dared to Be Free: Haiti's Struggle Against Occupation.